The Best Olympic Weight Plate Sets For Your Home Gym
There's more to weight plates than heavy, round and metal – here's a handy explainer and our top picks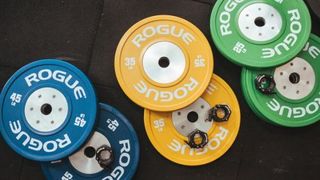 (Image credit: unknown)
To the uninitiated the best weight plate is the cheapest. If two plates weigh the same, why would you pay more for the expensive one? Well, one reason is that if you plan on performing Olympic lifts metal plates are going to go through the floor when you let them drop from head height. Another consideration is that a plate may actually weigh slightly more or less than its listed weight, and you can minimise this risk by sticking to the more expensive "calibrated" models.
For a full rundown, start with our guide, then have a look at the weight plates we recommend.
What Is An Olympic Weight Plate?
At its most basic it's a weight plate with a two-inch (51mm) diameter hole. In contrast, basic weight plates are available with a diameter half that, and are used with cheaper barbells or EZ-bars. Then there are lighter studio plates which have a 30mm diameter ring.
Types Of Olympic Weight Plates
Competition bumper plates
Bumper plates are designed for two technically demanding lifts, the snatch and the clean and press. These plates are made mostly of rubber so you can drop the barbell once the lift is completed. There'll be an inner ring of metal so the plate can slide onto the barbell easily.
Make sure to buy weight plates with an International Weightlifting Federation accreditation and labelled as calibrated because the requirements are very specific. Those extra demands, of course, tend to make bumper plates more expensive.
Training plates
Training plates are non-calibrated bumper plates. If you're into your Olympic lifts, this is the type of plate you should work with at home, unless money is no object. That said, if you're training towards a competition it can be worth spending a bit more because the higher the quality, the closer the plate will be to competition standard, and this may help you when the big day comes around.
Technique plates
These lighter plates have the same dimensions as competition plates, allowing you to master the movements but avoid overloading your body with repeated heavy lifts. They're also useful for people coming back to weight training after an injury.
Metal plates
If you're planning on doing power lifts, such as the deadlift, squat and bench press, these are the plates to get. They come in either iron or steel and, unlike the weights for Olympic lifting, the only feature is that they're heavy.
If you're focusing on the deadlift it may be worth seeking out plates with a rubber coating to protect the floor.
---
See related
Best Weight Plates
Eleiko Competition
Best bumper plates
If you want the best-quality bumper plates on the market, look no further than Eleiko, which was the equipment provider for the recent CrossFit Strength event in London, supplying all the equipment across the two arenas for the event. its bumper plates are IWF certified, calibrated and colour-coded.
Buy from Perform Better | £249.60 for one 10kg plate
---
Rogue Echo
Best bumper training plates
The colour-coded Rogue Echos are an impressively high standard for the price. Although still training plates, they adhere to the IWF's 450mm diameter requirements with rubber that's densely packed for minimal bounce – and the plates are sold in convenient pairs too. If you've decided you really need a full set, Rogue sells its weights in packs.

Buy from Rogue | €72.60 (approximately £64) for two 10kg plate
---
Origin Technique
Best-value technique plates
Origin's technique plates are a great starting point for those looking to nail their form. They're good quality and around a third of the price of some offerings from top brands.
Buy from Origin | £36.74 for one 2.5kg plate, £44.09 for one 5kg plate
---
Rogue Olympic
Best metal plates
Rogue stands out in this category. It's a brand with a heavyweight reputation yet its plates are affordable. Plus, nothing looks better than black cast iron.
Buy from Rogue | €70.58 (approximately £62) for two 10kg plates
Sign up for workout ideas, training advice, reviews of the latest gear and more.
Jake was formely an intern for Coach and now contributes workouts from some of London's top trainers. As well as training in the gym and running, he's competed in the eight-hours-long overnight event Europe's Toughest Mudder twice and the 24-hours-long World's Toughest Mudder once.