5 Rules For A Healthier Lifestyle
Personal trainer Michael Italiano, who works with F1 driver Daniel Ricciardo, shares his tips for long-term, sustainable fitness gains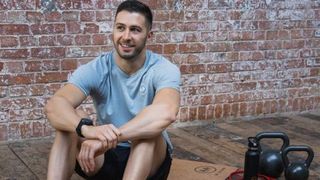 (Image credit: Unknown)
Being a Formula One driver is tough. Away from the glitz and glamour of racing in some of the world's most desirable locations, drivers have to prepare their bodies to withstand 10 months of mentally and physically draining action where losing focus for a fraction of a second could result in a collision at more than 200mph.
Enter personal trainer Michael Italiano. The performance coach of eight-time Grand Prix winner Daniel Ricciardo has his work cut out keeping his client in shape and prepared for the start line as he jets around the world hopping time zones.
His secret for Ricciardo and the other clients he works with through MI Coaching doesn't involve a strict schedule of gym sessions and gruel. In fact, it's all about adopting healthy habits. "I've seen many people enter the gym and have amazing transformations within four to 12 weeks, but if they can only maintain it for 12 weeks, is that healthy?" says Italiano. "I've developed a form of training where I'm not going to make you drop 10kg in four weeks, but I'll help you drop them over six months and keep it off. It's long-term and more sustainable."
It doesn't require you to completely change your lifestyle either: instead it's based on five easy-to-follow rules that are achievable and convenient. "If you set goals that are unachievable, you're going to start feeling down, doubting yourself and coming up with excuses. But if you make small incremental changes and they're achievable, all of a sudden, you're more consistent. Consistency leads to motivation, and you get a natural sense of satisfaction and fulfilment that you're actually sticking to your targets. I like incremental changes because they're so easy and achievable, and it feels like you're not really doing anything."
1. Drink More Water
It might sound simple, but this is the starting point for all of Italiano's clients. "A lot of people relate stress to external factors – work, family, relationships – but people don't realise that being dehydrated puts a very big internal stress on the body," he says. "Not drinking enough can affect your digestive system, your mood and your efficiency, so you can't reach the capacity that you want to work at."
Drinking sufficient amounts of water – the UK's Eatwell Guide recommends six to eight glasses a day – will not only improve all of the above, but has one physically noticeable benefit too. "Being hydrated will really improve your skin," adds Italiano. Try taking regular photos so you can visually compare and contrast once you're making an effort to drink more.
2. Prioritise Sleep
The importance of sleep to health is finally getting the prominence it deserves in the media, but if you're already getting your recommended amount of shut-eye per night, there are limits to the improvements, right? Wrong. "I'd say probably 90% of my clients didn't actually get the recommended amount of sleep – and quality sleep – before signing up," says Italiano. "A lot of people relate seven to eight hours of sleep to being in bed for seven to eight hours, but being in bed for eight hours doesn't necessarily mean you're getting eight hours of good-quality sleep. If I want to get eight hours of sleep, I'll try and make sure that I'm in bed for nine hours because you're probably going to wake up a little bit and not get as much REM or deep sleep as you would like."
Sleep is something that he has worked on with Ricciardo. "I got him a travel pillow, upgraded his eye mask and gave him some lavender [pillow] spray to enhance sleep," says Italiano. The incremental changes seem to be working, with Italiano telling us it's led to improved focus and alertness on race day, and less discomfort in the car's cockpit.
3. Keep Training Simple
If you tackle a punishing four-week plan, it can help you maintain weight, lose weight or put on muscle mass fast, but you may find your hard work is reversed when your training intensity drops off. Italiano believes the most sustainable physical adaptations come from activities that form part of your life. "If you're sticking to a healthy lifestyle, you have more energy and when you train you'll have a boost of dopamine and you're going to want to train. It won't feel like a chore or like you're on a plan."
See related
4. Be Patient
When undertaking these small, incremental adaptations, it's important to remember that you're in it for the long run and that changes can take longer as a result. This long-term view also means that there's more allowances for the odd bad day.
"I had a client who tried to go full-on for the first two weeks, and she stressed out – her cravings were through the roof, she couldn't sleep and she actually put on 2kg. She was the type of person where if she didn't stick to something, or had a bad day, she had 'ruined' it. I told her that having a bad day doesn't ruin anything as long as you're back on the horse the next day. I started seeing some faults early on – she had long working hours and was skipping meals because she was just so busy – so we changed a few things and within six months she lost 12kg."
5. Listen To Your Body
"I see too many people trying to train too much," says Italiano. "If you're really sore or you're feeling something niggling then rest – don't try to push through." Your body doesn't need to be screaming in pain for you to listen to it either, and there are other telltale signs that it needs a break.
"Progressive overload – making sure you're either upping your reps or weight lifted by 5% each week – is very important when trying to get great results. If you're noticing that you've plateaued or are getting worse, that's a big sign of overtraining."
Italiano adds that difficulty sleeping can also be an indicator that you need to take a break from training: "If you're struggling, it could be a sign that you've overstressed the body and your body needs a rest."
Michael Italiano is Daniel Ricciardo's F1 performance coach and the owner of MI Coaching, which offers personalised training plans
Sign up for workout ideas, training advice, reviews of the latest gear and more.
Charlie Allenby is a journalist with a passion for pedalling. He contributes features and buying advice about cycling, and is Coach's dedicated turbo trainer reviewer. He is also Coach's chief whey and casein protein powder tester, trying as many brands as possible.
Charlie's first book, Bike London, is out now. He has written for The Guardian, The Independent and BikeRadar, among others.