Super Chicken Salad Recipe
Think you know chicken salad? Think again. This dish from top chef Adam Gray uses cauliflower and pomegranate seeds to great effect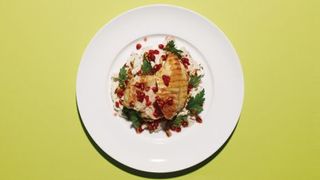 (Image credit: Unknown)
Ingredients (Serves Four)
4 free-range skin-on chicken breast
Zest of 1 lemon
1 medium-sized cauliflower
2 pomegranates
Bunch of flat-leaf parsley
200g pine nuts
300ml rapeseed oil
50ml red wine vinegar
Salt and freshly ground black pepper
To make
Place the chicken breasts in a large bowl, rub all over with 100ml of the rapeseed oil, the lemon zest, salt and pepper, and then cover with cling film. Leave out of the fridge while you prepare the rest of the dish.
Cut the pomegranates. Hold a half over a bowl in one hand and use your other hand to smack the outer shell with a spoon so all the seeds fall out into the bowl. Repeat the process with all the pomegranate halves. (Getting seeds out of pomegranates can be incredibly frustrating. If this technique isn't working for you try the water in a bowl method. Watch BBC Good Food's demonstration here.)
Ensure there are no pieces of white pith in the bowl with the seeds, then add the red wine vinegar and the rest of the oil to the pomegranate seeds. Season with salt and pepper and set aside.
Cut the cauliflower into quarters and then slice very thinly with a sharp knife.
Pick the leaves from the parsley stalks, discard the stalks and chop the leaves finely.
In a bowl, mix the chopped parsley with the sliced cauliflower, then pour in the pomegranate dressing and combine thoroughly.
Place the pine nuts on a baking tray and place in a pre-heated oven at 200°C/gas 6 for six to eight minutes until they are a light golden colour.
Place the marinated chicken breasts either on a hot griddle pan, a barbecue or a hot tray in a pre-heated oven at 200°C.
If cooking on a griddle pan or barbecue, rotate the chicken breasts every five to ten minutes so that they cook evenly. If cooking in the oven, then cook for approximately 20 minutes until the chicken breast is fully cooked all the way through. (If you're using bone-in chicken breasts remove the meat from the bone). Slice in half.
To serve, scatter the cauliflower salad over the serving plate, place the sliced chicken breast on the cauliflower salad and sprinkle over the toasted pine nuts. Drizzle any excess pomegranate dressing over and around the chicken.
See related
The chef Adam Gray is a Michelin-starred chef and a champion of ethically and sustainably sourced food. He has been the head chef at award-winning restaurants including Rhodes Twenty Four, Skylon and Bourne and Hollingsworth in London.
This recipe was taken from SHIFT56 Get-Lean Lunches, which you can download free at shift56.com
Sign up for workout ideas, training advice, reviews of the latest gear and more.