How To Cook Vegetables
Once you know how to cook veg properly it goes from something to be endured to enjoyable. Really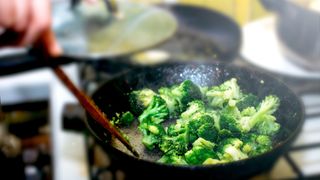 (Image credit: Unknown)
Vegetables should form the foundation of your diet – it's virtually impossible to eat too many. Apart from all their vitamins and antioxidants, they're stuffed with important phytochemicals that are difficult to get anywhere else. All you need to worry about is filling your plate with as much varied veg as you can handle. Jules Clancy, whose Stone Soup cooking course is devoted to idiot-proof five-item recipes, and chef Toral Shah know the best ways.
Shop seasonally
"If you buy veg when it's in season it'll taste better without you having to even do anything to it," says Shah. "And eat a variety of vegetables. If you look at most fitness people's Instagram accounts, it looks like they're eating the same five vegetables all the time – but if you vary things it's instantly less boring."
Don't overcook it
"A lot of people think they don't like vegetables simply because they cook them badly," says Shah. "People seem to be scared and want to overcook everything. Be more European and have them al dente so they aren't too soft – take a bite while you're cooking to check. Your food will have a much more interesting texture."
Start simple
"Even something as simple as salt and pepper can make vegetables taste better," says Shah. "But try to use good-quality salt. It tastes better and so you need to use less of it. Table salt, as far as I'm concerned, is what you use on the road when it has been snowing. Adding a pinch of salt to your veg is also unlikely to make your salt intake too high."
Go with garlic
"I always have some pre-crushed garlic on hand as an easy way to make vegetables taste more interesting," says Shah. "Just peel a few cloves and blitz them in a blender. It might go a bit green - that's fine. When it's done, take it out and keep it in a small closed container. It'll keep for up to four weeks and it's ready to sprinkle on any vegetable dish."
Roast with the most
"The easiest way to make veg tasty is to roast it," says Clancy. "Peel and cut your veg, drizzle it with olive oil and sprinkle fresh thyme on top, then cover it with foil and bake at 160˚C/gas 3 for 30 minutes. Finally, uncover it and keep cooking until it browns. This is perfect for broccoli, parsnips or sweet potatoes. Make sure all the chunks are roughly the same size so they cook evenly."
Steam powered
"When cooking veg like kale or spinach, steam them in a deep pan with a lid," says Clancy. "Wash your veg, throw it in, add a couple of tablespoons of water to the pan, then put it on a low heat. Cook your veg gently for about five minutes until it goes limp and bright green."
Dressing for success
"For a simple salad dressing, combine two teaspoons of extra virgin olive oil – a good fat – with one teaspoon of balsamic vinegar for sweetness," says Clancy. "Alternatively, try three parts olive oil to one part each of red wine vinegar and wholegrain mustard."
Flash in the pan
"For a super-simple way to cook broccoli, put two tablespoons of olive oil in a frying pan, add the florets, then cover the pan," says Clancy. "This will fry it at the bottom and steam it at the top. After two minutes, stir in a knob of butter and cook for two more minutes or until tender."
See related
Hearty Vegetable And Bean Stew Recipe
Ingredients
800g canned cannellini beans
800g canned chopped tomatoes
2-3 courgettes, chopped
2tbsp paprika
1 bag washed baby spinach
To make
Place the beans and liquid, tomato and juices, chopped courgettes and paprika into a large saucepan.
Bring to a simmer and cook, uncovered, for about ten minutes or until the courgettes are soft.
Add the spinach and continue to cook, stirring, until the spinach is just wilted.
Taste, season and serve drizzled generously with extra virgin olive oil.
More Chef Tips To Make Veg Taste Great
Scrub vegetables rather than peeling them – that way you preserve the skin, which contains lots of nutrients. Steve Pidgeon, The Arundell Arms
Cook onions slowly to draw out their natural sweetness. Once they've browned in the pan, turn down the heat and stir frequently for 20-30 minutes – you won't need sugar. Oliver Gladwin, The Shed
When you've got the oven on for something else, bake some aubergines until tender, then freeze or store in the fridge for another meal. Tony Kitous, Comptoir Libanais
To stop vegetables drying out while you're roasting them, throw a load of super-ripe cherry tomatoes over them halfway through cooking. The juices from the bursting tomatoes will blend with the water from the vegetables and make some seriously concentrated, tasty pan juices that you can drizzle over the final dish. Antony Bennett, Loungers
Keep tomatoes out of the fridge or they'll be floury. Shirin Kouros, The Good Life Eatery
If you want to eat the skin of fruits and vegetables, wash them in apple cider vinegar rather than water to remove more dirt – and bugs. Shirin Kouros
Use a steamer rather than boiling vegetables in water because more nutrients are lost in the water when boiling. Shirin Kouros
Sign up for workout ideas, training advice, reviews of the latest gear and more.
From 2008 to 2018, Joel worked for Men's Fitness, which predated, and then shared a website with, Coach. Though he spent years running the hills of Bath, he's since ditched his trainers for a succession of Converse high-tops, since they're better suited to his love of pulling vans, lifting cars, and hefting logs in a succession of strongman competitions.