Jamie Nicholls interview
MF meets slopestyle snowboard Olympic finalist Jamie Nicholls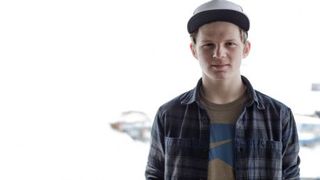 (Image credit: unknown)
Although he's barely out of his teens, Jamie Nicholls is widely considered to be one of the most talented snowboarders to come out of the UK. His combination of youthful fearlessness, finely honed skill and boundless enthusiasm made him Britain's boarder to watch at the Winter Olympics. With just one bronze medal Britain hasn't had a great deal of Olympic snowboarding success, but Nicholls's successful landing of the Cab 1440 move in the slopestyle snowboarding final at Sochi announced his arrival on the world stage and marked him as one to watch.
After finishing in a highly creditable sixth place Nicholls is only looking upwards. He speaks to MF about his Olympic performance, Shaun White and his ambitions for the future.
How did it feel to give your country such a great start at the Winter Olympics with a good showing in the first snowboard event?
It was amazing! When I landed my first run, which would have probably got me to the finals in any other competition, and it only ranked me 11th I realised the level of competition I was up against and I knew I had to step up. That was when I added the Cab 1440 in on my second run. When I got to the bottom I was pretty happy because I'd never landed that trick before. When the scores came up and I got moved up to fourth it really was the best feeling.
Did you expect to do so well at your first Games considering the level of competition?
I knew I could do well I just had to step it up. I had the tricks, I just hadn't used them in a competition before. I knew the standard was going to be high but I just wanted to go there and give it my best shot, which I think I did.
Were you disappointed to not be competing alongside Shaun White or did you see it as a boost to your chances?
It's a shame Shaun didn't compete – he is one of the best in the world without doubt. I'm sure he had his reasons not to compete, but it would've been great to see him on his board amongst that field of riders.
Has riding in the Olympics improved your snowboarding?
I would say at competition level it's improved a lot and my runs have reached a higher level now. I guess it's just been a massive confidence boost more than anything.
Would you say Sochi has the best standard of snowboarding you've ever seen?
Definitely. It was crazy out there – we were all at the top watching on the screen in amazement. The tricks going down that day hadn't even been done in competition before so it was for sure the highest standard contest there had ever been.
Were the two 14s you did planned or did that move come as a result of the standard of competition?
As the result of the competition. I'm sure that happened with a lot of people. It only takes one person to set the bar and then everyone else has to go for it.
Do you do any specific muscle or cardio work in training, or is it all pretty much board practice?
In summer I do a lot of gym work, especially on my legs because I need to keep them strong in order to protect my knees. I also Climb a lot too which helps to keep my upper body strong. Core strength is really important too.
A tough question for any snowboarder – what's your number one boarding destination?
Damn, yeah, that is hard. I could say loads but if I had to choose it'd be Zillertal [in Austria]. The whole area is amazing, including Mayrhofen.
What do you think your achievements at Sochi have done for British snowboarding? And what's a realistic target for the British freestyle snowboard team at the next Winter Olympics?
I think that the whole team made a difference. We all did so well and for British snowboarding it means a lot. Regarding the next Winter Games, hopefully more people in the Olympics and more medals. We had four spots in men's but only two guys went so we could potentially have more riders there and more medals. I can't wait for the next one.
Jamie Nicholls' upcoming TV show will give viewers an insight into his life, from growing up in Yorkshire and learning on dry slopes to becoming the world renowned rider that he is today. It starts on Sky in September.
http://www.jamienichollsuk.com (opens in new tab)
Facebook: https://www.facebook.com/jamienichollsuk (opens in new tab)
Twitter: https://twitter.com/jamienichollsuk (opens in new tab)
Sign up for workout ideas, training advice, reviews of the latest gear and more.
Sam Rider is an experienced freelance journalist, specialising in health, fitness and wellness. For over a decade he's reported on Olympic Games, CrossFit Games and World Cups, and quizzed luminaries of elite sport, nutrition and strength and conditioning. Sam is also a REPS level 3 qualified personal trainer, online coach and founder of Your Daily Fix (opens in new tab). Sam is also Coach's designated reviewer of massage guns and fitness mirrors.