5 Moustache Styles to Rock This Movember
Stop being boring and get involved with the annual face-fuzz fiesta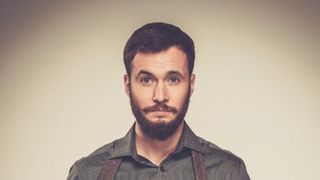 (Image credit: Unknown)
If, on November 1, like thousands of other men around the world, you stood in your bathroom, staring into the mirror, trembling, razor in hand, before tearily kissing goodbye to your beloved beard in the name of charity, then consider yourself a good man, friend. You're about to embark on a follicular adventure alongside countless others in the name of Movember – the organisation that sets out to change the face of men's health for good and in return only asks you to sport a dashing moustache in a bid to raise some much-needed cash.
But have you, you brave soldiers, given any consideration as to what mo style you'll be growing out? Have you thought enough about what type soup strainer you're going to be sporting in the final heroic "I've done it" photo you post on November 30th? Well, help is on hand, friend. To guide you through your top-tier options, we've enlisted to pro guidance of Joe Mills, grooming expert and hair stylist to the stars, for the five best celebrity-inspired styles you should be aiming for, as well as his top tips for how to keep them in envy-inducing condition. Read on, and brace yourself for peak-mo come the end of the month.
The Day-Lewis Handlebar Mo
"This relies on wax," says grooming expert Joe Mills. "Allow the hair to grow below the sides of your mouth. Lift each side and shave underneath, then apply wax with your fingers to curl the ends."
You'll need a good wax for twizzling your moustache into shape. Wax is almost solid so it's a good idea to heat it with a hairdryer just before using. Use a good dollop and rub between your fingers first so the application is smooth – twist off at the ends for a completed look.
Moustache Twizzle Wax, £9.50 for 10ml buy on mrnatty.com
The Hogan Horseshoe Mo
"This is an easy look to get, although it's harder to pull off," says Mills. "Grow your beard, then trim with clippers in the direction of hair growth. You may find your skin gets itchy as it grows out, so keep moisturiser on hand."
Moisturising your moustache is essential and it's best to get a beard shampoo that can help keep it clean and ensure it is smooth and conditioned. A scented shampoo shows a little extra effort and means you'll smell fragrant and fresh.
Beardsley Wild Berry Shampoo, £15 for 240ml, buy on beardcraft.co.uk, buy on amazon.co.uk
The Poirot Petite Handlebar Mo
"This can take months to achieve," says Mills. "Ideally you need the hair at 5cm. Shave but leave the hair under your nostrils. Comb it down to keep it untangled and neat, then style into shape with a firm paste."
Precision is vital with this look so you need a good razor that shaves, trims and edges. The end result is definitely worth enduring the awkward itchy phase – don't give up and you'll have superior facial hair to all.
Gillette Fusion ProGlide Styler, £14, buy on boots.com
The Selleck Painter's Brush Mo
"This is the mo to beat all mos," says Mills. "If you have fair hair, go for a full thick look like this. Just shave it in. Use a trimmer across the top lip and under the nostrils to avoid irritation – but otherwise just let that mo grow."
This mo requires quite a lot of maintenance and effort to make it full and thick. Make sure that after every shave and trim you use a proper shave gel that hydrates your skin and keeps its smooth. Using a fine-tooth comb and brush downwards for a polished and stylish look.
Dove Hydrate Shave Cream, £2.99 for 150ml, buy on dove.com
The Gable Pencil Mo
"Make the most of thin hair growth with a Clarke Gable mo," says Mills. "Grow a full moustache, then trim with clippers. Use a wet razor to shape a neat line just above your lip. And wear a tux."
Whether as a prep product or an aftershave conditioner, make sure you use a beard oil – this style requires a lot of regular shaving so use a product that contains natural moisturising ingredients. Plant-based oils like argan give a super-shiny finish and moisturise deep in your skin.
Apothecary 87 Original Recipe Beard Oil, £9 for 10ml, buy on apothecary87.co.uk
RECOMMENDED: The Best Beard Oils
Sign up for workout ideas, training advice, reviews of the latest gear and more.
Niamh interned for Men's Fitness UK (which predated and then shared a website with Coach) in 2014, writing a series of articles.