Jack Eyers's unique transformation
The amputation of his right leg hasn't stopped personal trainer Jack Eyers from getting in phenomenal shape. Here's how he did it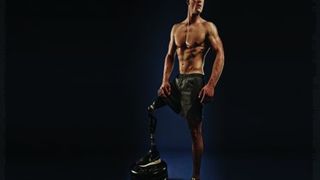 (Image credit: Unknown)
'I was 16 when I made the choice to have my leg amputated,' says Jack Eyers. 'It was the best decision I've ever made.' It's hard to imagine for most of us but the alternative for Eyers was actually worse. He was born with a condition called primal femoral focal deficiency, or PFFD, which prevents limbs – in Eyers's case his right leg – from growing properly.
'My knee joint didn't work,' says Eyers. 'Being 6ft 2in [1.88m] without being able to bend your leg was impractical. I couldn't run or play sports and even little things such as sitting at the cinema were difficult. Because of the way my foot was pointing I was constantly walking on my toes, which hurt. A lot.
'I was embarrassed about my leg and I didn't like to tell people I was born with a condition,' says Eyers. 'I discharged myself from all the physios helping me and went to a normal school. When I was younger I was into sport but then, as I became more body-conscious,
I didn't want people to see me without my trousers on. So I stopped exercise for about five years.'
Eyers had his leg amputated as soon as he'd finished growing. 'It didn't feel like a decision, it felt like finally having a weight lifted from my shoulders,' he says. 'The stigma of being born with a condition was gone – my missing leg could have been an accident or whatever.'
He felt reborn after the amputation – although he had to learn to walk again. 'My artificial leg is just a free hinge so if you don't stand on it right it will collapse, and falling over as a 16-year-old lad is embarrassing,' says Eyers. He found that sport was the way to improve his co-ordination and balance. 'It helped me realise how much I was physically capable of. My life improved massively once I started training.'
Some things are naturally harder for Eyers, now 25, because of his leg. 'If I start running or spending long on my feet, I end up with blisters and sores,' he says. 'Things that most people don't even think of as problems, like rough terrain, are a nightmare for me so for cardio I stick to swimming.'
Initially his motivation to get fit was to join the fire service. It didn't wor kout, but the happy byproduct was that Eyers was in a far better condition than he imagined possible and he's now a personal trainer and fitness model based in Bournemouth. His achievements made him think about how he could help others who face similar challenges. 'Oscar Pistorius was a role model but, well, look at him now,' says Eyers. 'So I'd like to set an example for what amputees can achieve.'
Eyers workout
'Rather than just doing the typical three sets of 12 that many people do for hypertrophy, I tend to do between four and six sets of each,' Eyers says. 'It's a different style that brings in endurance and a little bit of strength. Start with 15 reps. Each set, lower the reps and add weight.'
1. Squat
'I often do squats on the Smith machine so I can lean back into the bar. But if there isn't a machine around, I do the single-leg version.'
2. Pull-up
'I do these with a close or wide grip – and sometimes add a weight belt. Landing on my leg's no problem.
3. Press-up
'I do these on my knuckles and squeeze my pecs at the top for extra activation. This is super-effective for building muscle.'
4. Military press
'I prefer this to a seated overhead press – stabilising the bar at the top gives my obliques an extra workout.'
5. Hanging leg raise
'One of my favourite abs moves. This has helped me build a rock-solid core.'
Sign up for workout ideas, training advice, reviews of the latest gear and more.
Coach is a health and fitness title. This byline is used for posting sponsored content, book extracts and the like. It is also used as a placeholder for articles published a long time ago when the original author is unclear. You can find out more about this publication and find the contact details of the editorial team on the About Us page.