James Sutliff's unique transformation and workout
Speech problems and a lack of mobility in his hands didn't stop James Sutliff from getting into amazing shape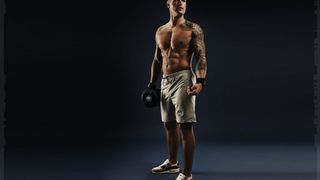 (Image credit: Unknown)
Five years ago, James Sutliff woke up one morning feeling, as he describes it, 'a little unwell'. He put his nausea down to the fact he'd had a few drinks with his friends the night before and decided to have a nap. 'When I woke up again I could no longer speak properly.'
The doctors were at a loss. On paper Sutliff was a healthy 24-year-old but despite test after test, nothing could explain why his speech was now badly slurred and distorted. He tried to continue with his life as normal, only to be struck by another blow a year later. His hands became increasingly hard to use and, eventually, locked up as fists.
'One minute I was a normal, confident lad, who played rugby and had a job that I enjoyed,' says Sutliff. 'Then suddenly my life had been taken away from me. I was really resentful.' As well as feeling like he'd gotten a raw deal, Sutliff found his confidence was shattered. 'My self-esteem was so low that I would struggle to get through simple things like going for a meal with my family,' he says. 'I went through some dark periods to say the least.'
It took three years until he was diagnosed with the neurological condition dystonia, which affects muscle contractions. 'I started to read up on it and found I had a mild form compared to some people,' says Sutliff. 'I knew if I kept pitying myself I would end up a lot worse off than I am today. That's when I turned my focus to fitness.'
Sutliff set about tweaking workouts to suit his painful hands. 'Now I can open and close my hands, but it's a lot slower and more exaggerated than for most people,' he says. 'There are still some exercises I can't do but I have special wrist supports that help me grip a bar when I'm lifting it, which has made a big difference.'
He was forced to give up his job as a plumber because of his lack of manual dexterity and says fitness became his lifeline. People started to speak to him in the street because of his build, asking how he achieved it. 'They'd be amazed when they found out that I'd done it with my condition,' he says. 'That recognition helped me build my confidence back again. My wife says I'm much easier to live with too!'
Although his personal determination played a huge role, Sutliff, now 30, knows he couldn't have done it alone. 'I was lucky enough to have a great support system around me,' he says. And now he's keen to give something back. 'I want to show that having a disability isn't going to get in the way of achieving my goals. Hopefully anyone going though something tough will read this and feel the same.'
Sutliff's workout
1. Front raise
Sets 4 Reps 15 Weight 30kg
2. Flye
Sets 4 Reps 15 Weight 40kg
3. Bench press
Sets 4 Reps 15 Weight 50kg
4. Incline bench flye
Sets 4 Reps 15 Weight 30kg
5. Incline bench press
Sets 4 Reps 15 Weight 40kg
Sign up for workout ideas, training advice, reviews of the latest gear and more.
Coach is a health and fitness title. This byline is used for posting sponsored content, book extracts and the like. It is also used as a placeholder for articles published a long time ago when the original author is unclear. You can find out more about this publication and find the contact details of the editorial team on the About Us page.