31 days to your fittest ever year
Make one change a day – and see your body transform in a month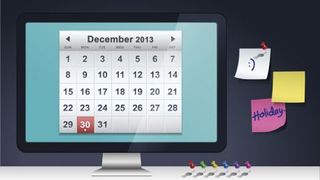 (Image credit: Unknown)
In This Series
31 days to your fittest ever year
Fitness isn't an all-out war, it's a series of small skirmishes. By taking tiny steps and changing your life one day at a time you'll be more likely to stick with the changes you make – and they'll mount up to improve your life. This plan runs for one calendar month, with some tasks designed for the working week and some that are easier to tackle at the weekend. Stick to it and within weeks you'll be fitter than ever.
Day 1 - Drink more water
Good news – the best nutritional supplement is already pumped conveniently into your house. Studies have shown that low hydration levels affect everything from physical performance to mood – and the remedy couldn't be simpler. 'Aiming for half a pint of water per hour will see that you're well hydrated throughout the day,' says trainer Stephen Hoyles. 'Just stop at least an hour before bed so your sleep isn't disrupted.'
Day 2 - Push, pull, lunge
Want to get lean while adding muscle? Strength and conditioning expert Chad Waterbury's ultra-simple 'push, pull, lunge' programme is the solution: do pull-ups, lunges and press-ups every day for the next 30 days. If you can already do ten pull-ups, start with ten reps of each exercise. If you can't, start with one. Add one rep every day for the rest of the month.
'The first week should feel like nothing,' says Waterbury. 'But small additions each day make a big difference over the long haul.' Do it first thing in the morning so it won't interfere with your other workouts – apart from providing an easy boost to your fat loss, muscle and endurance.
Day 3 - Fix your breakfast
It's easiest to eat cereal on workday mornings, right? Wrong. 'Eating cereal for breakfast will give you low blood sugar by mid-morning and make you hungrier in the long run,' says Dr John Briffa, author of Escape The Diet Trap. 'You don't need to eat a lot to fuel the body throughout the morning but you should have something low-carb that's nutritionally sustainable, such as plain full-fat yoghurt with berries and nuts, scrambled eggs or hard-boiled eggs with smoked salmon or ham that you don't even have to cook.'
Day 4 - Rethink your commute
According to a 2011 study on Swedish office workers, commuting by car or public transport – as opposed to on foot or by bike – has links to depression, exhaustion and stress. If switching isn't an option, get off a stop earlier so you get a walk or take the stairs when you get to the office.
Day 5 - Upgrade your lunch
'If you're suffering from mid-afternoon tiredness, reduce your carb intake at lunch,' says Hoyles. 'Opt for high-protein, low-carb meals such as chicken salad to stabilise your blood sugar and prevent afternoon energy dips.' Use olive oil as a dressing for a boost in healthy fat.
Day 6 - Streamline your inbox
Every 'ping' from your email produces a tiny spike in your levels of the stress hormone cortisol, which promotes fat storage. Cut back with Gmail's 'filter' option: create a Non-Essential folder and filter Amazon shipment updates, newsletters and the like directly into it. And switch off the notification noise.
Day 7 - Hit the bar
Unless you've decided to quit booze (it wouldn't hurt), switch your Friday night pints for a 'paleo margarita', invented by The Paleo Solution author Robb Wolf – agave tequila with soda water and plenty of lime. The tequila doesn't give much of a blood sugar hit and the lime blunts it even further. The bubbles just make it taste nice.
Day 8 - Get outside
Go for a walk. A study in the Journal Of Environmental Science linked outdoor workouts with increased energy as well as lower levels of tension, confusion, anger and depression. A brisk walk will also boost your fat loss without elevating harmful cortisol levels.
Day 9 - Soundtrack your gym sessions
Several studies suggest that music in the 120-140 beats per minute range will help you work harder during your workout. Create a playlist on your MP3 player and use the free Nike+ app to assign your favoured tune to the easily accessed 'power song' slot.
Day 10 - Use the office-chair stretch
If you've got a desk job, your glutes and hip flexors are dormant for most of the day. Wake them up with this stretch from mobility coach Kelly Starrett (mobilitywod.com). 'Sit resting your right foot on your left thigh. Keeping your back straight, bend forward at the hip. For more support, hook your crossed knee on a desk or table.'
Click below for the next 10 days.
Sign up for workout ideas, training advice, reviews of the latest gear and more.
Coach is a health and fitness title. This byline is used for posting sponsored content, book extracts and the like. It is also used as a placeholder for articles published a long time ago when the original author is unclear. You can find out more about this publication and find the contact details of the editorial team on the About Us page.