The Free and Easy Thing to Do in London This Bank Holiday Weekend
Hit your 10,000-step target with a self-guided walking tour of London's hidden gems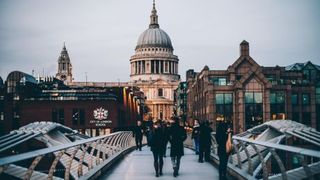 (Image credit: Unknown)
We all know walking is one of the best ways to get more exercise in without it really feeling like exercise. That's why we think you should get outside and explore London this bank holiday weekend. There are always new things to see, whether you've lived here your whole life or only just moved to the city.
RECOMMENDED: The Benefits of Walking
Buy a Gift's Steps in the City website has planned out 10 routes for you, all of which will get you past the 10,000 steps mark which many fitness trackers use as a daily goal. The walks hit iconic landmarks such as the Tower of London as well as secret gems like Duck Island and Temple Church. Make a day of it with the family or some mates and soak up some vitamin D as you ramble through town.
RECOMMENDED: Fun Activities in London
The Politics and Spies tour starts at Westminster Tube station, and takes you on a journey of espionage, politics and secret offices – including the most famous black door in the world. The route is 12.5km long with a stretch along the Thames, a stroll past Number 10 and a chance to see the Churchill War Rooms. If you're counting steps, this walk should get you past the 17,000 mark.
If you'd rather something a little shorter, the Arts Walk covers 8.5km – still more than enough to get you past that 10,000 step target . Start at Victoria Tube station and see Westminster Cathedral, Yinka Shonibare's Wind Sculpture, the John Piper glass window and loads more. This walk ends at the Eduardo Paolozzi Cooling Tower in Pimlico, commissioned in 1982 to detract from the ugly cooling tower used by Pimlico tube station.
RECOMMENDED: Bank Holiday Weekend Adventures
All of the walks take you past interesting places to explore or grab lunch andr – perhaps most importantly – there are many chances to grab a cheeky ice cream.
Find all 10 routes at Steps in the City, including a very handy button link to load directions into Google Maps on your smartphone.
Sign up for workout ideas, training advice, reviews of the latest gear and more.
Pennie is the founder of fitness magazine Oh My Quad and has a decade's experience working as a freelance journalist for various magazines on- and offline. She is also a personal trainer based in North London and the GoodGym Barnet trainer, so spends a lot of time running around and picking things up.