Healthy Protein-Rich Salad Ideas
Prepare a healthy meal in minutes with these simple protein-rich salad recipes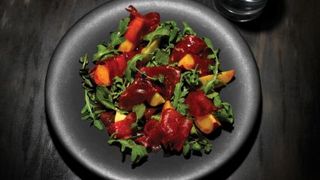 (Image credit: Shutterstock)
Throwing a salad together is a great option when you're in a hurry or it's the height of summer, especially if it's full of nutrient-rich ingredients that will supplement your training.
Bresaola And Peach Salad Recipe
This bresaola and peach salad recipe has been provided by chef Karol Gladki.
Method
Slice the peach.
Mix the slices with the bresaola and rocket.
Add the olive oil, sherry vinegar and ground pepper to season.
Ingredients (Serves One)
150g of bresaola
1 peach
Handful of rocket
2tbsp extra virgin olive oil
1tbsp sherry vinegar
Ground pepper to taste
Parma Ham And Bresaola Salad Recipe
Ingredients (Serves One)
½ peach
½ red onion
50g Parma ham
25g bresaola
50g mixed rocket and watercress
1tbsp olive oil
1tbsp balsamic vinegar
Method
Slice the peach into segments and the red onion into rings.
Toss with the ham, bresaola, rocket and watercress.
Dress the salad with the olive oil and balsamic vinegar.
Calories 359kcal, protein 29g, fat 23g, carbs 14g.
Salmon And Prawn Salad Recipe
Ingredients (Serves One)
¼ cucumber
¼ onion
100g prawns, cooked
60g salmon flakes
2 handfuls of spinach leaves
2tbsp Greek yogurt
1tbsp mustard
1tsp Dijon mustard
1 lemon slice
Method
Slice the cucumber and dice the onion.
Toss with the prawns, salmon and spinach leaves.
Mix the Greek yogurt with the mustards and dress the salad with it. Serve with a lemon slice.
Calories 265kcal, protein 37g, fat 7g, carbs 15g.
Vegetarian Bean Salad
Ingredients (Serves One)
2 eggs
½ red chilli
Handful of baby plum tomatoes
100g chickpeas
100g kidney beans
10g coriander
1tbsp guacamole
Method
Boil the eggs for ten minutes, leave to cool, then shell and halve them.
Thinly slice the chilli and halve the tomatoes, then toss then with the eggs, chickpeas, kidney beans and coriander.
Top with the guacamole.
Calories 448kcal, protein 29g, fat 17g, carbs 41g
Sign up for workout ideas, training advice, reviews of the latest gear and more.
Between 2010 and 2016, Ben was the deputy editor of Men's Fitness UK, which predated, and then shared a website with, Coach. Ben also contributed exclusive features to Coach on topics such as football drills, triathlon training plans and healthy eating.