How Much Food Does the Daily Calorie Intake for Men Cover?
Ah, well, that all depends. Here are eight healthy and unhealthy ways to get the magic number of 2,500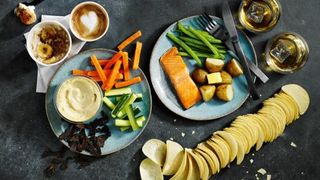 (Image credit: Unknown)
The NHS's recommendation for a man's daily calorie intake is 2,500 (women, you get 2,000 to work with), but some people have a funny old idea of the best way to get there.
To give an indication of just what 2,500 calories looks like, Coach has produced eight "days" based on the intake of real individuals. That includes breakfast at McDonald's, fizzy drinks, crisps, supermarket prawn sandwiches, takeaways, ready meals and dinner at the pub.
Two conclusions were immediately apparent: you don't get a lot for your 2,500, and some of you have a truly shocking idea of what constitutes "healthy" and "balanced". Are you one of them? If you are, or these meal plans feel depressingly familiar, Sharmain Davis, a dietitian and spokesperson for the British Dietetic Association, has applied her expertise to improving them.
RECOMMENDED: The Meal Plan That Will Get You Lean in 4 Weeks
Day One: A Fry-Up and Dinner at the Pub
Brunch
Two scrambled eggs with milk and butter (197), one chorizo sausage (273), two rashers of streaky bacon (128), potato croquette (88), beans (191) 877
Two glasses of champagne 180
Dinner (from a pub)
Two gin and tonics 220
Three pieces of deep-fried chicken and chips 900
Two pints of beer 360
Total 2,537 calories
The dietitian says If an evening in the pub is on the cards, it's wise to start the day with a healthier brunch option. Choose a high-protein, vegetable- and nutrient-rich option, such as spinach and red pepper omelette with granary toast and smoked salmon. And keep alcohol to a minimum too, if you want to optimise health.
Day Two: Breakfast at McDonald's and a Ready Meal for Dinner
Breakfast
McDonald's Sausage and Egg McMuffin 430
McDonald's vanilla latte 128
Morning snack
Diet Coke 4
Caffè Nero chocolate twist croissant 320
Lunch
Ham and cheese panini 263
One glazed doughnut 260
Bag of Walkers crisps 132
Cup of tea with skimmed milk and two sugars 68
Dinner
Tesco Cottage pie ready meal 468
Portion of peas 81
Tesco Finest sticky toffee dessert 360
Total 2,514 calories
The dietitian says This diet is high-salt, high-fat and high-sugar, with peas. It is in desperate need of some fresh, whole foods that haven't been sweetened or salted. A good start here would be to make at least two meals from home, such as a scrambled egg on toast with grilled tomatoes for breakfast and perhaps a cheese salad panini and an apple, omitting the crisps for lunch.
Day Three: Prawn Sandwich for Lunch, Ready Meal for Dinner and Red Wine
Breakfast
Two slices of toast with butter and jam 300
Morning snack
Cup of tea with milk 20
Two chocolate biscuits 80
Lunch
Marks & Spencer prawn mayonnaise sandwich 360
One Granny Smith apple 80
Afternoon
One cup of white coffee, no sugar 20
Dinner
Sainsbury's Spaghetti Bolognese ready meal 550
2tbsp freshly grated parmesan 43
One small green salad dressed with oil and vinegar 200
Two large glasses red wine 428
One Gail's Bakery chocolate pecan brownie 482
Total 2,563 calories
The dietitian says With around two-thirds of the day's calories consumed in the evening and much of the extra energy coming from biscuits, a brownie and alcohol, there's definitely scope to add more nutrient-dense options. Replace the mid-morning biscuits with a piece of fruit and the brownie after dinner with Greek yogurt to help meet calcium needs and to support healthy bones.
Day Four: Fizzy Drinks, Takeaway Pizza and Beer
Breakfast
Banana 90
Two Wagon wheels 328
Dr Pepper 250
Lunch
Bacon, avocado and chilli sandwich 339
Coke 140
Dinner
Domino's American hot, classic crust pizza 1,225
Pint of lager 180
Total 2,552 calories
The dietitian says This diet is low in fruit and veg, and therefore vitamins, minerals and fibre. If nothing else, swap the Dr Pepper and Coke with freshly squeezed juice or a fruit/veg smoothie to add some much-needed nutrients to support digestion and immune health.
RECOMMENDED: The Best 4-Week Diet Plan
Day Five: Porridge for Breakfast, Salmon for Dinner and a Whole Tube of Pringles
Breakfast
Porridge with banana and cinnamon from Leon 367
Flat white 179
Lunch
Hummus (166), crudités (75), pack of beef biltong (75) 316
Dinner
Grilled salmon (280), boiled new potatoes (135) with pat of butter (36), and a portion of green beans (31) 482
Two 50ml glasses whisky 240
One 190g tub of ready salted Pringles 963
Total 2,547 calories
The dietitian says This day started so well. High-fibre porridge with fruit for breakfast, vegetables with lunch and dinner, and grilled salmon, providing essential fats. One whole tube of Pringles is a high-fat, high-salt snack void of useful nutrition. Choose a healthier snack such as a handful of unsalted cashews or almonds, and grilled fresh beef at lunch instead of high-salt biltong.
Day Six: Granola for Breakfast, Salad for Lunch and Thai Green Curry for Dinner
Breakfast
One pot plain Greek yogurt (190) with 2tbsp honey (30), handful of fresh blueberries and strawberries (35) and a 50g serving of granola (193) 448
Glass of orange juice 45
One black coffee 2
Lunch
Pret a Manger beets, squash and feta superbowl 541
Pret Souper Tomato 228
One slice of wholegrain bread (no butter) 75
Pret large fruit salad 472
Cup of tea, no milk, no sugar 2
Dinner
Thai green curry with prawns (180) and Tilda Takeaway coconut rice (232) 412
Two squares of dark chocolate 104
One glass of dry white wine 77
Total 2,406 calories
The dietitian says This diet is a pretty good example of how much more food you can eat when you choose plenty of fresh fruits, vegetables and lean protein sources, such as prawns. My main suggestion here would be to add extra vegetables to the curry at dinner to increase micronutrient intake.
RECOMMENDED: How Many Calories Are There in a Curry?
Day Seven: Smoothie and a Double Bacon Cheeseburger
Breakfast
250ml Innocent strawberries and bananas smoothie 136
Lunch
Double bacon cheeseburger, chips and a milkshake 1,751
Dinner
25g Mattessons fridge raiders chicken bites 47
Piece of garlic bread 172
Two glasses of Amaretto on ice 388
Total 2,494 calories
The dietitian says Despite the smoothie, there's a lack of nutrient-dense food here. All meals appear to be a convenient, grab-and-go option, with not much of anything green. Make your own smoothie adding in greens, such as spinach, and some yogurt or milk for extra protein. Omit the chips or milkshake and add salad to pack out the bun. If easier, choose cooked chicken breast and a salad for a more balanced whole food evening meal.
Day Eight: Weetabix for Breakfast and Cheesy Baked Potato for Lunch (No Dinner)
Breakfast
Two Weetabix (134) with milk (60) and sugar (16) 210
Mug of instant coffee with milk and two sugars 75
Mars Bar 242
Lunch (from a canteen)
Baked potato with butter and cheese (578) and coleslaw (152) 730
Slice of apple pie 237
Snack
Half a packet of Haribo Tangfastics 340
Two pints of cider (210 each) 420
Packet of peanuts 290
Dinner
Total 2,544 calories
The dietitian says Empty plate and empty calories. This diet is low in fruits and veg, and low in protein and healthy fats, too. Eating like this every day would result in nutrient deficiencies. Swap the sugar at breakfast and sweeten with chopped bananas and strawberries. Ditch the jelly sweets and cider, and instead have a wholesome meal of grilled mackerel with broccoli and couscous.
Find out more about Sharmain Davis at thedietconsultant.com (opens in new tab)
Sign up for workout ideas, training advice, reviews of the latest gear and more.
Bridget was a freelance journalist who contributed features to the print edition of Coach in 2016.