7-Day Paleo Diet Meal Plan
A detailed Paleo meal plan to keep your tastebuds happy without derailing your diet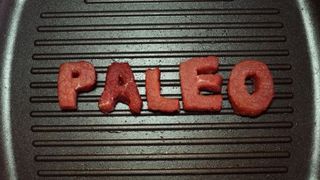 (Image credit: Unknown)
The jury is still out on some of the more radical health claims of the Paleo diet, but avoiding processed foods and sticking to "real" ingredients is a good way to start any nutritional plan.
The Paleo diet, also known as the caveman diet, focuses on consuming foods that a typical hunter-gatherer would have eaten. That means meat, eggs, fish, nuts and veg while you avoid sugar, grains and dairy products.
With any diet plan comes the inevitable boredom, the monotonous "same meal, different day" feeling, making it easy to fall off of the wagon. But to keep your daily intake varied, we've come up with a tasty seven-day meal plan – you can follow it strictly or just pinch a meal idea.
Full of eggs, lean meat, veg and nuts that any self-respecting cave dweller would have killed for, the meals are perfect to get you eating healthily and offer a great alternative to over-processed foods like cereal, salami, ready meals and biscuits.
The plan can help you lose weight, give you an extra protein kick on a training day or simply give you a tasty recipe when you are stuck on what to cook. From casseroles to turkey sausage scrambles, these easy-to-make recipes will soon have you leaner and more satisfied than any McMuffin ever could.
Monday
Breakfast: Sausage omelette. Use coconut oil and 2-3 large eggs to to cook an omelette. Add two cooked turkey sausages and a handful of any green vegetables.
Snack: Handful of almonds
Lunch: Paleo lunch box. 1 banana, 1 apple, 1 chicken breast, handful of hazelnuts, 2 hard-boiled eggs, 200g green peppers
Snack: Baked courgette chips, Slice one courgette thinly. Lay the slices on a paper towel and remove any excess water. Leave to sit for 20 minutes. In a bowl, mix 5ml coconut oil with salt, pepper, and the courgette slices. Place on a greased pan and bake at 110°C for 2½ hours, or until crisp.
Dinner: Spaghetti squash (see recipe)
Tuesday
Breakfast: Egg casserole. Combine 12 eggs with 450g of ground turkey sausage and 2 small onions, ½ a green pepper, and as many mushrooms as you like. Pour into a casserole dish and bake for 30 minutes at 175°C. Refrigerate the leftovers.
Snack: Beef jerky
Lunch: Avocado tuna salad with tomato. 80g of tinned tuna with ½ an avocado and add to baby spinach leaves and tomatoes.
Snack: Apple and 1tbsp almond butter
Dinner: Tomato and artichoke chicken (see recipe)
Wednesday
Breakfast: Almonds and berries with coconut milk. (Tip: Buy frozen mixed berries to keep the cost down.)
Snack: Large banana with 1tbsp almond butter
Lunch: Paleo super salad. Toss a large handful of baby spinach leaves with a small handful of walnuts, 10-12 strawberries (sliced), 2 hard-boiled eggs, and a glug of balsamic vinegar.
Snack: Handful of almonds
Dinner: Chicken, mushroom and cauliflower purée (see recipe)
Thursday
Breakfast: Pepper-baked eggs with turkey bacon. Heat some coconut oil and cook two eggs inside rings of pepper. Serve with two slices of turkey bacon.
Snack: Carrot sticks with guacamole
Lunch: White fish wraps. Grill a fillet of white fish (cod, pollock, hake). Wrap lettuce around it, add ½ an avocado (sliced), and season with lime and coriander.
Snack: Smoked salmon on cucumber slices
Dinner: Tomato and artichoke chicken leftovers
Friday
Breakfast: Egg casserole leftovers
Snack: Small bunch of grapes
Lunch: Chicken and courgette hot salad <(see recipe)
Snack: Beef jerky
Dinner: Spaghetti squash leftovers
Saturday
Breakfast: Turkey sausage scramble. Chop 60g turkey sausage, 1 sweet potato, and 90g of brussels sprouts into chunks. Scramble it all with 3 eggs until the sausage is cooked throughout.
Snack: Banana
Lunch: Chicken lettuce fajitas (see recipe)
Snack: Handful of almonds
Dinner: Chicken, mushroom and cauliflower purée leftovers
Sunday
Breakfast: Egg casserole leftovers
Snack: Banana, blueberry, pineapple and kale smoothie. Blend half a banana, a handful of frozen blueberries, half a frozen pineapple, a handful of kale, 1tbsp almond butter and 200ml water in a blender.
Lunch: Tomato and artichoke chicken leftovers
Snack: Cucumber sticks with hummus
Dinner: Garlic and herb pork chop with sweet potato mash (see recipe)
See easy paleo diet meals for recipes mentioned in the meal plan that aren't listed above
Sign up for workout ideas, training advice, reviews of the latest gear and more.