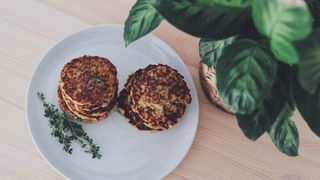 (Image credit: Getty Images)
Instructions
Grate the potato and parsnip into a bowl
Add one egg and some salt and pepper
Mix together to form Rostis
Add tablespoon of Lucy bee Coconut Oil to pan and start to fry Rostis. Fry each side for about 4-5 mins
In another pan start to fry the Chorizo
Top with Total Greek Yogurt and some fresh Corriander
Ingredients
1 potato
1 parsnip
1 egg
1tbsp coconut oil
Chorizo
Fresh coriander
Greek yogurt
About Joe Wicks
Personal trainer and nutritionist, Joe Wicks, has been helping his one-to-one clients lose weight and shape up for years. Now, however, he has thousands of people following his plans and advice, thanks to the spread of his #leanin15 and #TeamLean2014 hashtags across twitter and Instagram. His no-nonsense approach to diet and exercise and simple recipes (all designed to be cooked in under 15 minutes), and most importantly, his clients' results has resulted in Joe collecting over 100 new social media followers a day.
Follow on Twitter: @thebodycoach
Sign up for workout ideas, training advice, reviews of the latest gear and more.
Between 2010 and 2016, Ben was the deputy editor of Men's Fitness UK, which predated, and then shared a website with, Coach. Ben also contributed exclusive features to Coach on topics such as football drills, triathlon training plans and healthy eating.