The Most Popular Steroids For Sale in the UK (And Why You Should Avoid Them)
The most common types of steroids used in UK gyms, what they do and why it's worth steering clear of them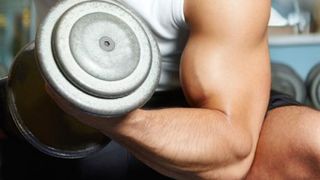 (Image credit: Unknown)
The use of anabolic steroids and other performance-enhancing drugs (PED) is no longer the preserve of bodybuilders and professional athletes. Men in the UK are increasingly turning to these controlled substances to help them build muscle, burn body fat and improve athletic performance faster.
In 2016 the Crime Survey for England and Wales claimed that 60,000 people were using steroids, but industry experts claimed that the real figures were far higher. Earlier this year Joseph Kean, a visiting research fellow at Liverpool John Moores University, told the Guardian that he estimates up to 30,000 men over the age of 40 alone are using steroids regularly in the UK – that's double the number five years ago. We can only assume that they are unaware of the many short- and long-term health implications, as well as the legal status of steroids.
In the UK, steroids are a Class C controlled substance, meaning it's not an offence to possess them, but manufacturing them, supplying them or exporting them without a licence is illegal, as is buying them online and having them shipped to the UK.
And regardless of the miracles promised, they all come with alarming side effects that offset the benefits of getting bigger, stronger or leaner. Here are the most popular PEDs, which we certainly don't recommend taking. If you have any suspicions about doping in a sport you participate in, visit reportdoping.com (opens in new tab).
Amphetamine
The daddy of all stimulants, amphetamine supercharges the nervous system and increases stamina and alertness while reducing fatigue and pain. But it can be deadly. The likely killer of British cycling legend Tom Simpson in 1967, amphetamine can cause cardiac arrhythmia and heart attacks.
EPO
The cyclists' favourite, erythropoietin has caused nearly three times as many bans
 as the next most popular PED. Lance Armstrong called EPO "the 10%-er" which made it a drug that you simply had to take. It increases the flow of red blood cells and oxygen to the muscles for more power and energy. The trade-off? You may well die from heart failure, as was the case for seven cyclists under 35 in 2003-2004.
Human growth hormone
Another hormone present in the body, and boosting your levels artificially encourages faster muscle growth and recuperation. It has been used as an anti-ageing solution but research suggests it raises risk of diabetes, joint degradation and Hodgkin's lymphoma (cancer of the lymphatic cells, part of the circulatory system).
Corticosteroids
Different from anabolic steroids, these aid the production of glucose, cause quicker release of fatty acids and reduce general inflammation, meaning they reduce injury and illness in training. Sounds too good, is too good. The list of side effects is long, but includes mental conditions such as anxiety and depression, as well as gastrointestinal illnesses like colitis.
Nandrolone
Nandrolone is injectable, has a high anabolic (muscle-building) and medium androgenic (basically, anything relating to masculine characteristics) content and is slower-release than other steroids. It can lead to kidney damage, heart and liver disease, increased blood pressure, wild mood swings and impotence. Water retention is also a huge problem, meaning muscle definition can be hidden behind a bloated body.
Testosterone
Injectable, synthesised testosterone is the most androgenic steroid so it has some seriously evil side effects. Long-term use may cause acne on the back and shoulders, hair loss, shrinkage of testicles, mood changes and even prostate enlargement. It's psychosis in a syringe. Brand names include Testovis and Virormone.
RECOMMENDED: How to Boost Your Testosterone Levels the Natural Way
Stanozolol
Normally taken orally but some non-EU or US countries produce injectable versions. Its ability to increase muscle mass, harden the body and increase stamina has made it one of the go-to steroid choices for many a user – and it's the one they use on racehorses to make them go faster. But many users report acne flare-ups and dry joints, and while it's easy on the hairline, it's hard on the liver. Warning signs of liver problems include abdominal pain, light-coloured stools, dark-coloured urine, unusual fatigue, nausea and yellowing of the skin or eyes. Brand names include Winstrol.
Oxandrolone
A hugely anabolic and androgenic oral steroid commonly used or treating muscle-wasting diseases such as AIDS. While it gets results fast, it's also the most likely to make you go bald and give you acne. Less toxic on the liver than stanozolol but will cause your blood pressure to skyrocket. Brand names include Oxandrin.
Trenbolone
Trenbolone – usually shortened to "tren" during locker-room muttering – is often described as the best anabolic steorid on the market, but it also comes with the worst side effects. It'll help users to experience serious fat loss while gaining hard mass, without much need for dieting. But before you get overly enamoured by the idea, it has been known to cause serious damage to the liver and the heart.
Anadrol
One of the more old-school steroids. Anadrol was very popular in the 1980s and 90s with bodybuilders, and it's a very cheap way to put on bulk quickly. By 2000, however, a lot more research on the negative side effects of Anandrol had been done, showing that – like many of the 'roids mentioned above – it puts your liver at great risk. Basically it's not worth it in the long run.
RECOMMENDED: The Best Supplements
Sign up for workout ideas, training advice, reviews of the latest gear and more.
Coach is a health and fitness title. This byline is used for posting sponsored content, book extracts and the like. It is also used as a placeholder for articles published a long time ago when the original author is unclear. You can find out more about this publication and find the contact details of the editorial team on the About Us page.