Sport Supplements For Beginners
Our definitive guide to the sports supplements you need, depending on your training targets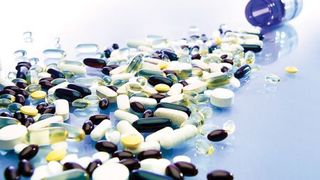 (Image credit: Unknown)
This article was first published in 2013. The formatting was improved in 2022 to make it more readable.
Vitamin D
Why You're supposed to get vitamin D from the sun but that's a forlorn hope for the deskbound Briton – 20 minutes' exposure provides all the vitamin D you need in summer but according to the National Institute of Health, it's impossible to get enough in winter. 'Deficiency is common and is linked to reduced strength and increased body fat,' says strength and conditioning coach Joe Lightfoot. 'It's also associated with diseases such as diabetes and depression. Supplementing is very cheap and easy.'

How It's available in tablet or oral spray form. Official government recommendations are low – experts recommend 3,000IU a day, which has been proved safe in multiple studies. It's fat-soluble, so take it with a meal.
Read more about vitamin D supplements
Fish Oil
Why 'Having omega 3 fats in your diet is important for your health. Supplementation helps you to maintain a good ratio of omega 3 to omega 6 – modern humans consume far too much omega 6,' says Lightfoot. 'More specifically, studies have shown that fish oil supplementation results in decreased body fat and reduced inflammation.' It has also been linked to an increase in serotonin levels, greater focus in training, lower stress and resistance to illnesses including Crohn's disease and some cancers.
How Take a spoonful with your meals. Most authorities recommend taking 1-4g a day, depending on how much oily fish you already eat.
Read more about omega 3 fish oil supplements

Whey Protein
Why This is the simplest addition to your workout regime and probably the most effective. 'It's essential that you replace muscle glycogen after your workout and the best way to do that is with a good-quality whey protein,' says Fitness First trainer Thomas Eastham. If you don't train, make sure you're getting adequate protein from your diet – or consider topping up.

How 'Within 15 minutes of finishing your training, your cells are in serious need of nutrients, so you should be taking your post-workout shake before you stretch,' says Eastham. Some nutritionists recommend a hit of protein before training or as soon as you wake up. Ideally you'd get this from food but a shake is a reasonable option.
Browse the best protein powders
Multivitamins
Why You shouldn't rely on one to make up for a bad diet but a quality multivitamin can help fill in the gaps in an otherwise solid eating plan. 'Deficiencies in vitamins can cause mood swings, depression, lethargy and exhaustion,' says personal trainer Sean McPhillips. 'Taking multivitamins will keep you on the up and focused on your goals.' There's also evidence they can help you recover from a tough workout.
How 'Try to have some consistency when taking this supplement,' says McPhillips. 'It makes sense to take it before a meal with a glass of water to aid absorption of the micronutrients.'
Read more about multivitamins
Sign up for workout ideas, training advice, reviews of the latest gear and more.
From 2008 to 2018, Joel worked for Men's Fitness, which predated, and then shared a website with, Coach. Though he spent years running the hills of Bath, he's since ditched his trainers for a succession of Converse high-tops, since they're better suited to his love of pulling vans, lifting cars, and hefting logs in a succession of strongman competitions.