Meet the Tour de France Megafans
The cyclists who turned their dreams of tackling the world's most hardcore bike race into a reality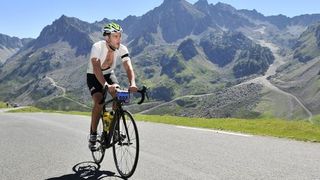 (Image credit: Unknown)
"I hammered my way up the Alpe d'Huez"
Mike Gluckman, 33 from London, runs a marketing company
How did you first get into cycling?
I did the odd triathlon but I fell out of love with swimming quite quickly – it's pretty gruelling – and running left me injury-prone. Road cycling is where all the history and heritage is, and it's got such a huge amount of respect among its fans with all the legends of the sport. I fell in love with all the heroes.
What draws you to the Tour de France?
It's all about the scale of the event. The spectator volumes beat any other sporting event in the world. I don't think anything comes close. The towns and villages, even the individual roads make it so charismatic. The pressure the riders come under is huge as each stage is a potential career-defining opportunity.
Does the Tour take over your life when it comes around?
I'm glued to the schedule. It dictates my daily routine. You follow the riders on the Tour website using the little web-based widget. You can see them going up and down on a profile and it tells you the distances between the groups and who's off the front, and you're just clicking refresh to see what's happening. It's ridiculous to watch the action unfold like that, but it's what you put up with.
What is the most iconic Tour climb for you?
Alpe d'Huez is the one. It's the most famous. There's a bike race I do every year called the Haute Route [seven days of climbing covering more than 800km], I've been up the Alpe d'Huez twice and that is a tough old climb. It kicks up at 11 or 12% at the bottom and just keeps on going. One time I had an absolute blinder. It was on a huge stage too; 4,800m climbing and we'd already done the Glandon and the Madeleine. I remember coming down the Glandon coming through these industrial valleys and I was thinking "I'm in pieces now" and then, I don't know, maybe I banged a gel at the right time, but I hammered my way up the Alpe d'Huez.
RECOMMENDED: Tour de France Ascents that You Can Ride
Of all the climbs you've conquered, which one is your favourite?
The Col de la Bonnette, which goes up to 2,800m. I've done both sides of that and it's pretty incredible. It comes in two chunks. You zigzag your way up and you get to this higher plateau above the treeline. It almost feels like you're back at the bottom of another mountain range but you're not, you're 2,000m up but looking at another 800m. It's just astonishing. You crest over a col and you can see a long, long way stretching off towards Nice in the distance. It felt like quite a poignant moment in the race because you reached the highest point, it was the end of the fourth day, so you felt like you'd broken the back of it.
How do you train for those events?
I worked really hard with a proper coach going back a few years when I was going through the Dolomites. Since then it's been squeezing it in and learning how to train around a busy working schedule. I think that's the reality for a lot of people. You set out these ideals, you read the magazines and say: "Oh yeah, 12 weeks of this, tapering, dieting" – and inevitably it doesn't come off. For this year's event I'm going out to do the Dolomites route again and I've got no particular plan. I've got a turbo trainer, an essential bit of kit. I'll do a session this afternoon and just jump on that for an hour, whereas you need to do two or three hours on the open road for the same amount of gain.
"I was in a coma for a week. My bike was fine…"
David Brown, 25 from Surrey, works for Evans Cycles
What do you love about the Tour de France?
It's the intensity of the level of racing, and the amazing places they cycle through; all the sunflowers – a tradition along the Tour de France route. And it's the amazing crowds on the flats and mountain sides, the scenery… I watch almost all of it on TV and I've been out to France to watch it, which was great. In a way it's actually better to be at home watching the highlights because out there it's five seconds and then they're gone! I record all the stages. I'm still catching up on the Giro right now, I'm in need of a massive catch-up.
Seeing the Tour live must have been pretty special?
It was great. We got a place out in the middle of nowhere. It was the last mountain stage before they transitioned back to Paris, Pau to Hautacam, and Vincenzo Nibali won it. We actually managed to gatecrash the Lotto Soudal hotel when they were leaving for the next stage. We were making our way back to the UK and we happened to go past their hotel, so we thought we'd stop and have a nose round. We saw the whole team coming out the hotel – André Greipel, Adam Hansen, all the big guys. We watched the mechanics setting up the bikes on the team car.
Have you ever cycled in the Alps?
I did L'Etape [a one-day sportive on a Tour stage]. It was good – but it was very wet. The day before, we went on a bit of reconnaissance. It was 25 degrees at the top of the Tourmalet, it was beautiful weather, but the next day it was apocalyptic. We got to the Tourmalet and it poured down on us. It was OK going up, but going down it was mind-bogglingly cold. Luckily I'd brought all the right gear like long gloves but some of the guys going down just weren't wearing enough layers, they had shorts and short-sleeved jerseys, they were really suffering.
How do you prepare for cycling a Tour stage?
I did a lot of loops of Leith Hill [part of the London-Surrey Classic road race]. The thing is we don't really have anything that replicates the Pyrenees or the Alps, so you have to do loops. Loops to Box Hill [part of the London Olympics road race route] are not very good, especially with the speed bumps which they've put in since the Olympics, they ruin it a little bit. That's the kind of thing I did, just going round local loops. You're just doing enough repetitions to simulate, but it does get boring after a while so you have to make it interesting along the way to throw some routes in that you don't normally go down.
Did you feel the benefits when you took on the mountains?
It helps for the short climbs. There were little pre-climbs that they were perfect for, and I breezed over them. But on the Tourmalet, because of the rain everyone was just suffering. Training obviously helps, definitely stamina and endurance-wise, I never felt absolutely beyond my limit. I was tired at the end but I felt OK after eight hours or so.
Do you have plans to go out to France this year?
I don't know if I'd do cycling out there again because I had a really nasty accident last year where I was hospitalised for a month. I got taken out on a sportive and I was in a coma for about a week. It was pretty bad and I haven't been cycling as much as I used to since then. I still cycle, I did the Prudential when I came out of hospital. I had literally broken my skull, my T1 vertebrate, the side of my face collapsed because my helmet ripped off as I face planted. My bike was fine – typically – but I took the brunt of it at 40mph. Some guy just didn't indicate, swerved off and clipped my wheel and took me out completely. It's been a bit rough getting back to it, but I came back quickly.
RECOMMENDED: 10 Tips for Your First Cycling Sportive
"I joined a club at eight"
Lawrence Carpenter, 22 from London, graphic designer
How did you become interested in cycling?
I've always ridden bikes but it was really from a young age, about eight, when I was going to get a new bike. I saw a poster on the wall of the shop advertising a kids' cycling club called Hillingdon Slipstreamers. I started going along to their Saturday sessions. I just kept at it and was part of the club for eight years after that.
What sort of events have you raced in since then?
There's a category of rider – that's how it works – from fourth category to elite. I have been elite, but I'm back down to category one this year because I've been trying all the big races against the pros and it's hard to score enough points week in and week out. But I race national A standard, so just one tier below the top. I did ride Rutland [Classic race] but we are not quite a big enough team to get into the Tour of Britain, Velothon Wales, UCI events and those kinds of races.
What is it about the Tour that makes it such a special race?
There's just nothing else like it, it's the pinnacle of sport. It's 21 days long, which is massive. There's the history, and the way the big pros make it their target it every year. The race has such a huge following. It's every rider's season aim, it's just the best race around.
Does it tend to take over your summer when it comes around?
Absolutely. Once the Tour de France is on you try to get back from work that little bit earlier to watch it live if you can. You definitely end up building your life around the queen stage [the most important section] that year and the big time trials on TV.
Have you ever had the chance to see the Tour live?
I've been to Paris twice, and I went to the Grand Depart in Monaco, which was fantastic. It was the first time I'd been there and to have the Tour de France start there, at a place famous for its Formula One race, was amazing. I saw superfan Didi Senft dressed as the devil on the side of the road, all the big teams, and I think it was the last year that Lance Armstrong rode it, so I got to see a childhood hero.
Have you met any of your cycling heroes?
I was lucky enough to spend 12 days with Orica GreenEDGE in Australia. I lived with them and trained with them so I got to meet most of that team, and I've met a few of the English guys too.
What was it like training with a team?
It was five hours a day in the outback – it was great. It was December to January time, so it was a lot more training than I would've been doing at home.
Do you have a favourite Tour de France climb?
Alpe d'Huez has to be the pinnacle. My dad's ridden it and he's got his shirt with all the corners named after previous winners, and I've got it displayed in my room.
Is there anyone you're looking out for this year?
Obviously Froome. But I want to say Geraint Thomas, because he's been fantastic and he has a lot of eyes on him to see how he compares to Froome, and to see if he can end up on the podium this time. That would be fantastic.
Sign up for workout ideas, training advice, reviews of the latest gear and more.