How to Smash Your First Cycling Sportive
All the advice you need to nail your first organised long distance ride with finesse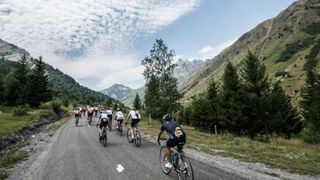 (Image credit: Unknown)
The sportive is the cyclist's version of the marathon. There are all manner of cycling events available, from powering around the capital with RideLondon to heading to France for a taste of the Tour de France with l'Etape du Tour.
Whatever you're planning on two wheels, a little preparation is undoubtedly a wise move. Here are the things you need to know before tackling a sportive.
Training
If you already have a substantial cycling commute every day, you may not need quite as much training as you think. Everyone else will want to build up to the event by taking on some rides of at least 25 miles without stopping before tackling a 100-mile route.
You don't need to practise the full length, but it's worth doing one or two rides that reach around two-thirds of the total. You can rely on the adrenaline of the big occasion for the final third.
Scout out the route, especially when it comes to the hilly sections. If you can find some similar climbs to practise on during training then all the better.
Don't neglect to try out some steep downhills as well as uphills. You'll need good technique and experience to wind around the downhill bends at speed.
Try to train in as big a group as possible to get used to the feeling of being in a pack. Local cycling clubs are a good bet if you've not enlisted a load of friends to do the sportive with.
RECOMMENDED: How to Cycle in a Group
Make sure you can fix a punctured tyre quickly. It's one thing being slowed down by having to deal with a puncture, but it's another having your event come to an end because you lack the skills to make do and mend.
Practise your nutrition too. You'll need fluids, energy gels and snacks to sustain a really long ride, and it's best to make sure you find stuff that agrees with you to avoid on-the-day and in-saddle digestive issues.
RECOMMENDED: 10 Questions to Ask Before You Get into Cycling
The Race
Prepare all your kit the day before. The last thing you need is extra stress in the morning as you try to make your start time.
It's not just your pace you should be familiar with. On the day, use the same kit and food you use in your training or commute to avoid nasty surprises – whether it's chafing or an upset tummy.
You may be comfortable enough in the saddle on your daily commute to work, but you'll need some specialist cushioning if you're to survive a sportive. Padded shorts will make sure those hours in the saddle aren't spent in agony. And it might be worth investing in some chamois cream, if chafing is a concern. And chafing should always be a concern.
Many events offer rides of various distances on the same basic route, so familiarise yourself with your chosen one before setting off so you don't take a wrong turn along the way.
Double up on bottle cages, and get a proper cycling jersey with easy-access pockets for your snacks. You don't want to be faffing about with zips.
You'll want to have a couple of water bottles within easy reach throughout the event. Water is usually in plentiful supply along the route, but having
to stop every time you're thirsty will ruin your time and prevent you getting into a good rhythm, which will make you more tired in the long run.
Don't start too fast. A bike computer can help you monitor your pace to ensure you're sticking to a speed you know you can maintain.
Cycling within a group or directly behind someone else requires less energy than going out on your own. Bunch up when you can and you'll feel the benefit over the last 10 miles or so. Just make sure you also take your turn at the front.
Don't be surprised to see other riders hitting the deck quite frequently. There will be crashes. If you know these are a common hazard, you'll improve your chances of not joining them on the floor or stretcher.
If you're in a group but you're struggling to keep up, don't run yourself into the ground trying to maintain an unrealistic speed. From your training and other rides, you should already know your target pace or heart rate. You're better off sticking with that than trying to keep up with faster riders.
It's meant to be enjoyable. Just because some of the people at your event think they're pushing for the yellow jersey at Le Tour, that doesn't mean it isn't meant to be fun. Don't let the obsessives dictate how you approach the day.
RECOMMENDED: Tim Don's Cycling Efficiency Tips
Perfect Your Pedal Power
One thing that is really key to cycling is pedalling. You can make improvements on the bike simply by refining your technique, as Tom Crampton, Wattbike Marketing Manager, explains:
RECOMMENDED: Wattbike workouts to power up your fitness
"It costs the body a lot more to pedal with poor technique. It's not efficient. Over time you're not going to be able to sustain your pace, or climb as quickly, because your body will tire."
"The main mistake is to stamp on the pedals, putting a lot of effort into that initial downstroke, but then forget about that foot. Power on, power off, all the time. The bike accelerates and then decelerates during that process."
"To prevent that deceleration, engage your hamstring muscles and scrape the pedal through at the bottom. A big drive down, a scrape at the bottom, and as you scrape it brings the next pedal over the top to start that drive again."
Wattbike training bikes can evaluate your technique and help you improve. To learn more and see which gyms have Wattbikes, head to wattbike.com.
Sign up for workout ideas, training advice, reviews of the latest gear and more.