The On Cyclon Is A Completely Recyclable Running Shoe
Is it the sustainable future of running? Or is it too good to be true? We asked a sustainability expert to take an early look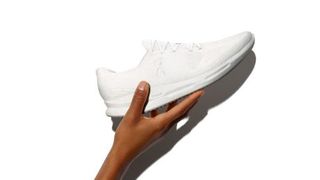 (Image credit: Unknown)
Image 1 of 4
The clothing industry has come in for a lot of flak in recent years for its impact on the environment, and running gear manufacturers are no exception. Footwear brands in particular have to take into account the materials that are used, durability and what happens to a shoe at the end of its useful life.
On Running, the Swiss performance brand behind the Cloud series of running shoes, has announced an ambitious service that aims to tackle this sustainability problem: the Cyclon, a wholly recyclable shoe that you subscribe to, rather than purchasing outright.
It was announced last year and interested parties are encouraged to pay for the first month upfront so On can gauge interest. The shoe is described as suitable for fast training and racing, with a weight of 200g, including a rocker in the sole and an 8mm drop from heel to toe.
The service costs £25 a month, and a new pair is sent out when a subscriber requests them – On anticipates a lifespan of six to nine months. The new pair arrive with a way to send back the old ones, which will then be broken down and made into new shoes.
This is possible because unlike other running shoes, the Cyclon's upper is made from a single piece of material, which originates from castor beans. And that's pretty significant, according to Dr Mark Sumner, a lecturer at the University of Leeds School of Design, specialising in sustainability.
"What makes it hard to recycle shoes is you've typically got a complex mixture of different materials," he explains. Shoes can be a mix of polyester, polyamine, foam and more, even before you get to the bonding materials used to combine them. "This makes it really difficult to deconstruct, to extract those individual materials to try and work out how you can recycle them."
You can try to break down the components, but from a commercial perspective it's hard to justify the time and labour involved. "The amount of material you get per shoe is really quite small," Sumner says, and the quality of recovered materials is often compromised too. "You could disassemble the shoe and then say, 'I'm going to take this part and this part to make a new shoe', but that new shoe won't be as good quality in many cases."
One aspect of a subscription service is, of course, the shipping costs. Does the ability to replace a running shoe up to twice a year increase the carbon footprint of delivery, undoing the good work of its recyclability? This, it turns out, is a misunderstanding of the largest polluters of the production process. "In general, I would argue that distribution and shipping, in relation to the rest of the carbon footprint of the life cycle, is small," Sumner says. Indeed, the carbon cost of shipping from, say, China to the UK is "often seen as so small […] it's not worth looking at."
When we spoke to Sumner there wasn't enough information available for him to give a confident endorsement – he's a little unsure of the claim the shoes are undyed, given making products white is itself a dyeing process – but he was cautiously positive overall. "It's a thumbs up. It looks like it's the right direction, but we can't make a judgment yet in terms of whether it's actually going to deliver on its promises," he says.
We asked On about a few things not covered by the website – like how much the Cyclon shoe would cost if it weren't entirely subscription-based. It is, apparently, "between the Cloudflyer and Cloudboom right now". That's between £140 and £170 at the time of writing.
While the company wouldn't give an exact figure on how many times a pair of shoes can be recycled, we were told it would be "many times". "Over time, the durability of Cyclon will be improved as more data and feedback is collected from consumers," a spokesperson told Coach.
"Cyclon cannot do 100% recycling from the beginning, but we will gradually increase the percentage of how much goes again into a new shoe and how much goes into alternative parts. The more shoes are returned, the more we will learn how the material develops over time without sacrificing performance." The company expects the first results on this score in mid-2021.
We also sought clarification on Sumner's point about the white colouring of the shoe – whether this is the result of a less environmentally gentle chemical dyeing process or the natural colour of the beans. We're waiting to hear back on that.
A few other questions still stand: will subscribers end up trading in more often than they would with owned shoes to get their money's worth? And will people be happy subscribing to shoes in the same way they do with Netflix and Spotify?
"People have been renting clothes for years and years and years," Sumner points out, offering wedding dresses and ballgowns as examples. "What we don't know is how well that can be expanded out of those niche areas into the mainstream."
Sign up for workout ideas, training advice, reviews of the latest gear and more.
Alan is a freelance tech journalist and mostly covers fitness trackers for Coach.
Alan was not what you would call a big fitness guy growing up, but has been radicalised by parkrun and taken up running in a big way. Although nowhere near podium at races, as a late starter he does at least know that he can still get faster. Alan has written for ShortList, Tom's Guide, Trusted Reviews and Expert Reviews, among others.