Six Bits Of Advice From The Guy Who Once Weighed 21st Then Ran 27 Marathons In Two Years
Start small, sign up for an event and hit your local parkrun, says marathon man Andrew Geldard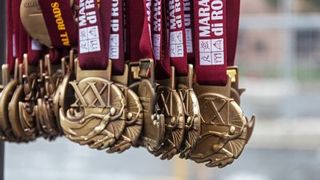 (Image credit: Unknown)
Over the past two years, Andrew Geldard, 34, has run 27 marathons. That's a remarkable feat for anyone to achieve but it's all the more impressive in this case because before he took on this epic challenge, Geldard once weighed 21st 2lb (134kg). As well as completing those two dozen-plus races, he's also lost over five stone (32kg).
When you encounter that level of commitment to running it's always smart to pick up any tips you can, so we spoke to Geldard in the build-up to his first London Marathon, which he's running for Cancer Research UK. The first thing we learned is to start your running kick on a sunny day.
"It was a nice hot day and the sun was shining through the window and I thought, why am I inside?" says Geldard. "I went for a long walk and over time that turned into running."
Clearly, not everyone will go on from there to tackle 27 marathons, but everyone can learn from Geldard's early approach to running.
"Patience is the most important thing," says Geldard. "Little and often to start off with."
"There's no point thinking 'I'm going to run 13 miles'. Try to hold back to start off with. Do maybe a mile or two."
Running with other people can also be a big motivator, especially if you're lucky enough to have a parkrun event nearby.
"Parkrun started up in the area and I started going there as well," says Geldard, who has now completed over 100 parkruns. "Then I joined a running club and it spiralled from there."
RECOMMENDED: The Best Parkruns In London
As you can tell from Geldard's incredible marathon tally, he quickly turned to bigger events in addition to his weekly parkrun. The challenge of having a target to work towards is a great way to sustain a running kick.
"My first marathon was meant to be 4hr 30min," says Geldard. "I got 4hr 32min and I wasn't happy. Now I've broken the 4hr 30min mark and I'm aiming for four hours. That's what's driving me – the fact I didn't do so well. I want to be better."
RECOMMENDED: UK Marathons – When and How to Secure a Place
In the course of his marathons Geldard also spotted someone wearing a "100 marathons" T-shirt, a target he's now aiming for himself. London is an important part of that, and it's also an event Geldard has wanted to do since he was young.
"You can't do 100 marathons without doing London. It's definitely the one to do. Ever since I was about 14, in the back of my mind I've always wanted to do it."
Geldard will be running the London Marathon for Cancer Research UK, a cause close to his heart and another important motivation.
"My mum passed away from cancer. We had a lot of time together and I think that without Cancer Research we wouldn't have had that time. I don't know if they're ever going find a cure but they are giving people time and that's just as important really."
Slimming World has also played a big part in helping Geldard lose weight since he joined . Never underestimate the motivational power of a certificate, says Geldard. "Working towards each stage – bronze, silver and gold – you get a certificate. It doesn't matter how old you are – a certificate's always nice, isn't it?"
Slimming World's marathon team is running for Cancer Research UK (opens in new tab) at the Virgin Money London Marathon this April. To support the Slimming World marathon team and help beat cancer sooner, visit justgiving.com/SWMarathonTeam2017 (opens in new tab). To find your nearest Slimming World group visit slimmingworld.co.uk (opens in new tab)
Sign up for workout ideas, training advice, reviews of the latest gear and more.
Coach is a health and fitness title. This byline is used for posting sponsored content, book extracts and the like. It is also used as a placeholder for articles published a long time ago when the original author is unclear. You can find out more about this publication and find the contact details of the editorial team on the About Us page.