Could You Complete Strava's Ridiculously Tough Running Charity Challenge?
Make the last mile of a half marathon or marathon your fastest and Strava will donate to charity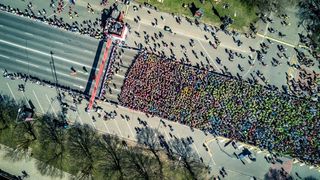 (Image credit: Unknown)
If you've run a half marathon or marathon, you may have reached the last mile and felt a surge of adrenaline and speeded up before your fatigued muscles slowed you right back down again. That's totally understandable – both races require you to cover serious distances – but with the right training and pacing you could end your race on a flyer, posting your fastest split as you cross the finish line.
If you greeted that idea with a determined nod rather than a dismissive noise and shake of the head, you are just the kind of person who should be signing up for GPS tracking app Strava's new charity challenge, The Last Mile (opens in new tab).
Sign up and accomplish that feat before 30th June and, as long as you logged it on Strava and tagged it as a race, you'll have earned a $10 donation to a sports charity. In the UK The Running Charity (opens in new tab) will benefit, which in turn will help the at-risk and homeless young people the charity works with. Runners in the United States, France, Spain, Germany, Austria, Switzerland, Brazil and Japan can also take part, with Strava pledging up to a maximum of $50,000 to good causes.
See related :
It will be interesting to see if the full amount will be donated. According to Strava, of the 40 million users around the world, only 1% to 3% post their fastest mile at the end of a half or full marathon.
But while that shows it's a tall order, Strava will help where it can with a free 30-day trial of Summit, its collection of paid-for services. Especially helpful for completing this challenge will be the training plans and pace analysis in the Training pack, as well as the race analysis if you're already signed up for a marathon and your training involves a preparatory half marathon. The insights from the Analysis pack may help improve your running too.
First things first, though. To get involved, you'll need to download the Strava app and set up a free account, if you haven't already. Then visit the challenge page (opens in new tab) and add your name. After that, it's time to start working on your negative splits.
Sign up for workout ideas, training advice, reviews of the latest gear and more.
Jake was formely an intern for Coach and now contributes workouts from some of London's top trainers. As well as training in the gym and running, he's competed in the eight-hours-long overnight event Europe's Toughest Mudder twice and the 24-hours-long World's Toughest Mudder once.