Five Easy Smoothie Recipes
Can a drink help you achieve your goals? It sure can if it's one of these simple, delicious smoothies. Fire up the blender!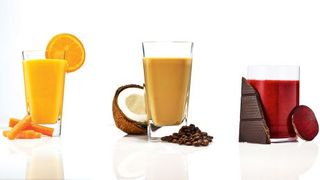 (Image credit: Unknown )
Orange And Carrot To Help Boost Your Immune System
Tastes like sunshine, bulletproofs your health.
Ingredients (serves two)
2 carrots, peeled provides falcarinol, a compound that can reduce the risk of lung and colon cancer.
1 orange, peeled
½ mango provides carotenoids, a group of powerful antioxidants that help to ward off cancer.
125g non-fat Greek yogurt
250ml grape juice provides nitric oxide, which helps to improve cardiovascular health.
For an added immune system boost, add a pinch of ginger to your smoothie. It has anti-inflammatory properties that help improve recovery after exercise.
Nutrition (per serving)
Calories 387
Protein 17.1g
Fat 1.7g
Carbs 121g
Coconut And Coffee To Help Enhance Your Fitness
Sharpen up with this sweet caffeine cocktail.
Ingredients (serves two)
300ml coconut water contains a range of essential brain-enhancing electrolytes.
1 shot of espresso is a stimulant that can help to delay your perceptions of fatigue.
1 medium banana
Handful of blueberries provides antioxidants that have been shown to improve memory.
1 medium apple has been found to reduce the risk of brain diseases such as Alzheimer's and Parkinson's.
Nutrition (per serving)
Calories 301
Protein 4.5g
Fat 1.6g
Carbs 73.5g
See related
Chocolate And Beetroot To Help Build Endurance
Chuck choc into the mix for a drink that helps you go further and faster for longer.
Ingredients (serves two)
28g 85% cacao dark chocolate provides flavonoids, which help transfer oxygen to working muscles by keeping blood vessels healthy.
1 small beetroot can reduce the oxygen cost of aerobic exercise and increase the time it takes to reach exhaustion.
300ml semi-skimmed milk provides endurance-fuelling carbohydrates and electrolytes.
50g strawberries
50g raspberries
Nutrition (per serving)
Calories 127
Protein 8.4g
Fat 7.4g
Carbs 25g
Peanut Butter And Banana To Help Boost Your Training
Carbs for energy, protein to build muscle, abs-friendly healthy fats – this shake's got the lot.
Ingredients (serves two)
1tsp peanut butter provides niacin, which will boost your energy levels ahead of a tough workout
1 medium banana provides vitamin B6, which helps the body break down and digest protein.
50g oats
100g non-fat Greek yogurt provides protein, which helps to build and repair muscle tissue.
Pinch of ginger
Water, to taste
Nutrition (per serving)
Calories 285
Protein 19g
Fat 7.4g
Carbs 70g
Banana And Avocado To Help You Sleep More Soundly
How do you sleep at night? Longer and better, after drinking this creamy shut-eye enhancer.
Ingredients (serves two)
1 medium banana provides tryptophan, which the body converts into serotonin and melatonin to promote sleep.
½ an avocado provides magnesium, which helps to calm your nervous system and prepare it for sleep.
1 kiwi fruit provides antioxidants that improve the onset, duration and quality of sleep.
Handful of kale helps the brain to use tryptophan more efficiently to improve sleep quality.
400ml semi-skimmed milk
1tbsp honey
Nutrition (per serving)
Calories 303
Protein 10.6g
Fat 11.5g
Carbs 44g
Sign up for workout ideas, training advice, reviews of the latest gear and more.
Coach is a health and fitness title. This byline is used for posting sponsored content, book extracts and the like. It is also used as a placeholder for articles published a long time ago when the original author is unclear. You can find out more about this publication and find the contact details of the editorial team on the About Us page.