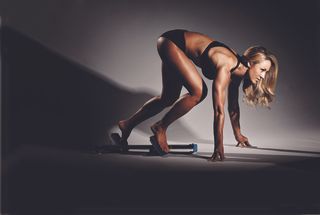 (Image credit: Unknown )
What's your sporting background?
I represented Great Britain from the age of 15 to 26. I started with pentathlon, then heptathlon, and finally bobsleigh. The transition from track to ice happened after I was invited to Bath University where they do all the trials. I broke their push test record so they asked me to join the team for the world championships. A few months later I found myself on the other side of the world, in full-body spandex. Pretty random.
How did you make the switch between events so quickly?
Olympic lifting was always a passion of mine. I weighed 57kg and could clean 87.5kg so I already had plenty of power and explosiveness, which is as important for bobsleigh as it is for athletics. In fact, the push in bobsleigh is a similar movement to an Olympic lift. It's all about creating power through your legs and hips, and then following through with your arms.
You've studied for a master's degree in physiology and nutrition. How strict is your diet?
It's rare that I'll have grains, potato, rice or anything like that. My carbohydrates come from fruit and veg. If I want a treat I'll usually go for something sweet – ice cream or cookies. Rather than specific cheat days I eat well most of the time, then if it's a social occasion I'll have what I want. No one wants to be that weirdo who brings their own prepared food to a dinner party.
MF doesn't only feature dudes. Check out our interviews with other female sports personalities.
Was it fun to be a Gladiator?
When the original series was on I would say, 'I want to be a Gladiator' and my mum would say, 'Of course, dear' in that non-committal tone mums are so good at. I couldn't believe it when the production company asked if I wanted to audition for the new series. Suddenly, I was cast as Ice and found myself in spandex again – although this time it was a little more revealing. It only really hit home how crazy the whole thing was when we did a 'legends' show and I found myself chasing Lightning up The Wall.
Did you have any interest in MMA before you started presenting UFC: Beyond The Octagon on BT Sport?
I couldn't have named a single fighter before I started the job, but BT Sport wanted to get me involved and I'll take on any challenge. It was a big learning curve but I'm now a massive fan and I watch fights every day to brush up my knowledge. I've got an enormous amount of respect for the fighters. As an athlete in multiple disciplines I had to train different elements of conditioning and technique, so I can really appreciate the hard work they put in.
How would you describe your approach to training?
Training should be hard, fast and to the point. Any form of cardio you can do while reading a book is pointless. Most people who do steady-state cardio say they want to lose weight but they don't understand that training that's not intense won't do that effectively. Driving to the gym to walk on a treadmill is the definition of ridiculous.
Sign up for workout ideas, training advice, reviews of the latest gear and more.