Premier League Football Training Drills – as Used by Memphis Depay
Sleds, med balls and pre-match pasta – Manchester United star Memphis Depay on the drills and strategies that help him perform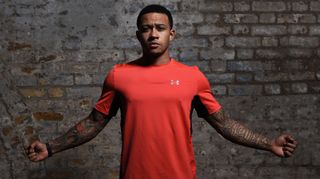 (Image credit: Unknown)
It's been a whirlwind few years for Memphis Depay. The 22-year-old has established himself in the Dutch national team, helping them to a third-placed finish at the last World Cup, scored a league-leading 22 goals for PSV Eindhoven as they captured the 2014-15 Eredivisie title, and sealed a big-money move to Manchester United, where he's inherited the iconic number seven shirt worn by Eric Cantona, David Beckham and Cristiano Ronaldo.
But achievement is nothing without adversity. The Netherlands failed to qualify for this summer's Euro championships, and the young forward is far from the first name on his club's team sheet, although his recent performances hint at a turnaround in fortunes.
He shared the techniques he uses to get mentally and physically ready for the demands of top-flight football, and explains how you can apply them to your own training.
RECOMMENDED: How Fit is an Elite Footballer? (opens in new tab)
Speed Up with a Sled
"Explosiveness is something we work on a lot," says Memphis (as he prefers to be known). "I do 5m sprints with a harness around my waist attached to a sled, which my trainer puts extra weight on. After a couple of goes, I do it again without the weight and I can feel the difference – I'm quicker on my feet and my reactions are faster." Don't have access to a gym with a sled? Wrap a rolled-up towel or rope around your midsection and get a team-mate or training partner to try and pull you back while you perform short, maximum efforts sprints from a standing start.
Boost Your Balance with a Medicine Ball
"I've had a couple of ankle injuries in my career, so I train to balance myself out," says Memphis. To improve your bilateral strength, practice exercises such as deadlifts and woodchops holding a med ball and standing on one leg, then repeat on the other. "The ball doesn't have to be heavy, but it will feel heavy for your ankle, and help make it strong," he says.
Extra Bulk is Bad
"You don't want to carry too much weight on your chest and shoulders, it'll just make you slow," Memphis says. "It's more important to be flexible, quick on your feet and have a strong core." To build a solid torso without adding unnecessary speed-sapping muscle, swap your regular bench press for a TRX chest press during upper-body workouts – the instability will force your core to work harder and build functional strength. Aim for three sets of ten to 12 reps.
RECOMMENDED: 5-a-Side Football Tips
Master Your Pre-Match Routine
"Every player has certain things he does before a game," says Memphis. "I always eat pasta, because it really gets in my body and makes me feel powerful, but it's different for each individual. Find out what works for you and stick to it – it'll give you confidence when you go out onto the pitch."
Play Hard but Recover Smart
"Rest is really important after a game," says Memphis. "Sometimes you'll only need one day off, but sometimes you might need three." It's crucial that you listen to your body: "Eating healthy food after a game is essential too – you'll feel it in your legs if you don't," he says. To minimise muscle soreness and speed up your recovery, aim to consume 20-30g of protein – think a pint of milk, a chicken breast or a whey protein shake – within 60 minutes of finishing every game, training session or workout.
Learn From Your Mistakes
"Everyone makes them," says Memphis. "It's not nice, but it's something you learn from, and it helps you gain more experience and become a better player." If you've had a shocking game, make a list of the specific incidents where you were at fault, then write down (and ideally memorise) what you should have done differently as an If-Then plan. For example, "if a winger is running at me with the ball, then I'll show him down the line rather than letting him cut inside". Formalising a plan of action for how to deal with it will improve your decision making the next time you find yourself in a similar situation.
RECOMMENDED: Peter Crouch's football fitness workout
Memphis Depay was speaking at the launch of #RuleYourself (opens in new tab), the 24/7 training campaign on "what you do in the dark that will put you in the light". For more information, follow @UnderArmourUK (opens in new tab).
Sign up for workout ideas, training advice, reviews of the latest gear and more.
Between 2010 and 2016, Ben was the deputy editor of Men's Fitness UK, which predated, and then shared a website with, Coach. Ben also contributed exclusive features to Coach on topics such as football drills, triathlon training plans and healthy eating.