British Olympians on the Glory That Never Fades
Coach correspondent Sean Ingle spoke to British Olympians from Games past about the moments that live forever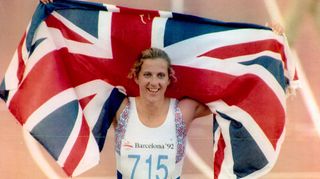 (Image credit: Unknown)
Sally Gunnell
Gold medallist, 400m hurdles, Barcelona 1992
What inspired you to be an Olympic athlete? Daley Thompson's gold medal at the 1980 Moscow Olympics. As a 14-year-old I thought it was the most amazing thing ever. I was already part of a club but I remember thinking, "This is what I want to do with my life."
What was your Olympic moment? Winning 400m hurdles gold in 1992. I get asked almost daily about it. But do you know the saddest part? I can't remember it properly. All my memories are from videos and pictures – I was so focused on winning I didn't take anything else in. I celebrated with chips and a lager. I had one or two and I was pissed as anything!
Your unique insight? We can achieve far more than we expect when we want to. Winning a gold medal seemed so big and out of reach when I was 14. But somehow I did it.
RECOMMENDED: Team GB's Olympic Training Plans
Daley Thompson
Gold medallist, decathlon, Moscow 1980 and Los Angeles 1984
What inspired you to be an Olympic athlete? When I was a kid I desperately wanted to be the best in the world at something: I just didn't know what. In my early teens I trained with Haywards Heath Harriers and became a pretty good sprinter, but it was a fluke that I got into decathlon. In 1975 my coach asked me to fill in because one of our squad had got chickenpox. I loved it and started thinking about the Olympics. I was 16. A year later I was competing in Montreal.
Your Olympic moment? I won gold in Moscow and Los Angeles, but I loved the 1976 Games best. I was 17 and here I was sitting with all these brilliant athletes. I remember speaking to Bruce – now Caitlin – Jenner, who won gold that year. He inspired me. I finished 18th and afterwards wrote a plan of where I wanted to be every year up to 1996, when I thought I'd retire. I didn't think I'd be winning Olympic golds until the mid or late '80s. But then came Moscow…
Your unique insight? If you are prepared to do the hard yards, you can achieve greatness. Most people have a potential they never realise.
For more details about Daley Thompson's gym in Putney go to daleyfitness.com
Paula Radcliffe
Represented GB four times consecutively (1996 to 2008)
What inspired you? The 1984 Olympics, and particularly Zola Budd versus Mary Decker in the women's 3,000m. I didn't appreciate all the drama of the race, because I was only 10 or 11 – but I remember feeling really sad because someone had fallen and someone else's race was also really affected.
Olympic moment? I vividly recall finishing fifth over 5,000m in Atlanta in 1996. I was in pretty good shape and I just overcooked it in training, but I gave it my best shot.
Your unique insight? You have always got nerves whenever you race, but nerves are good. They help you run faster. It might be the Olympics, but the athletes I raced were the same I met regularly on the international circuit.
RECOMMENDED: Olympic Gold Medallist Jason Gardener
Jonathan Edwards
Silver medallist, Atlanta 1996; gold medallist, triple jump, Sydney 2000
What inspired you? I jumped 16.32m at the World Student Games in 1987. That's pretty rubbish, but I hadn't trained. And because of my faith at the time, I thought, "God has given me a talent – I should try to make the most of it." A year later I was in Seoul.
What was your Olympic moment? I remember trying to get the crowd to clap but there wasn't much interest. The competition wasn't great. It never came alive, like Atlanta four years earlier. But finally at the age of 34 I was an Olympic gold medallist.
Your unique insight? In my first two Olympics, in 1988 and 1992, it was too much for me. Nobody wants to be labelled a choker but that built the foundations of my future success. Michael Johnson, the great 400m runner, said: "Jonathan is a nice guy, but is an animal when he competes." For all my doubts, when I stepped across the line I was a different animal. Only once in training did I go over 17m – but I did 18.29m in competition.
Heather Stanning
Gold medallist [right] rowing coxless pairs, London 2012
What inspired you? I had rowed with Olivia Whitlam and we became under-23 world champions in 2007. A year later I saw Olivia row in Beijing and thought: I want some of that.
Your Olympic moment? Standing on the podium, with a gold medal around my neck and hearing the national anthem. In sport it doesn't get any better than the joy of doing that. And going into schools with my medal and seeing the kids' faces when you show them what getting active can lead to.
Your unique insight? It really affirmed to me importance of family and friends – you need a fantastic support network.
Heather, a serving Army officer, was speaking on behalf of SAS – the leader in analytics software and services. SAS is the Official Analytics Partner of British Rowing and the GB Rowing Team at sas.com.
RECOMMENDED: Stanning teammate Helen Glover's Olympic Training Regime
Alan Campbell
Bronze, Single sculls rowing, London 2012
What inspired you? The 1996 men's pair final: Sir Steve Redgrave and Sir Matthew Pinsent. At the time I was deciding whether to be a farmer, a priest, or a rock star. And they looked like rock stars. I was like, "Yeah, I'm sure they have backstage passes to everything."
Olympic moment? Winning a medal at my home Olympics was the day of days. As you roll down the course there isn't anybody there until you get to the last 500m. Then in London there was this epic roar from the crowd. You can't beat that.
Your unique insight? I missed out on an Olympic medal in 2004 and 2008 before finally winning bronze at London 2012 so I know better than most that you have to be prepared to have your heart tested, and to be taken to a dark place. But it is worth it when you cross the line to win an Olympic medal.
Susan Egelstaff
Badminton player, London 2012
What inspired you to be an Olympic athlete? Watching Sally Gunnell winning in Barcelona. I was nine. It took me 20 years from watching that to getting to a Games myself. I made an Olympic scrapbook from pictures from newspapers, with Sally as the cover star.
What was your Olympic moment? Standing behind the curtain in the badminton warm-up area at London 2012, waiting to step on Centre Court in front of 6,000 people. It was by far the biggest and loudest crowd
I have ever played for. I remember thinking: "Oh my God," and sh*tting myself. But after 30 seconds I got over it. People started chanting my name when I won a game. Me!
Your unique insight? Enjoy it! I remember being in the Olympic Village, getting excited about seeing Novak Djokovic and all the other stars, then going out to play. A fortnight later it was over. I'll never get a feeling like that again.
Mary Peters
Gold medallist, modern pentathlon, Munich 1972
What inspired you? The opportunities I was given through my parents, teachers and the right coaching.
Olympic moment? By the time of the Munich Olympics I was 33, and most women didn't keep going that long. I used to train on a track that was full of potholes, and had to get there using two buses in Belfast while carrying my starter's blocks. But somehow I got gold.
Your unique insight? Your Olympic legacy doesn't end when the Games finish. I am 77 and it's 44 years since Munich. Yet I have been to two primary schools this week talking about it. The kids made posters – one had Usain Bolt on one side, and me on the other! If I am only able to inspire one child, then it is worth it.
Allan Wells
Gold medallist, 100m and silver medallist, 200m, Moscow 1980
What inspired you to be an Olympic athlete? Watching Bob Hayes win 100m gold at the 1964 Tokyo Olympics.
Your Olympic moment? Moscow was different. The fruit was all hard. The meat was boiled. The chips were soft. And these people were under the thumb: nobody had smiles on their faces. But the Russians put on a fantastic games. And I managed to win gold despite having a back injury that needed four treatments a day. In the final I was in lane eight, with my main rival Silvio Leonard from Cuba in lane one. There was nothing in it as we dipped for the line, but I thought I'd got it. I did the lap of honour, got around the 200m mark and thought: "If I haven't won this, it will be the most embarrassing moment ever." Then it came up on the scoreboard: Wells, Allan.
Your unique insight? Moscow taught me more than anything about the determination to see things through and not give up. When
I did my back in before the Olympics, I couldn't get out of bed. I phoned my doctor and told him "I don't think I'm going to make it." He got me to a hospital, and those four treatments every day plus some Scottish stubbornness got me through. I was very lucky.
Dave Bedford
Finished sixth in the 10,000m and 12th in the 5,000m at Munich 1972
What inspired you? When I started running at 14, athletics seemed to be on TV every Friday night. And watching the likes of Ron Clarke at White City inspired me.
What was your Olympic moment? I got into trouble for getting paid for a column in The Sun. I broke the Olympic record in my heat, but was threatened with disqualification before the final because sponsorship was illegal. I was eventually allowed to run, but it was all too much for me. I came sixth on the worst day of my life.
Your unique insight? To my shame I was so interested in trying to win Olympic gold I didn't register the full horror of the Munich massacre. The Olympics is important. But not that important.
Sign up for workout ideas, training advice, reviews of the latest gear and more.