Super Frank Lampard's Sports Science Secrets
Premier League legend Frank Lampard talks staying fit in retirement, the sports science secrets that help him, and his future ambitions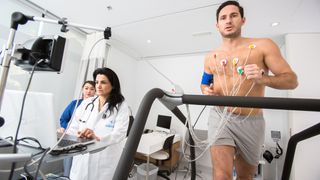 (Image credit: Jonathan Gainer)
Photography: Jonathan Gainer
Frank Lampard knows what it takes for an athlete to stay at the top of his game. During his 21-year career as a professional footballer, he won 13 major trophies with Chelsea, including three Premier League titles, four FA Cups and a UEFA Champions League. Between his debut for West Ham in 1995 and his retirement after the 2016 season in the US with New York City, he played 1,019 pro matches in total, including 106 caps for England. He is Chelsea's all-time top scorer with 211 goals, and between 2001 and 2005 made a record 164 consecutive Premier League appearances – this in arguably the most physically demanding league in the world.
Lampard credits his fitness, power, endurance and longevity to a combination of hard work, detailed physical preparation and advanced sports science. But having announced his retirement in February 2017, the 39-year-old is still determined to discover new ways to learn about his mind and body. The former Chelsea idol talks to Men's Fitness about the science of fitness, building his new post-career training routine, and his ambitions – from working as a football coach to completing his first Ironman.
During your career, fitness training was part of your everyday routine. Since retiring, have you had to create your own personal health and fitness regime?
Yes, that's one of the problems with retirement. I've really enjoyed retirement in many ways, but you quickly realise that you were fortunate to have a job in which you keep fit and train every day. You enjoy it without thinking about it. It was part of my life for so long, and I didn't want to lose that fitness so I try to keep training. I work out four to five times a week, running or gym work – I'm not at the peak I used to be but I stay in shape. Fitness has always been a part of my life and I wouldn't be happy if I didn't try to keep fit. It is part of what I am.
It's fair to say you dedicated your life to winning – so do you still get competitive when you train?
I do. It is one of my problems that I can't switch off. Christine [Lampard's TV presenter wife] is always saying to me, "You can go for a run without trying to run as hard as you can! You can just enjoy a run." So I do have a competitive nature – with myself…
In the long term I would love to take part in some marathons and longer distance runs. At the moment I haven't run far enough so I need to build up my endurance. I am so used to doing short interval training with football. But it is nice to set different goals and fitness ideas. I haven't missed football in that way – I miss the buzz and the great moments, but in terms of my training and lifestyle I am quite happy with this new way.
Have you thought about taking up any other sports?
Pretty much every footballer is expected to retire and play golf for the rest of their life but I don't play golf. I prefer more explosive sports, so when I go on holiday I have a game of tennis. But my main thing is long-distance runs. I always wanted to do an Ironman and I've been contemplating starting with a half Ironman. But I'm enjoying my first year of retirement too much to push myself to that level! It is something I'd like to do in the future. The problem is the swimming side of things – I'm not a fantastic swimmer so I would have to knuckle down and put some work in for that.
You're busy with media and commercial commitments now. Is it hard to maintain a regular schedule?
It is frustrating at times because I had a very routine life and now it can be tricky to get to the gym. If I am travelling I always try to build in an hour of the day where I can do something. Ideally I like to go to the gym and spend an hour and a half in there and be very thorough. But even if I can only do 40 minutes one day I always try to be prepared. I am a member of the gym at Chelsea Football Club close to where I live, so when I'm at home I'm in there pretty much every day.
What's your typical fitness routine at the moment?
I try to do 45 minutes to an hour of cardio on the treadmill – a long endurance run or an interval run. I also like spinning. I sometimes alternate those so I do half and half for 45 minutes to an hour. Then I do 20-30 minutes in the gym, with a leg weight circuit or an upper-body and core circuit and I rotate them. Sometimes I like to do a little bit of everything. Other times I specifically target one thing like my core or legs. But I do like cardio work so I always try to get that done.
Do you still do any fitness drills inspired by your football training?
I try to do as much yoga as I can. I had a great yoga teacher at Chelsea who I worked with for many years and I still work with him when I can. In terms of specific training related to football I have certain interval running plans and I still try to mix it up in that way.
When I finished playing I had four months when I didn't do anything football-specific and I went to work with one of my best friends who is a physio and masseur at Chelsea. He complained about how soft my muscles had gone in my legs because I hadn't been training properly. So it gave me a little prod to get back and do some of the specific football training work. I had been jogging too much and not done enough explosive stuff, so now I try to keep a well-rounded training regime to keep my leg muscles firm.
You played a record 164 consecutive Premier League games between 2001 and 2005. How did you manage to stay fit given the well-known physical demands of playing top-flight English football every week?
I was very specific with my training. In the week I tried to recreate the running and stress on my body that I would face at the weekend. I had certain ideas, like doing running on certain days to prepare myself. That was complemented by resting and living right and good nutrition. Striking that balance was something I managed to do in that period.
I was in prime condition health-wise, but you have to throw into that the luck of not picking up injuries. It was a lot of hard work combined with good rest and trying to live right in between. It was a really great time for me and it all came together.
See related
How much did the level of support from sports science change from your debut season to your final campaign?
My career was 21 years and it is incredible how far things came from the early days. At West Ham I remember brutally hard pre-seasons when we used to run and run and run until we felt we were fit. At the end of my career when we came back from a month off in summer we would do two days of body testing, with tests of our blood, heart and organs. Those tests carried on throughout the season so you had a benchmark of your fitness and you knew where you should be.
I remember going to Man City and I was amazed how thorough they were when you got injured. They didn't allow me back in training until I had hit certain markers and they knew I was ready to go back. The sports science there was fantastic. We never knew any of that 15 years ago – but if you don't use sports science today you are certainly missing a trick.
What component of sports science made the biggest difference for you as a player?
I was 23 when I moved to Chelsea and I was so naïve. I thought eating pasta every night was really good for you – well, that's what everybody told you to do. I didn't realise if you did it every night it was not good for you because you need a well-balanced diet. Too many sauces are not great for you either.
When I moved to Chelsea I certainly felt a complete uplift in standards around the game – not just in how we trained and played but in how we would rest and prepare and work in the gym. And I never used to work on my power or my prevention work in the gym but as I moved towards my 30s I realised I had to prepare in the gym for 20 minutes before training. I wouldn't say I self-taught but I just tried to pick up great bits of information and ideas from coaches I worked with. I think the smart thing is to work out your own plan: take on advice, think about what you like and don't like so much, and come up with a balanced training plan.
You're now an ambassador for the new nanoM health clinic in Dubai, which offers in-depth physical tests covering everything from cardio-metabolic fitness to hand-eye co-ordination. How can these tests help athletes?
They showed me the whole facility and I met everyone there – it was very impressive that they cover all the bases of sports science and medicine and rehab. Some of the things available there I have seen when travelling with Chelsea and Manchester City, but I've never seen them all in one place like that.
There are a lot of testing facilities, which can give useful insight for ex-players like me, but which would also have been insightful for me as a young player 15-20 years ago in terms of injury prevention. With injuries athletes tend to be reactive – you get injured then you get treatment and rehab – but with these facilities players can nip things in the bud early. By analysing the mechanics of your movement and power, you can try to prevent injuries. And if you want a complete physical MOT you can have that there too.
Which fitness tests did you take part in?
I did ECG tests on my heart, which I did every year at Chelsea, and some isokinetic tests on my posture, which I had never had before. It is really a full-body test for my walking gait – I had a lot of calf injuries towards the end of my career so I had to do a lot of work with my walking, looking at how I put my foot down. I also did some cardio work on the treadmill to test my recovery speed and lactic acid levels. So I was put through the mill for two days! Although I've been keeping fit, it was good to be put through some harder stuff again.
Which test did you learn the most from?
I did a reactionary and peripheral vision test, which I used to train on a lot by myself at Chelsea. You have to touch lights around you while standing on a rubber plate, and you have 1.5 seconds to touch the lights and get back to the plate. It was the most interesting thing for me because (a) it is the kind of training I love and (b) you get instant numbers and times so can see where you can improve. You only do it for a minute which sounds like a short time but it is hard. The beauty of being there is that you get instant playback and reactions from the doctors so you get feedback to help you try to isolate how you can improve.
You have worked as a TV pundit this season – do you try to bring the same analytical approach you use for your training to the studio?
The punditry and analysis today is certainly not bland and nobody is sitting on the fence – people expect you to look a bit deeper, whether that is about a technical aspect or a training issue. When I work on TV I try to look that bit deeper. It is great for me because it means I can keep one foot in the game, watch games and try to improve myself, which works well alongside studying for my coaching badges. These days you have to be very open-minded about everything from sports science to tactics.
How close are you to becoming a coach? Is that something you see yourself doing in the near future?
It is something I do have ambitions to do. I am working on my badges now but it is a bit of a process. I'm in my A Licence at the moment and I am doing a lot of hours at Chelsea, working with the under-18s and the academy. They are being very kind in allowing me to coach and practise there. Then I will get on with my Pro Licence which will give me the full licence to be a manager. At the moment I am enjoying the media stuff, so there is no huge rush. I'm going through my badges and when I feel I am ready, if a job becomes available I would love to take it on.
Frank Lampard is an ambassador for nanoM, a state-of-the-art clinic in Dubai that combines cutting-edge technology and world-class medical expertise to offer a new standard of health and fitness assessment. Visit nanomhealth.com (opens in new tab)
Sign up for workout ideas, training advice, reviews of the latest gear and more.
Mark Bailey is a features writer and interviewer who contributed to Coach magazine in 2015 and Men's Fitness UK, which predated, and then shared a website with, Coach, until 2019. Mark has also written for national newspapers including The Telegraph (opens in new tab) and The Financial Times Magazine (opens in new tab), as well as magazines and websites such as Cyclist (opens in new tab) and Bike Radar (opens in new tab).