Got a Footballing Brain? Make it Better
Train the mental side of the beautiful game with the latest addition to Nike's Football app, Pro Genius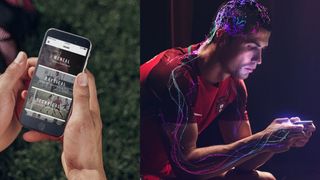 (Image credit: Unknown)
Brain-training apps like Peak, Elevate and Cognito have been a big hit with consumers, combining mental dexterity tests with hand-cramping addictive gameplay. But where are the apps to sharpen your footballing brain?

Here's one. Nike recently added Pro Genius to its football app. The new section offers a series of tools designed to help aspiring young footballers and battle-tested weekend warriors develop the mental skills to complement and improve their physical performance. But can an app really make you a better footballer?
RECOMMENDED: The Best Health and Fitness Apps
What Does it Do?
The current version includes four tools designed to hone your mental game. These cover visualisation, self-talk, counter-attack and priming options, with more planned to be added later in the summer.
Our favourite is the counter-attack game, which features a series of two-second clips shot from a first-person perspective as your team-mates break forward. The aim is to tap the player who represents the best passing option. It's a split-second test of reflexes and decision-making that's fun and instantly addictive. Nike recommends completing at least 80 reps per day if you want to reap the benefits on the pitch.
RECOMMENDED: Five-a-Side Football Tips
In the priming game players have to tap, hold or avoid a series of hexagonal buttons that appear in various positions in different orders. Nike has pitched it as a pre-match dressing room tool that'll test your reactions, "warming your brain up like a muscle" to "perfectly complement your physical warm-up". Like all the best smartphone games, it's quick and simple to use but deceptively hard to master.
The first section has a link to a short YouTube clip starring Bayern Munich and Poland striker Robert Lewandowski visualising his goalscoring exploits ahead of a big game, with a voiceover explaining the benefits of the technique and how to practise it. It's useful advice presented in a stylish, concise format, although it lacks gameplay.

The same goes for the self-talk segment, which features Manchester City and England keeper Joe Hart, describing how he incorporates this strategy into his pre-game ritual by reflecting on his career-best performance: a truly heroic effort for City against Barcelona in the Champions League in 2015. It's more personal than Lewandowski's clip, but is still just a video without any interactive elements.
RECOMMENDED: Premier League Football Training Drills
Does it Actually Work?
It's tempting to dismiss Pro Genius as a gimmick fit for nothing more than killing time at the bus stop, but the technology in the priming and counter-attack games has been adapted from software that's currently used by some of the world's biggest clubs – including Barcelona and Man City, whose coaches had input into the app's design.

The ability to drill specific on-pitch scenarios repeatedly is particularly useful for players whose playing time is limited to one training session a week (if that) plus a game. And while it obviously won't do anything to improve a shoddy first touch or a predilection for shanking passes, it'll certainly help aspiring Andrea Pirlos pick the right option in a high-pressure midfield situation. The self-talk and visualisation techniques, meanwhile, are proven performance-enhancers that you can apply to any aspect of your life.
RECOMMENDED: Pre-Season Football Fitness Drills
Sign up for workout ideas, training advice, reviews of the latest gear and more.
Between 2010 and 2016, Ben was the deputy editor of Men's Fitness UK, which predated, and then shared a website with, Coach. Ben also contributed exclusive features to Coach on topics such as football drills, triathlon training plans and healthy eating.