How To Do A Wheelie According To Wheelie Legend Danny MacAskill
Anyone can learn how to do a wheelie, on any bike, according to the wheelie master. Here's Danny MacAskill's step-by-step guide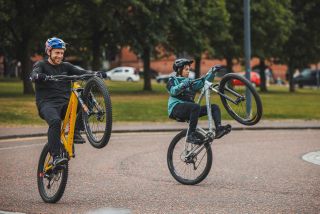 (Image credit: Adidas Five Ten)
We're all about helping you try something new on two wheels, whether that's track cycling, mountain biking, turbo training or cycling to work. So how could we resist a guide to how to do a wheelie from none other than Danny MacAskill, street trials and mountain bike rider, and he of the jaw-dropping YouTube videos?
MacAskill's been working with Adidas Five Ten, the MTB line of the athleisure giant, to celebrate the wheelie. "We wanted to make a film that included as many types of riding as possible and let other riders become the star of the film", says MacAskill. "The wheelie was the best place to start. If you can ride a bike, you can have a good go at doing a wheelie and, from there, the opportunities are endless. We wanted to celebrate the wheelie, show how accessible riding bikes can be and put a smile on people's faces. If someone picks up a bike and has a big grin trying to wheelie, then job done."
Give it a go yourself using MacAskill's tips, shared exclusively with Coach.
1. Grab a bicycle! "A wheelie can be done on absolutely any kind of bike," says MacAskill. "Just find yourself an area with a bit of space to practise." Ideally you want a gentle incline to cycle up.
2. Use flat pedals. "If you are going to use clips don't blame me if you land on your bum!"
3. Adjust your seat height. "You want to have your bike seat at a mid-seat height. I really recommend that you dip the nose of your seat – by dipping the nose, you can just perch there and it makes the balance point much more comfortable."
4. Choose the right gear. "Somewhere in the middle of the cassette is a good place to start."
5. Pedal timing is key. "You want to use your strongest foot first. Lower your chest towards the handlebars and, as your good leg is at the top, push down hard on the pedal and straighten your arms, moving your torso backwards."
6. Grow your confidence. "Learning to be comfortable stepping up onto your feet will make you more confident," says MacAskill, referring to being able to slip off the back of the bike and put your feet flat on the floor. "This is a crucial part of doing wheelies – the reason that I'm able to do the tricks I do is because I'm able to crash quite well!"
7. Get your hands in the right position. "Make sure you always cover your back brake," says MacAskill, meaning you should have your hand over the brake so you can press it at a moment's notice. "If you start tipping off of your bike, you can pull the back brake and it'll bring the front down."
8. Discover the magic! "Once you've mastered your feet timing and your arm timing, try to go up and find that magical balance point."
If you need a few more pointers (we did, and a lot more practice besides to get the front wheel of our entry-level hybrid to stay in the air) watch the extra video MacAskill made. You'll need to register with Adidas to watch it.
Sign up for workout ideas, training advice, reviews of the latest gear and more.
Jonathan Shannon has been the editor of the Coach website since 2016, developing a wide-ranging experience of health and fitness. Jonathan took up running while editing Coach and has run a sub-40min 10K and 1hr 28min half marathon. His next ambition is to complete a marathon. He's an advocate of cycling to work and is Coach's e-bike reviewer, and not just because he lives up a bit of a hill. He also reviews fitness trackers and other workout gear.