Dave Castro's Final CrossFit Open Workout Hint Is His Most Cryptic Yet
CrossFit fans have been making their predictions for CrossFit Open workout 23.3, but Castro's clue has left us stumped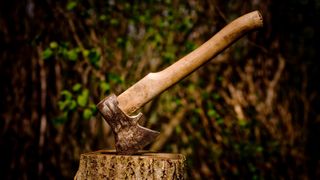 (Image credit: Getty Images)
There was one thing missing from last year's CrossFit Open: Dave Castro's much-loved CrossFit Open workout hints.
The former Games director has previously shared infuriatingly vague clues on social media shortly before each workout is revealed, but they were missing last year after he was let go from his role at CrossFit. Fortunately, his subsequent rehiring just months later means the posts are back for the 2023 season and they're as obscure as ever.
CrossFit Open Hint 23.3
Dave Castro's final clue of the 2023 Open has been posted and it's his most cryptic yet.
The former CrossFit Games director posted the tale of The Hunter And The Woodman from Aesop's Fables.
The story goes that a hunter was searching for the tracks of a lion in a forest. Stumbling across a woodman, he asks him if he has seen any tracks, to which the woodman replies that he could lead the hunter directly to the lion. At this, the hunter "turned pale with fear" and says he only wants to find the lion's tracks, not the animal itself.
The moral of the story is that a hero shows courage in their actions as well as their words. This could mean athletes will face one of CrossFit's hero WODs, each of which is named in tribute to a first responder or member of the military who died in the line of duty.
Commenters seem more stumped than usual, though some have made predictions.
"Single-arm snatch (woodman) plus box jumps (wood) plus handstand press-ups (footprints)?" one of the most popular comments reads. These are all common exercises in the CrossFit Open, and we're yet to see any dumbbell, plyometric box or inverted movements in this year's event, making this as plausible a suggestion as any.
To know for certain, you'll have to watch the CrossFit Open 23.3 live announcement via the CrossFit Games YouTube channel at 8pm GMT on Thursday 2nd March.
This is not the first time Castro has referenced ancient Greece. The name of the final 2020 CrossFit Games workout was Atalanta, the huntress from Greek myth. The workout was a gruelling twist on the hero workout Murph, challenging athletes to complete 100 handstand press-ups, 200 alternating pistol squats and 300 pull-ups, bookended by a one-mile run either side, all while wearing a weighted vest.
CrossFit Open Hint 23.2
Ahead of the reveal of the second CrossFit Open workout, 23.2, Dave Castro has posted a customary cryptic hint: this time it's a video showing a rolling ball sculpture.
In the clip, the ball moves from left to right as it descends a wire metal route. Yet, despite the seeming lack of relevance to functional fitness, some of Castro's followers think he's given away the format of 23.2.
A popular theory among commenters is that the workout will be a couplet, pairing two exercises together that are performed for alternating sets. The most famous example of this is Fran, where you perform 21, 15 then nine reps of pull-ups and thrusters.
However, many people (including three-time CrossFit Games athlete Cody Anderson) believe the workout will follow a descending ladder format, with the number of reps decreasing and the difficulty or weight you have to lift increasing as you progress through the test.
The only way to find out who is right is to wait for the announcement on the CrossFit Games YouTube channel at 12pm PT or 8pm GMT on Thursday 23rd February. Speculating wildly on Castro's obscure posts is an excellent way of passing the time while you wait.
CrossFit Open Hint 23.1
Less than 48 hours ahead of the first CrossFit Open 2023 workout announcement, Castro posted a picture of part of a traffic light – an illuminated red arrow pointing left. The caption: "23.1."
Speculation was rife among CrossFit fans on social media, with the image collecting more than 29,000 likes within 16 hours of being posted, as well as hundreds of comments.
Despite its cryptic nature, members of the CrossFit community are convinced they have cracked his latest clue for Open workout 23.1, claiming it points to a repeat of Open workout 13.2.
This CrossFit workout is a 10-minute AMRAP consisting of three exercises: five shoulder-to-overheads, 10 deadlifts and 15 box jumps. The RX weights (those used if you complete the workout as prescribed) are 115lb/52kg for men and 75lb/34kg for women.
The idea is that those three exercises relate to the three colours on a traffic light. The number 13.2 is also 23.1 backwards.
What's more, 13.2 was posted as CrossFit's workout of the day on 26th January. Athletes often look at what's posted in the lead-up to the season opener, which has previously been a good indicator that the company plans to use it as part of its competitive season, as was the case with the first workout from the 2019 CrossFit Games.
However, while many hazarded guesses as to what Castro's cryptic hint could mean, others were just happy to see this longstanding CrossFit Open tradition return. Below Castro's post, former Games athlete Jacob Heppner wrote: "This makes me happy, seeing this again."
Another commenter added: "I don't care what it [the workout] is, you posting a clue just warms my heart."
Sign up for workout ideas, training advice, reviews of the latest gear and more.
Harry covers news, reviews and features for Coach, Fit&Well (opens in new tab) and Live Science (opens in new tab). With over a decade of training experience, he has tried everything from powerlifting to gymnastics, cardio to CrossFit, all in a bid to find fun ways of building a healthy, functional body.