I Made The HYROX World Championships And This Is How I Trained
A grueling few months helped secure a decent HYROX time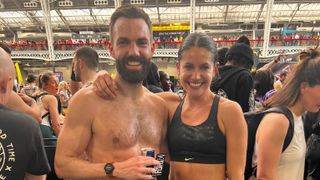 (Image credit: Courtesy Lucy Gornall)
Earlier this year, I made it through to the HYROX World Championships in Manchester, and boy was it a test. If you haven't heard of the indoor fitness competition before, let me fill you in. It involves running 1km before completing a functional fitness test (for example, 100 wall balls) and then doing this seven more times. Each exercise element is different and will test different areas of your fitness.
I'd class myself as a HYROX fan. I've competed nine times now (I know—addict), completing solo, relay, and same-sex and mixed doubles races. It's safe to say I know the workout pretty well.
Making it through to the HYROX World Championships in a mixed doubles pair with my partner Paul Ratcliffe, who's a PT and HYROX coach, was a great feeling. Luckily, Paul's expertise was a godsend and he was partial to a helpful morning WhatsApp message telling me what I should be doing that day and when I should be resting!
We got through to the HYROX World Championships with a time of one hour and two minutes, and managed to knock a minute off our time on the big day.
While there are plenty of ways to train for HYROX, including attending HYROX gyms, if you're planning on going it alone my experience may help. Ultimately, the key is to have fun with your training and on the day. HYROX is tough, but it's not a prison sentence. Let your body recover between training sessions, stay well fed and hydrated, and make each of your workouts focused.
And on the day itself, let the atmosphere, the crowd and the adrenaline take you further. (This guy found that out in his first HYROX race.) I promise you, you'll enjoy it!
How long do I need to train for HYROX?
This will depend on your level of fitness. If you're starting to get fit and aren't familiar with any of the exercises involved, then you'll probably best building up your stamina first.
"You could easily build up aerobic endurance in around three months, but it will be the strength required to shift the sleds that will ultimately dictate whether you're ready," says Paul. "Personally, I believe if you can push the sleds and run 5K, then you could complete a HYROX."
He adds that if you're relatively active already, then a good 12- to 16-week training plan should get you ready.
If you're worried about your fitness levels, try competing in a pair—these can be mixed or same sex. This way, although the runs have to be completed side by side, the workout elements can be shared between the two of you.
I was doing about three HYROX-specific workouts a week, combining runs with lunges, sled pushes and pulls, and wall balls. I also focused on the elements that I despise—looking at you, SkiErg.
With both the SkiErg and the row, I tended to train in 200m to 300m efforts, working on increasing my speed.
How many times a week do I need to run for HYROX?
Running is a central part of HYROX—there are eight 1km intervals to get through! I am an avid runner already and hit the road four to five times a week. For me, it was about running under fatigue, as this mimics the HYROX competition.
I am aware, however, that not everyone has the time to run as much as I do. According to Paul, running three times a week is a good amount. "Mix up your running with some fast-paced intervals, steady jogs, and those good old long runs," he says.
If you're able to monitor your heart rate when you're out for a steady jog, try to keep it in zone 2. This helps to build your aerobic base, which will help to improve your speed over time. Yes, it's a case of running slow to run fast.
While running is important, aim to "balance it out with some strength and functional training to get you ready for the other HYROX challenges," says Paul.
How can I train for HYROX?
The beauty of HYROX is that it forces me to get fitter and stronger, thanks to the mix of exercises involved.
"HYROX is like a buffet of fitness—a bit of everything," says Paul. "Don't go all in and try to train everything at once. That's a one-way ticket to Burnout City. Instead, break it down. Start by tackling your weakest points, then gradually add in the rest."
It's best to mix cardio, strength workouts and functional training exercises. "And don't forget to throw in some sessions that mimic the race itself—a blend of running and functional exercises," says Paul.
Aside from the initial 1km, every run during the event will be under fatigue and your legs will feel quite heavy and tired. So, it's wise to mimic that feeling beforehand. Coach has a couple of such sessions from HYROX trainers: this HYROX workout and this HYROX-inspired bodyweight leg workout.
I devoted a lot of time to leg workouts, building up my lower-body strength so my legs could keep going for the entire workout without buckling. Heavy lunges, hip thrusts and the leg press were my allies in the run-up to the HYROX World Championships.
I also practiced walking lunges and wall balls with weights slightly heavier than the weights used on event day.
How should I fuel before a HYROX race?
It's essential to eat well so you have enough energy for the race. My choice of breakfast the day of the world champs was kippers and then a bowl of muesli and fruit with my standard oat milk cappuccino. I had had my carbs and protein and I felt ready to go.
In the week before the event, I ate normally. My meals tend to consist of a protein source, one potion of carbs—especially complex carbs such as oats or wholegrain bread—and plenty of veg, so I wasn't worried about lacking in fuel on race day.
Paul advises that a light meal of carbs and protein a couple of hours before you start the HYROX race is wise. "Keep yourself hydrated and energized during the race with sports drinks. And don't forget to celebrate with a protein-packed meal after the race to kick-start your recovery."
Sign up for workout ideas, training advice, reviews of the latest gear and more.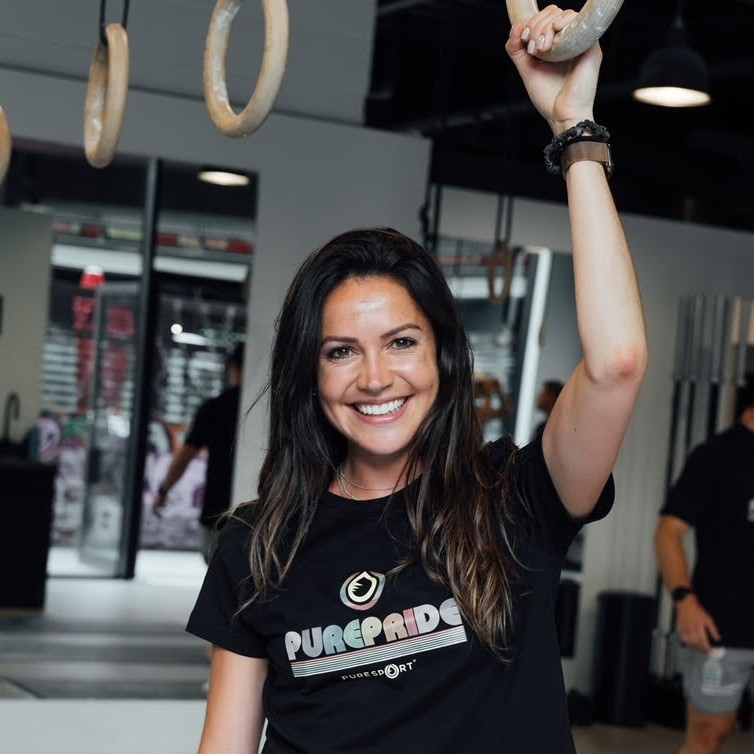 Lucy is an experienced health and fitness journalist, and was formerly health editor for TI Media's portfolio of women's titles. Lucy qualified as a level 3 personal trainer with Train Fitness in 2016, and also holds qualifications in pre- and post-natal fitness, as well as in nutrition for exercise.