​​Can You Complete This HYROX Workout In Under 30 Minutes?
This intense circuit from the master trainer of the functional fitness event takes no prisoners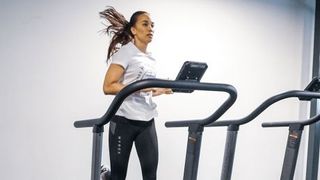 (Image credit: Unknown)
If you are a functional fitness fiend on the look-out for mass-participation events that let you show off your abilities in the gym, then let us introduce you to HYROX. These unique events involve completing eight rounds of 1km runs each followed by a different functional exercise, and it's coming to the UK for the first time this autumn.
There are events in London, Manchester and Birmingham to look forward to, but to ensure you really shine at them, you'll need to put in the training. This savage workout from HYROX master trainer Mintra Tilly will give you a taste of the intensity of a full HYROX event while boosting your strength and fitness.
HYROX ROBYN Workout
The ROBYN workout involves doing six rounds of three exercises as fast as you can, with a notional time cap of 30 minutes. While you can take longer than that, Tilly recommends matching the work to your fitness level.
"You can scale down the intensity by reducing the reps or the total number of rounds," says Tilly. "Ideally, to get the right stimulus you want to be finishing within the 25-to 30-minute time range. You can also dial up the strength focus by adding weights to the lunges with a barbell, dumbbell or any convenient object."
Reps 20
"The lunge is a staple lower-body move that helps develop balanced single-leg strength and development in the quads, glutes and core," says Tilly.
"Start standing upright, holding dumbbells. Step forward and lower until your back knee touches the floor. Return to the start position and switch legs. Your knees and hips must be extended before switching legs, with your feet directly under your hips and shoulders. Each lunge equals one rep."
Reps 20
"Start in an upright standing position," says Tilly. "Bend your knees and place your hands close to your feet, then jump your feet back. Lower until your chest touches the ground. Push off the ground, jump your feet forwards again, then jump straight up and raise your hands above your head. Make sure your knees and hips are fully extended on the vertical jump, and that your feet come off the ground. Focus on staying controlled throughout the movement and try to find a rhythm."
See related
3 Row/SkiErg/treadmill run
Distance 400m
"Depending on what you have available, perform one of the three cardio options," says Tilly. "If you have all three available, do the exercise that needs most improvement – we test all three in a full race!"
HYROX's first event in the UK will take place at the London Excel on 25th September 2021, with further events in Birmingham on 30th October 2021 and Manchester on 29th January 2022. Tickets start from £65 and can be purchased at hyrox.com
Sign up for workout ideas, training advice, reviews of the latest gear and more.