How To Train For A HYROX Event
The functional fitness event has three UK events in 2023 – here's how to approach your training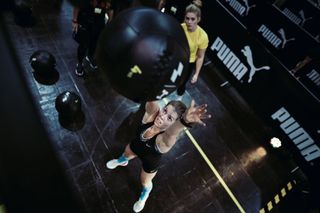 (Image credit: HYROX)
HYROX events are a great way to put your all-round fitness to the test. The format requires participants to run 1km and then tackle a functional exercise, eight times. The mathematically minded will have noticed that's 8km of running in total, and you'll actually be racking up even more distance through the exercise you do in between those runs.
The mass-participation format was founded in 2017 and puts on races at indoor arenas across Europe and the USA, with each event hosting up to 5,000 participants, plus spectators, which creates a terrific atmosphere. It launched in the UK in 2021 and after four sold-out events in 2022, HYROX is putting on three more in 2023.
The first is in Manchester on 28th January, and then HYROX heads to Glasgow on 11th February. Those events are sold out or on track to, so move fast if you want a spot, but if you miss out then the two-day event in London on 30th April and 1st May still has space. Along with these mass-participation events, the HYROX World Championship Race is taking place in the UK in 2023, in Manchester on 27th May.
If you're excited to enter, keep in mind that it is a serious physical test. In addition to the running you need to complete the following eight challenges (we've included the male/female weights for the individual open category where applicable):
1,000m on the SkiErg
50m sled push (125kg/75kg, plus sled)
50m sled pull (75kg/50kg, plus sled)
80m burpee broad jump
1,000m on the rowing machine
200m farmer's carry (2 x 24kg/16kg)
100m sandbag lunge (20kg/10kg)
Wall ball (100 reps 6kg/ 75 reps 4kg)
It all adds up to an event that will challenge your strength and endurance to the max, and pacing yourself effectively will be crucial.
How To Train For A HYROX Event
Preparing for a HYROX event requires careful planning to ensure you're ready to tackle each and every station on the circuit, as well as all that running in between.
The best way to train for a HYROX is in person at a HYROX-affiliated gym, but if you don't have one close by or the cost of a membership is beyond your means then FIIT, one of the best workout apps, has also launched four-week and eight-week HYROX training plans ($7.99/£7.99 a month).
We spoke to HYROX master trainer Mintra Tilly to get some expert advice on how to train for the fitness race.
What kind of training should you do before HYROX?
HYROX combines running and functional training which opens it up to a broad audience of fitness enthusiasts. Everyone can do it, even if you haven't trained, though we don't recommend that – you'll be sore for days afterwards.
How best to train for HYROX depends a little on where you're coming from. If we were to start with a beginner or someone who's not familiar with HYROX, the best thing to do is build their base fitness, building endurance and strength.
Once you've built your base fitness, you can address your weaknesses and do less of what you're good at. If you're a great runner then you need to work on strength and the functional movements. And vice versa, if you're stronger and a less accomplished runner.
What we don't suggest is crazy technical lifts, like snatches or Olympic lifts. We stick with the basics.
Should you complete a full HYROX in training?
It doesn't hurt to do the whole thing, just to know what it feels like. Obviously, it's going to be totally different in the competition when the adrenaline kicks in.
If you don't have all the equipment needed, then do a training session that mimics that amount of work. It's around an hour and a half, on average, and you should challenge your body with different exercises and have some running in there.
How long does it take to train for a HYROX?
If you're committed and you do three to four workouts a week, then eight weeks is enough, but if you really want to be well prepared, I would recommend 12 weeks.
How should you structure that training?
In an ideal world, I recommend periodisation. Take weeks one to four to get stronger. Don't do much running or cardio. Then move on to the next phase in week five to eight, and incorporate the cardiovascular components. Keep one or two strength days, and then on the other two days ramp up the cardio. Then four weeks before the event, get specific. Do all the HYROX movements with running in between.
What parts of the event are people weakest at in general?
Exercise-wise, it's the sled. Some people might not have the opportunity to incorporate that into their training and then it just hits you. And because it's the second station, people go in too quick. The sled is unique: it hits your heart rate and your muscles at the same time. Do not underestimate the sled, and try to train with it so you know what it feels like.
Number two would be the lunges, because they can be overlooked. They're towards the end, maybe an hour or an hour and 15 minutes in, and it's 200 metres of lunging over and over again. At that point in the competition, you need to have that extra energy and your legs need to be able to manage that. So the lunges are something that you should focus on in training too.
And then in third place, I'd say running. I mean, it's so obvious, but people struggle!
Can you train for a HYROX at home?
My coach used to say no equipment is not an excuse, so in honour of him, I want to say it's possible. If you have to do it all at home, think about time and muscle. Look at how long it takes to do a section, and then try to get your heart rate up and hit the muscles that exercise hits for that duration of time.
For example, it takes people roughly four or five minutes to do the SkiErg section. So that means for five minutes, you would have to do something that targets your heart rate, and then also your arms. So I would do burpees with double press-ups. Be creative.
Do you need to consider how you fuel for a HYROX event?
People underestimate what completing HYROX does to your body and some who start in the morning just don't have breakfast. You have to eat something in order for your body to not shut down. But don't eat too much, because you'll throw up. And drink! Hydration is a big thing.
---
Sign up for workout ideas, training advice, reviews of the latest gear and more.