The Best Gym Trainers
Set yourself up for success with these top gym shoes for every type of workout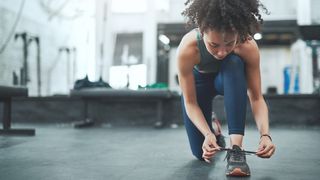 (Image credit: Getty Images / Jay Yuno)
After shelling out for a gym membership, you'd be forgiven for hoping you could skip the purchase of a new pair of workout shoes. And you can! As long as you take it easy, any old trainers will do, but if you're looking to make the most of your gym membership then investing in a pair of the best gym trainers could pay off. The right shoe can make a world of difference to your gym training.
The best starting point is to figure out what type of workout you plan to do, because that can steer you towards the most appropriate features.
There are plenty of do-it-all cross-trainers, but each model will prioritise features that lean towards a certain discipline, which we'll indicate in our recommendations below. The best CrossFit shoes have to combine enough cushioning to handle box jumps and short runs with the stability needed to handle technical lifts, as well as being durable.
The best weightlifting shoes include additional heel support and a stable base, which will set you up for success when lifting, especially squatting. They will also have a significant drop or offset (the difference between the height of the heel and the height at the front of the shoes), which helps mobility.
Another feature to watch out for is extra grip on the edges of the sole to aid quick lateral movements. This is helpful if you're attempting speed and agility training.
One word of warning: the best running shoes aren't a great option for the gym unless you plan on doing exclusively treadmill workouts. The extra cushioning makes for an unstable base when lifting weights and—since runners only move forwards—running shoes tend to lack support for quick lateral movements, making it easier to turn an ankle. Fear not if you are a runner who's planning to spend more time in the gym and want one shoe to do it all—we have a great pick from On that will suit you.
We've pulled together our picks for the best gym trainers for every need. Find the right pair for you and go get 'em, tiger.
The Best Gym Trainers
Best all-round gym trainer
Reasons to buy
+
Sturdy and supportive for resistance training
+
Great grip for HIIT
+
Lace lock is a smart addition
Reasons to avoid
-
Less flexible than previous Metcon editions
-
Sizing is tight
Nike's Metcon and Reebok's Nano (below) shoe lines have been duking it out for the title of best all-rounder across many generations and they're difficult to separate. However, after using the Metcon 8 and 7 and the Nano X2, our reviewer has come down firmly on the side of the Metcon 8.
Its sturdy sole is ideal for squatting and deadlifting, as well as other functional fitness exercises, while the excellent ability to grip gym floors shines through during HIIT workouts. If there's one area where it falls down, it's when running on a treadmill, and the Metcon 8's slightly stiffer sole makes it marginally worse than the 7 in this regard. Running the odd kilometre is fine, but it's not a shoe designed to go any further.
Our reviewer liked the addition of a Velcro lace lock, but didn't really notice the effect of the new handstand heel clip or the more breathable upper, so if you see a deal on the Metcon 7 it's worth considering. The fit on the Metcon 8 was a little snug, so if you have wide feet you may need to size up.
If you walk past the treadmill on the way to the weights room or a sweaty functional fitness class, these are the shoes we recommend.
Read more in our Nike Metcon 8 review
---
Best all-rounder for cushioning
Reasons to buy
+
Supportive
+
Comfortable
+
Stylish colourways
Reasons to avoid
-
Sizing can be tricky
-
Laces aren't the best
Like the Nike Metcon, Reebok's Nano is a great all-rounder. Our reviewer, who has used both, prefers the Nano X2 over the Metcon 7 for plyo work and short runs, where the Floatride foam—used in Reebok's excellent running shoes—shines through.
Compared with the Nano X1, extra padding has made for a more comfortable fit in the X2 and a heel clip has improved stability in the squat rack. The only issue our reviewer experienced was a little space on the sides of the shoe, which led to some lateral slipping—you may wish to order a couple of sizes and send back the ones that aren't right. The laces, too, weren't up to the build quality of the rest of the shoe.
Those quibbles aside, the Nano X2 is a comfortable all-rounder and good-looking, too—the right colorway may just tip your decision in its favour.
Read more in our Reebok Nano X2 review
---
Best-value gym shoe
Reasons to buy
+
Natural, comfortable fit
+
Affordable
+
Wide forefoot for balance
Reasons to avoid
-
Some compression in the heel during heavy lifts
-
Heel lining lacks durability
-
Light colors hard to keep clean
The best gym shoes don't usually come cheap. The Puma Fuse 2.0 does, however, with a $100/£90 RRP and some considerable discounts on offer.
But can such affordable fitness footwear hold a candle to its more costly counterparts? In my thorough tests, I found that the Puma Fuse 2.0 can.
The shoe has a natural fit that I found incredibly comfortable straight out the box. My first session wearing it consisted of a couple of metcons made up of squats, running intervals and dumbbell clean and jerks, among other moves, and it kept my feet feeling fresh with no sign of rubbing.
The Fuse 2.0 has enough cushioning to soften the blow of high-impact exercises, as well as a wide forefoot which allowed me to spread my toes for balance while lifting weights.
During complex lifts like the clean, the heel didn't feel as stable as those on the likes of the Nike Metcon 9, and there was some compression in the midsole when squatting heavier weights. I also saw a considerable amount of wear to the inner lining of the heel after a month of use.
Overall, this is an impressive second outing for Puma in the functional fitness footwear arena, particularly when you consider the price. It's good (if not great) for lifting thanks to the wide forefoot, and feels light and comfortable for circuit-style workouts or HIIT sessions.—Harry Bullmore
Read more in our Puma Fuse 2.0 review
---
Best gym shoe for CrossFit
Reasons to buy
+
Stability platform is excellent for weightlifting
+
Comfortable, breathable upper
+
Robust upper and grippy sole
Reasons to avoid
-
Takes a while to break in
-
Heel lining deteriorated quickly
-
Narrower fit
Swimming brand TYR made a splash with its first foray into the world of gym sneakers (and more specifically, CrossFit shoes) in 2022. Not only did it sign top CrossFit athletes like Pat Vellner and Annie Thorisdottir, but it also delivered a barnstorming debut shoe in the shape of the CXT-1.
The website says it has a "patent pending stability platform" around the heel—how mysterious. But whatever TYR has done, it should continue to do. The shoe offers a fantastically stable base for heavy leg exercises like squats and deadlifts, as well as more dynamic moves like Olympic lifts.
The breathable upper kept my feet cool and comfortable during even the sweatiest workouts, while the Surge NRG foam in the midsole felt supportive during high-impact exercises and short runs (although you'll want a dedicated running shoe for distances over 2km).
Rubber guards rising around the toe, midfoot and heel also add to the CXT-1's robustness, although I did find some wear to the heel lining after not much more than a month of use.
The fit is on the narrower side, which suited my feet, although prospective wearers with wider feet might want to consider other options like the Nike Metcon 9 or Inov-8 F-Lite G300.
Minor criticisms aside, this is an excellent gym shoe and it's now my go-to for daily CrossFit training, whether I'm lifting, doing circuit-style workouts or anything else. So if you're looking for an all-rounder, I can't recommend the TYR CXT-1 enough.—HB
Read more in our TYR CXT-1 review
---
5. Nike Air Zoom SuperRep 3
Best for HIIT
Reasons to buy
+
Great stability and protection from impact
+
Unique features that help with various HIIT moves
Reasons to avoid
-
Cushioning means they're not suited to heaving lifting
Nike aspires to create shoes tailored to every kind of training session, and the SuperRep 3 has been made to suit the varied demands of HIIT workouts, although in practice it's great for all manner of workouts.
The combination of a wide base and plump cushioning provides stability and protection from the impact of the kind of vigorous, jumping exercises that raise your heart rate.
The SuperRep 3 also has a groove on the front called the burpee break, which helps you hold positions like planks, press-ups and, indeed, burpees when you're up on your toes. There's also an arc on the outside that adds extra stability for lateral movements like skater jumps.
Nike has updated the fit on the earlier SuperRep to create more room in the forefoot while allowing you to tighten the midfoot with the adjustable tongue.
---
Best gym shoe for lifting weights
Reasons to buy
+
Stable sole and heel ideal for weightlifting
+
Comfortable upper
+
Cushioning for short runs
Reasons to avoid
-
Wide fit won't suit everyone
-
Clunky feel during HIIT sessions
If you're actively looking forward to your next leg day, you're probably in the minority. You're also going to love the Inov-8 F-Lite G 300.
It has more in common with a weightlifting shoe than most gym sneakers, featuring a wide forefoot as part of a flat, ergonomic, graphene-enforced outsole. Inov-8 also uses graphene as part of its Powerheel technology, designed to provide more support during heavy lifts.
The result, I discovered, is a comfortable shoe that offers excellent grip, stability and balance, making it a dream to squat in.
It's not a one-trick pony though. The mesh upper is light and breathable—the whole shoe weighs in at a mere 300g (hence the name). There is also a decent stack of foam in the midsole that did not compress under heavy deadlifts and yet provided enough bounce to keep me comfortable through mid-circuit running intervals.
The only area in which I found it didn't live up to the highest standards was dynamic exercises like HIIT sessions. The shoe, despite being light, felt clunkier than other gym sneakers I've tried on account of its larger upper and midsole stack. This took a bit of getting used to for moves like burpees and box jumps, and I still prefer my TYRs or Nike Metcons for any high-intensity training. I also found the fit quite wide, leading to a bit of movement around the heel during plyometric exercises. My feet are on the narrower side, though, and according to other wearers this issue isn't universal.—HB
Read more in our Inov-8 F-Lite G 300 review
---
Most durable gym trainer
Specifications
RRP:
$129-$139 / £120-£130
Reasons to buy
+
Firm midsole is great for metcons and lifting weights
+
Very durable
+
Multi-directional lugs offer grip when moving in all directions
Reasons to avoid
-
Fit slightly narrow
-
Need to be broken in
-
Minimal cushioning for running
It's little surprise that a dedicated CrossFit shoe is tough, but this one is tougher than most. I tested them for five months, putting in three 90-minute sessions a week, and the only sign of wear is a faint crease across the toe box. The upper is made from a single piece of durable material that's designed to prevent abrasion from equipment—in rope climbs, for example—and guard plates are positioned around the base of the shoe to increase the overall protection.
It makes this shoe a great choice if you plan on going hard at the gym, and the firm sole lends itself to an intense style of training too, allowing for effective transfer of power through the shoe during HIIT workouts and barbell lifts. The flipside is that the lack of cushioning can make running especially hard on your legs.
The designs also cater to a range of tastes, with block colours and eye-catching prints offered in different combinations on the sole and upper—from all black to all-over floral print.—HB
Read more in our Nobull Trainer review
---
On Cloud X
Best for runners
Reasons to buy
+
Firm yet has some cushioning
+
Also a great race shoe
Runners are repeatedly told to spend time in the gym to improve their strength and avoid injury, but really they'd rather be out running, so the requirements of a gym trainer for runners are often limited to only the exercises required to help them run—namely leg and core exercises. The Cloud X delivers with ease on these fronts. The firm heel provides the kind of support during squatting and lunging that running shoes fail to, with their squashy, cushioned soles. The upper on the toe box is all mesh so it's eminently breathable, and the sole is firm enough to transfer power while cushioned enough to attack box jumps in HIIT classes without jarring your knees. The best news of all for runners? The Cloud X has also developed a reputation as a great race shoe thanks to that mix of firmness and cushioning.
---
Under Armour TriBase Reign 4
Best low-offset gym trainer
Reasons to buy
+
Lightweight and comfy, yet supportive
+
Durable
+
Very low drop
Reasons to avoid
-
Limited colourways available
-
Minimal cushioning
There's a lot to love about Under Armour's most popular gym shoe. It has the lowest drop of any trainer (apart from Vivobarefoot's zero-drop shoe, below) which I found results in a stable and sturdy base to help you lift, lunge and single-leg deadlift. The TriBase tech refers to the stiff triangular base on the bottom of the sole and this helps to maximise ground contact. There's still enough flex in the toes to allow you to propel yourself forwards, though. Add in the firm-gripping rubber sole and a rubber lining on the outside of the trainer and you've got yourself a supportive and protective workout shoe that lasts—mine have barely any signs of wear after using week in, week out for nine months.
There aren't many downsides to the Reign 4, but if pushed, the range of four colorways is limited, and the flipside of stiff and stable shoes is a lack of cushioning. Don't plan on putting in many Ks on the treadmill.—Becks Shepherd
---
Vivobarefoot Primus Lite III
Best for barefoot training
Reasons to buy
+
Helps train your feet to support themselves
+
Sustainably produced with little impact on the environment
Reasons to avoid
-
Lack of support and protection
You may have never looked at the shoes Joe Wicks is wearing in his workout videos—difficult when you're out of breath—but we have, and the shoes he wears look like Vivobarefoot's Primus to us. There's no official relationship (can you imagine how much that endorsement would cost?), but the barely-there sole and wide, clown-like toe box which allows the toes to spread are unmistakable. The design doesn't protect your foot the way other trainers do, but the flipside of that is – as long as you take things slow and steady at first – you can strengthen your feet so they don't require any protection.
The latest Primus Lite has seen a big change in how it's produced with fewer materials employed and a greater proportion of recycled ones, so its impact on the environment is reduced. And once they're trashed you can send them to Revivo (a Vivobarefoot offshoot) instead of landfill to be repaired or reused.
Sign up for workout ideas, training advice, reviews of the latest gear and more.