6 Movie Heroes Who Prove Every Man Should Work out in a Headband
Time to repack your gym bag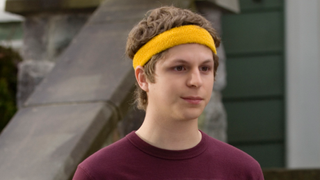 (Image credit: Unknown)
The 21st century offers myriad fitness tech options, but have you ever tried keeping sweat out of your eyes with a wearable? We can tell you from personal experience that moisture (bodily or otherwise) damage is not covered in the warranty. No, if you're planning on sweating and seeing then the humble sports headband is your best bet.
But stylish gym-goers have turned their backs on this most functional of accessories – even this fair-minded, non-judgemental publication (we're looking at you, gym kit gaffes story). If you lack the bushy monobrow needed to provide an effective sweat dam when working out, here are six strong looks from cinematic sartorialists.
Richie Tenenbaum, The Royal Tenenbaums (2001)
It doesn't take 20/20 vision to see that a lot of Björn Borg-inspired shopping was taking place on Richie Tenenbaum's credit card before he came to the big screen in 2001, with his band that was almost identical to the legendary Swedish tennis player's (along with the doppelgänger haircut). Flash-forward to the present day, and with the male bob a hotly-tipped haircut for 2016 (no, really), who better to channel than the stylish court hero when keeping your new fashionable long hair in place while serving up aces?
Paulie Bleeker, Juno (2007)
Ever been called "the coolest person I've ever met" by a girl you're madly in love with? No? Sorry to bring it up, then, but maybe it's because you've not hit the track in skimpy yellow shorts and a yellow headband like Michael Cera's character in this teen classic. He gets compliments like that and more from his mega-crush, and we're pretty confident his running outfit has something to do with it.
Brand, The Goonies (1985)
Still the best teen adventure movie of all time? Still makes us want to grab a group of our closest pals and go on an epic adventure? Double yes. First film to make us want to tear sleeves off a grey sweater, do some spring-loaded chest exercises and don a red bandana? You betcha.
Jackie Moon, Semi-Pro (2008)
Here we were, thinking that no man on this fine planet of ours could ever, ever pull off wearing absolutely nothing but sports socks, a well-placed basketball and a very retro headband. Yet we must stand corrected. Will Ferrell's cocksure owner-coach-player of NBA hopefuls the Flint Tropics proved us very wrong in this ace sports comedy. If his headwear game teaches us anything, it's that it could help us channel the body confidence of a Greek Adonis. A Greek Adonis that really likes wearing trousers, we hope.
Dennis, Run Fatboy Run (2007)
OK, so our chubby main man only rocks a staple white band during the classic fat-to-fit montage sequence (which by law every fitness-based film needs to contain at least one of). That said, we had to throw him into our list of headband-rocking inspirations, purely for the deadly accurate depiction of all the blood, sweat, tears, fainting, fighting, chafing and raw egg-swallowing that goes into restarting your training after an extended period away from the gym. Does all that effort help him get the girl? Of course it bloomin' does. If that's not incentive enough to don your own, nothing is.
Dirk Diggler, Boogie Nights (1997)
Yes, we know that Dirk Diggler's workouts are slight more, er, racy than your average lunchtime session in the gym, given that he's a very well-endowed porn star and all. But what does our romping screen protagonist need more of than anything else? Stamina. Take a leaf out of his book because when that headband goes on, he's ready to go harder for much longer. No pun intended, honest.
Sign up for workout ideas, training advice, reviews of the latest gear and more.
Craft beer drinker, Devonian, fisherman and former content director of Coach online, Chris contributed style coverage and features between 2016 and 2019.