The Best Desert Boots For Men
Incredibly handy even when it's not sandy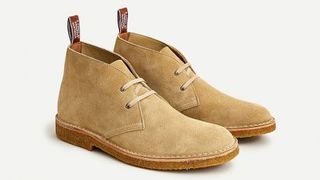 (Image credit: Unknown)
War. What is it good for? Absolutely nothing… apart from giving rise to one of the world's favourite footwear options in the form of the desert boot.
In 1941, when the planet was sinking deeper into the terrors of the Second World War, a young infantryman deployed in Burma noticed the shoe of choice among officers was a lightweight and durable ankle boot, made from suede and a firm-gripping crepe sole. That soldier was Nathan Clark, as in Clarks shoes, and the boot was a form of the chukka familiar in southern Africa, by way of Cairo's cobblers. Clark brought the idea home and developed his family's company's most enduringly popular shoe, the desert boot.
Flash-forward 70 years and it's still a firm favourite. It's still being made by Clarks, as well as lots of other brands. While you won't find many pairs that deviate too far from the time-honoured design, look a little closer and you'll find subtle differences – materials, colours, details, height, fit – that mean not all pairs are created equal. Pretty good news, then, that we've hand-picked the best desert boots on offer to you, right now.
---
We're kicking things off with the tried-and-tested crowd-pleaser. You won't put a foot wrong with the holy trinity of nutmeg suede uppers, sheepskin lining and a crepe sole.
Buy from Clarks | £110
---
Punched into the inner soles of each of Astorflex's Italian-born boots is the phrase "la scarpa buona", meaning *checks Google translate* "the good shoe". It's a statement we're in no way inclined to argue with, given its genuinely beautiful construction (from quality vegetable-tanned suede) and ability to look primo with anything from date-night chinos to your beat-to-heck down-the-pub denim.
Buy from End Clothing | £125
---
The London smart boys of Russell & Bromley head over to Portugal to make their Jermyn desert boots, where unrivalled craftsmanship and top-drawer materials help make these blue beauties look and feel a bit special. All that Iberian sunshine doesn't stop them from adding a distinctly British detail, though – a sturdy rubber sole for those treacherously slippy city pavements.
Buy from Russell & Bromley | £195
---
Barbour makes the cut thanks to its bravery in tweaking the magic desert boot design formula, with an outstanding two-tone heel panel. And it works! We're also extremely big fans of the secret pattern on the bottom of that buttery crepe sole too – lift your feet in a muddy field and a dapper gent will be staring up at you from your tread imprint.
Buy from Barbour | £99.95 (currently reduced to £60)
---
See related
These stripped-back boots scream comfy, thanks to those chubby rubber soles beneath the soft calf's suede uppers. If you scoff at 10,000 steps, then get these on your hard-working feet.
Buy from Hugo Boss | £299
---
More streamlined and pointed than most, Fairfax & Favor's pair are treading dangerously close to rock'n'roll Chelsea boots. And that's no bad thing – pair these with tailored slacks and a crisp shirt when the dress code asks for something a little sensible (Mon-Fri) and with slim-fit denim when you feel like driving a Rolls Royce into a swimming pool (5pm Fri-Sun).
Buy from Fairfax & Favor | £195
---
It's all about the textures with this entry in the desert boot stakes. Deep grainy leather and a rough crepe sole give off a strong geography-teacher feel, leaning more towards the "spiritual awakening in the Borneo jungle" end of the spectrum rather than "1994 Vauxhall Astra and coffee breath".
Buy from Pretty Green | £100
---
We'd expect more from a high-end brand like Loake. And by that, we mean we'd expect these to cost more. With Loake's coveted leather brogues often going for around £400, just breaking three figures seems like a bit of a steal for these desert boots – especially when you factor in the delicious suede and 140 years of shoemaking expertise that goes into making them.
Buy from Loake | £115
---
Dune London Bertie Castle II
Take a bow, Dune, for delivering a set of good-looking and wallet-friendly beauties that stick a tick in all the right desert boot boxes. What more could you ask for?
Buy from Dune | £85
---
J Crew x RM Williams Sturt
American smart-casual meets Aussie shoemaking heritage in this solid, sturdy and simple set of suede boots. The biscotti colourway has left us wanting something to dunk in our tea, too.
Buy from J Crew | £279
Sign up for workout ideas, training advice, reviews of the latest gear and more.
Craft beer drinker, Devonian, fisherman and former content director of Coach online, Chris contributed style coverage and features between 2016 and 2019.