The Best Parkas For Men
Great big coats for big bad weather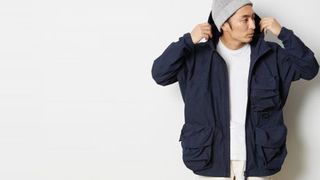 (Image credit: Unknown)
It's easy to get down about the end of summer and the grim descent into eight months – er, nine months – er, 11 months of cold, grey, rainy weather. But ever the optimists, we see the winter not as a massive bummer, but as the chance to indulge in the biggest sartorial shopping spree of the year: seeking out a new weatherproof coat.
To give you a head start we've pulled out our favourite parka jackets – the biggest and baddest boys of the winter jacket brigade – and laid them out below for your viewing pleasure. We've got classic fur-trimmed offerings, modern hybrids and everything in between to suit your budget, style and outdoor intentions.
---
Woolrich Arctic Anorak Coat
With 190 years of weather-beating performance under its well-worn belt, acclaimed American brand Woolrich is a name you can trust when keeping the warmth in and the wet out. But that's not to say it's stuck in its ways, as shown here. Woolrich has taken everything it knows about outerwear and packaged it up in one thoroughly 2020-ready parka. Those four big pockets get five big thumbs up from us.
Buy from Woolrich | £695
---
When you're synonymous with a fur-trimmed hood, you can't claim to be the world's most ethical choice of winter jacket. Unless, that is, you're shopping with German-born, Chinese-made eco-outerwear brand LangerChen. It places fairness, consciousness and sustainability at the heart of everything it makes in its GOTS-certified (Global Organic Textile Standard) facility in Shanghai – which only makes working out which of its fantastic jackets to buy all the harder. We've opted to big up the Dunton, as it'll keep you warm when it's wet and looks the biz.
Buy from LangerChen | €249 (around £212)
---
Whether you're battling through the elements in the city or the wilderness, this 100% recycled polyester (sourced from plastic bottles) parka looks and feels more than ready to leap on your back. Combining an uber-cool Scandi aesthetic with a fully waterproof construction, adjustable hood and big fat pockets, there's no doubt that this is a real all-conditions workhorse.
Buy from Tretorn | £420 (currently reduced to £210)
---
Canada Goose Constable Parka
You know who knows a thing or two about working in harsh conditions? The Canadian Special Forces. The fact that they had a hand in the design of this hip-length cold-beater indicates how insanely hardcore it is.
Buy from Canada Goose | £750
---
Shackleton Endurance Lightweight Parka
Don't expect this thing to crack a smile – it's serious. Expedition-grade serious. Field-tested-in-Antarctica-and-the-Arctic serious. Performs-at-30-below-zero serious. London brand Shackleton may have only been around for three years, but already its products have been put to the test in the most extreme conditions, decking out polar explorers, environmental scientists and intrepid photographers that like to call the sub-zero their office. The ultra-light yet ultra-warm flagship Endurance Parka is handmade in the UK and packs down into a tiny little bag when not in use, whether that's after reaching a Pole at the ends of the Earth or at your desk following a particularly frosty commute.
Buy from Shackleton | £1,295
---
A waterproof, breathable and fleece-lined parka for under £190? What year is it? Who's the president? We're not quite sure what Vermont fisher-king Orvis's game is, pitching this element-besting and smart-looking coat at such a friendly price, but we like it. We like it a lot.
Buy from Orvis | £189
---
With a whacking great 750-fill European goose down insulation, Gore-Tex protection and a streamlined silhouette, Arc'teryx isn't messing around when it comes to keeping you warm and dry. The Down Contour Construction and Down Composite Mapping features combine to allow all that soft filling to form to your individual body shape. Wow.
Buy from Arc'teryx | £600
---
Jack Wolfskin 365 Flash Field
You don't often see a deviation from the classic monochrome approach in parka design, but this bold colour-block coat takes things up a notch while providing all the waterproof, windproof benefits you expect. The icing on top is its eco-credentials – the 365 Millennial is made with 100% recycled synthetic insulation, while the shell's made with 100% recycled materials too.
Buy from Jack Wolfskin | £200
---
See related
This is a real eco-warrior from the most excellent punk of the surf scene, Volcom. Check out the very 1990s grunge red flannel lining and the pillowy hood, then look a little closer and get your fingers on that Teflon EcoElite finish – the first renewably sourced, plant-based and non-fluorinated fabric treatment giving this lean green machine a whacking great 5,000mm water resistance too. Brilliant.
Buy from Volcom | £150
---
The brand adored by mountaineers and urban explorers in equal measure, this is probably what you pictured when you read the words "best parka" up top. The hood and fur trim are removable to suit your surroundings, and the whole caboodle is waterproof. This is the sort of jacket that you'll want to spend 11 months living in.
Buy from The North Face | £400
---
Pretty Green Khaki Cassette
Because what Liam Gallagher and his clothing brand don't know about parkas isn't worth knowing.
Buy from Pretty Green | £150
Sign up for workout ideas, training advice, reviews of the latest gear and more.
Craft beer drinker, Devonian, fisherman and former content director of Coach online, Chris contributed style coverage and features between 2016 and 2019.