The Best Greens Powders And This Popular Supplement Explained
We check the benefits of super greens powders with a dietitian, then put five of the best to a taste test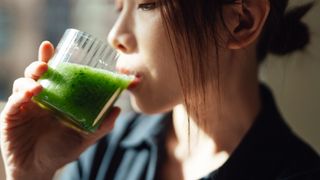 (Image credit: Oscar Wong / Getty Images)
If your fruit and veg intake is looking a little paltry, then you might consider a greens powder supplement to give your health a boost. After all, we know that a diet filled with fruits, vegetables and whole foods is the key to good health, and if it's green it has got to be good for us. Right?
I spoke to Helen Bond, a dietitian and a spokesperson for the British Dietetic Association (BDA), to find out. She says that greens powders can provide benefits as a supplement to a healthy diet, but it's important to maintain a "food first" approach.
Are green powders actually good for you?
"Firstly as a dietitian, I will always recommend that whole fruits and veg come first, and powders and supplements come second. They essentially supplement a healthy diet," says Bond.
"If you're eating a healthy diet then adding a greens powder on top won't do any harm and it may have benefits. However, we know that eating fruits and veg has huge beneficial outcomes for our health."
Bond reiterates that it's diet first, always, but because green powders are made up of lots of different ingredients they provide various vitamins and minerals in small amounts, topping up our nutrient intake. Some provide other beneficial elements too.
"Only a third of us are making the [UK government-recommended] five-a-day fruit and vegetable quota," says Bond, who notes that while some of the powders do provide one of your five-a-day, they often don't provide all the things we get from whole fruits and veg. This can include that all important nutrient: fiber.
What are the benefits of drinking powdered greens?
"Greens powders definitely do provide some vitamins and minerals," says Bond. "Some provide iron and some provide prebiotics, which help to feed our gut microbiota. Gut health is so important—70% of our immune system is in our gut. Some greens powders also provide probiotics."
Botanical extracts called adaptogens can also be found in greens powders. Bond explains that these can help relieve stress in the body.
"Yes, greens powders might make you feel better, but they might also make you feel better because you think they're meant to, like a placebo effect," says Bond.
Many greens powders can be costly, but Bond says that you shouldn't choose a greens powder based on its cost. "Delve into them and do your own research into the ingredients. Check for protein, for example—you might need more protein if you exercise."
What are the side effects of taking greens supplements?
"Some greens powders provide a source of caffeine so be aware of this, as those with an irritable bowel may be sensitive to caffeine," says Bond.
"Sometimes greens powders have a lot of vitamins and minerals within them, and if you're taking a multivitamin supplement already you might be getting too much of certain nutrients, especially fat-soluble vitamins which stay in the body."
She also notes that inulin fiber may be found in some brands. "Inulin fiber is helpful for some as it's a type of fiber, but for others it can lead to discomfort," says Bond.
And a less serious side effect can be how you react to the taste. "Ingredients like spirulina can taste revolting," says Bond.
Can you drink greens powders every day?
In short, follow the advice on your greens powder packet.
"Look at the ingredients and what the manufacturer recommends," says Bond. "Most won't do harm, but follow the instructions on the packet."
Bond adds that if you're on any medication, then check with your doctor before taking a greens powder. This includes medication for blood pressure, diabetes and thyroid dysfunctions.
"Also if you're celiac, check the ingredients as the powder may not be gluten free. I wouldn't recommend anyone pregnant or breastfeeding take these powders either."
Five Greens Powders: Tried And Tested
Ultimate Performance Chocotrients Orange, Fruits & Greens Powder
Best greens powder overall
Specifications
Price:
$30 / £29.99 for 8.6oz / 243g
Reasons to buy
+
Pleasant-tasting
+
Blends well
+
Wide variety of ingredients
+
Good for the gut
Reasons to avoid
-
Needs to be kept in the fridge once opened
An easy-to-mix fruit and greens powder that is great-tasting and nutrient-rich. As well as containing an impressive variety of superfoods, this greens powder also has a digestive support blend with ingredients such as aloe vera, cinnamon and liquorice, plus a probiotic blend, so your gut gets some attention too.
This one is on the lower end of the greens powder price spectrum, meaning greens powder can become a regular habit without breaking the bank.
Taste test: I'm a fan of this tasty chocolate orange powder—it makes a great alternative to a sugary, less nutritious snack and it does genuinely taste like a chocolatey treat. In fact it tasted so good that I was slightly skeptical about why it was so sweet, but rest assured, stevia is the natural sweetener of choice here.
---
Terranova Sneaky Greens Kids Shake Powder
Best tasting greens powder
Specifications
Price:
$51.74 / £36.96 for 180g
Reasons to buy
+
Can be used by the whole family
+
Tastes good
Reasons to avoid
-
Needs to be kept in the fridge once opened
I was keen to try this "sneaky" greens powder aimed at children aged four to 12 because I hoped it would be less likely to taste so green—a bit like sneaking veggies into mashed potatoes.
Inside each scoop is a selection of freeze-dried greens, freeze-dried berries, other fruits and veggies, cereal grasses, microalgae and friendly microflora, as well as botanicals and phytonutrient-rich foods. Think spirulina, acai berries, kale, watercress and blackberries.
Taste test: This really doesn't taste particularly healthy at all, and I can see why children wouldn't mind it. According to the brand, it's also great for adults who might not enjoy a strong-tasting greens powder. It's easy to drink, and full of health benefits—I felt pretty smug mixing a scoop of this powder with a glass of water.
---
Naturya Organic Greens Blend 250g
Best affordable greens powder
Specifications
Price:
$17.59 / £14.99 for 8.8oz / 250g
Reasons to avoid
-
Fewer ingredients than others
-
Tastes very "green"
The cheapest powder in our selection, this one contains the fewest ingredients—but it still packs in hemp protein, wheatgrass, barley grass, pineapple, chlorella and spirulina powders. It's rich in iron, zinc, protein, fiber, vitamin E and vitamin B12 plus it's a source of vitamin C, which contributes to a normal immune function. Of course, paying more can get you an even wider variety of ingredients.
Taste test: This is probably the "greenest" tasting powder I tried: If you can't handle the taste of it alone, try adding it to a smoothie with some sweet fruits. It mixes well, though, and isn't grainy whatsoever.
---
WelleCo The Super Elixir Daily Greens
Best for a wide variety of nutrients
Specifications
Price:
$85 / £63 for 10.5oz / 300g
Reasons to buy
+
More than 40 ingredients
+
Blends well
+
Variety of flavors
This super greens powder developed with supermodel Elle Macpherson certainly isn't cheap, but the maker claims that just one 2tsp serving supports all 11 systems of the body—from the immune and digestive systems to hair, skin and nail health.
It's packed with more than 40 sustainably sourced ingredients including barley grass, spinach powder, goji berry, pomegranate, broccoli, L-glutamine, turmeric and papaya extracts.
This powder is available unflavored or in three flavors: pineapple and lime, lemon and ginger, and blood orange.
Taste test: In true supermodel style, I dished out a serving of the unflavored powder and mixed it with a full glass of water. It tastes "green" for sure, but it's not too unpleasant, and there is some lingering sweetness thanks to the fruity elements. I like it—it's just the price that's off-putting.
---
Arbonne BeWell Superfood Greens
Best for a variety of fruit and veg
Specifications
Price:
$57 / £49 for 7.8oz / 221g
Reasons to buy
+
Contains other colors too
+
Sweet-tasting
+
Lots of ingredients
Reasons to avoid
-
Contains sugar
-
Not cheap
One scoop of this greens powder contains an impressive blend of 36 fruits and vegetables. Arbonne says that the ingredients used are derived from whole foods that have been dehydrated. As well as greens, it contains red, blues and yellows, so you are really hitting the spectrum of fruit and veg colors—eating the rainbow being one of those useful diet maxims. This has been sweetened with stevia and cane sugar, which may put some people off.
Taste test: The sugar does make this sweet enough to enjoy—I drank it with water and actually enjoyed the taste. It's reasonably good value but there are cheaper alternatives out there. This would become an expensive habit were you to buy it monthly.
Sign up for workout ideas, training advice, reviews of the latest gear and more.
Lucy is an experienced health and fitness journalist, and was formerly health editor for TI Media's portfolio of women's titles. Lucy qualified as a level 3 personal trainer with Train Fitness in 2016, and also holds qualifications in pre- and post-natal fitness, as well as in nutrition for exercise.