The Best Wetsuits For Open-Water Swimming
The right wetsuit can keep you warm, aid buoyancy and help you swim faster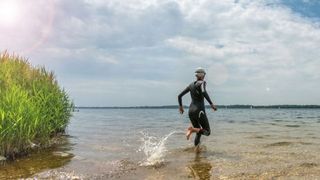 (Image credit: PR)
If you want to take your swimming out of the pool and into open water, it's worth investing in a wetsuit. Purists may be sniffy about them, but if you want to cover some distance in the water or train for an event, a swimming wetsuit will keep you warmer, aids buoyancy in the water and can even help you swim faster. But where to begin in finding the right suit? There is a huge range of wetsuits on the market, some offering great value and others requiring more of an investment.
For those new to outdoor swimming, a common mistake is to dig out an old wetsuit from that summer you spent attempting to surf in Cornwall. Surf wetsuits are completely different – they are designed to keep you warm on top of the water and will create drag for swimming. A swimming wetsuit is made from a thinner layer of neoprene and is designed to be flexible in the arms and shoulders, and to offer extra buoyancy in the legs.
The biggest challenge for a swimmer is finding a wetsuit that fits your shape and size. The fit will be fundamental in how the wetsuit performs and supports you in the water. Most major wetsuit brands base their sizing on height and weight, but some brands have increased their range to differentiate between male and female, and different body types. You also need to consider the type of swimmer you are. Most wetsuits are designed for front crawl, but there are new suits on the market designed to support breaststroke swimmers.
Most wetsuits are tailored to a more athletic build, so if you don't have that, a bespoke wetsuit is sure to be a better fit. It will come at a higher price, but it may be more cost-effective to buy one wetsuit that fits well, rather than having to buy a second one to replace an ill-fitting first purchase.
---
HEAD Openwater Pure FS 3.0,5 Neoprene Wetsuit
A combination of six types of neoprene varying in thickness and elasticity enables this wetsuit to give the best open-water swim possible. A flat Aircell 3.5mm structure on the front allows for flexibility and helps with body rotation in the water. Thinner 2mm neoprene on the front of the lower legs and knees helps support stronger leg kicks, and the 0.5mm neoprene used for the sleeves allows for ease of movement in the water.
---
Orca Openwater Core Hi-Vis Wetsuit
This is an excellent entry-level wetsuit designed to help you swim and train in open water as safely as possible. The orange panels help to make you visible in the water, which you definitely want to be if you plan on river or sea swimming. As well as providing thermal insulation to maintain an ideal body temperature, the 2-2.5mm thick Yamamoto neoprene allows for freedom of movement and comfort while swimming.
---
This wetsuit is rated highly by those in the industry and gets top reviews from customers. It's well suited to beginners, and is notable for its flexibility and buoyancy as well as how quick it is to take off. According to the brand, the neoprene used offers 30% more buoyancy than standard neoprene. With its soft-seal fit around the neck that helps avoid chafing, the Aspire is particularly favoured by women.
See related
Why you can trust Coach Our expert reviewers spend hours testing and comparing products and services so you can choose the best for you. Find out more about how we test.
Zone3 Aspect Breaststroke Wetsuit
It has been a long time coming, but finally there's a wetsuit designed especially for breaststroke swimmers. Created in direct response to demand, this suit allows for the lateral leg movement required for breaststroke as well as front crawl. The Aspect uses a mix of high performance Aqua-X Smoothskin and high-stretch nylon panels to allow movement between the legs and across the chest. It also enables the legs to stay submerged in the water to maintain the correct breaststroke body position.
---
Snugg Tailor-Made Triathlon Wetsuits
If you don't find standard wetsuits fit you well, Snugg is the answer. The leading name in tailored wetsuits requires you to supply dozens of measurements (a video on the website details how to do it) and your suit is then handmade in Cornwall to your exact requirements. This service, coupled with Snugg's Buoyancy Control System, ensures your wetsuit will suit your swimming ability. The price will depend largely on the thickness you require.
Sign up for workout ideas, training advice, reviews of the latest gear and more.
Ella Foote is a freelance journalist, swim teacher, open water coach, open water lifeguard and year-round outdoor swimmer. She is the founder and director of Dip Advisor (opens in new tab), an outdoor swim guiding business, and you can follow her swims on @ellachloeswims (opens in new tab).