This 20-Minute Functional Training Workout Will Put Your Fitness To The Test
The conditioning workout to end all conditioning workouts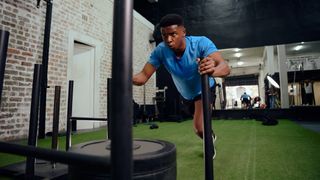 (Image credit: iStock / Getty Images Plus / Lyndon Stratford)
You can't beat a gym session in which you truly push yourself. Not only does working at your limit do wonders for your fitness, but you come away from it feeling pleased with your effort and high on endorphins.
This functional training workout from personal trainer Ali Kabba (opens in new tab), performed alongside fellow trainer Courtney Fearon (opens in new tab), will have you working hard by the end of it. It will improve your strength and endurance, while its functional nature will also develop your balance, power and co-ordination.
The 20-minute workout is made up of five movements, using a range of equipment, so it's best for people who train at the gym. Watch Kabba's Instagram reel to see him and Fearon perform the movements.
This is an EMOM workout. EMOM stands for every minute on the minute, which means you'll have one minute to complete the specified reps of one exercise. Rest for the remainder of the minute, then perform the next exercise.
Complete four rounds of the workout and aim to complete each exercise in a similar amount of time each round. Of course, the exercises will feel harder as you move through the workout and your muscles fatigue, but pushing yourself to meet or beat your benchmark time will help you improve your endurance.
As well as moving steadily, think about your power production too. Particularly when using the SkiErg machine and pushing the sled, prioritise force over speed, because this will help you get through the exercises more effectively.
You can use Kabba's workout as a standalone session, but it also is a great way to work on your functional fitness after a hypertrophy-focused session, like one of these workouts for muscle gain. If you are doing the EMOM workout by itself, make sure to prepare your body to avoid injury – try this warm-up routine.
Sign up for workout ideas, training advice, reviews of the latest gear and more.
Alice Porter is a journalist who covers health, fitness and wellbeing, among other topics, for titles including Stylist, Fit & Well, Glamour, Cosmopolitan, Grazia, VICE and Refinery29. When she's not writing about these topics, you can probably find her at her local CrossFit box.