Five Exercises To Strengthen Your Glutes And Quads
Use this lower-body session from personal trainer Alex Rice next time you're heading to the gym for leg day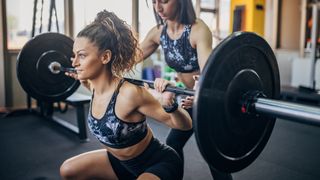 (Image credit: Getty Images)
You can never have enough leg workouts in your locker. Especially because to really challenge your legs, you're going to need access to a gym's heavy weights and you may find the weights machine, squat rack or deadlift platform you were planning on using already occupied.
That's where this routine from PT Alex Rice (opens in new tab) can come in handy. It combines a handful of barbell moves with dumbbell leg exercises for an effective way to target two of the major muscle groups in the legs – the glutes and the quads. And if all the squat racks are taken, heavy dumbbells will suffice with the barbell exercises.
Watch Rice demonstrate each of the movements in the below Instagram post, taking note of her form. Complete each of the exercises in sets of three or four, depending on the movement, then move on to the next section of the workout.
For the stationary lunge (or split squat as we call them), single-leg Romanian deadlift and Bulgarian split squat, Rice suggests rep ranges of either 6-8 or 8-10. If you're hitting the top of the rep range easily in every set, you probably need to increase the weight, but if you struggle to meet the minimum, it's a good idea to choose a lighter weight until you can confidently reach the middle to higher rep range. These are all single-leg exercises so you may be surprised by how much lighter you need to go.
This workout also incorporates a pyramid set for the back squat. This means you gradually lower the reps you're doing each round, while increasing the weight. Pyramid sets are a great way to improve muscular endurance and strength. If you have a limited range of weights, Rice added a comment to say you can modify this set to the standard 8-10 reps.
We have plenty more options to suit whatever equipment you're working with, from a leg day workout that requires free weights and a cable machine to this bodyweight home legs workout, by way of this dumbbell legs workout.
Sign up for workout ideas, training advice, reviews of the latest gear and more.
Alice Porter is a journalist who covers health, fitness and wellbeing, among other topics, for titles including Stylist, Fit & Well, Glamour, Cosmopolitan, Grazia, VICE and Refinery29. When she's not writing about these topics, you can probably find her at her local CrossFit box.