Sarajevo To London – Tribe's Run For Love Challenge
On an epic journey to raise awareness about one of the worst examples of human cruelty, three men ended up experiencing the best of humanity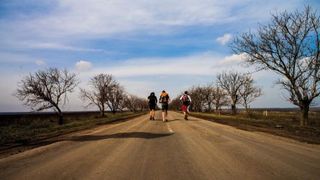 (Image credit: Unknown)
Earlier this year Guy Hacking, Tom Stancliffe and Rob Martineau, the founders of sports nutrition brand Tribe, completed a duathlon that began in Sarajevo in Bosnia-Herzegovina and ended 2,000km later in London.
The challenge, which they dubbed Run For Love, was about more than just testing their physical endurance and mental toughness. It was created with the aim of raising awareness and money to help prevent human trafficking, a cause that gathered support not just in the form of donations but also in a community of amateur athletes who came together to take on their epic adventure. Here's what the three men learned about fitness, pain and human spirit along the way.
The Training
The effort just to get to the start line must have been intense. What was the most challenging element of the training?
Rob Martineau From a training perspective, the biggest challenge is that it is day in, day out and there's no real substitute for distance and getting miles in your legs. Certainly for three or four months leading up to the event we would be out every weekend for ten to 12 hours. The second thing is the strength and conditioning required. It was a question of balancing those long weekend sessions with targeted midweek strength sessions. Personally, I didn't do enough on the strength and conditioning side.
Tom Stancliffe The key thing is building up slowly. That's the training plan we followed. Where people go wrong is going from doing two five-mile runs back to back to doing two marathons back to back. You'll find yourself coming in to work feeling it after a virtuous weekend's training but you've run two marathons in a row and you're feeling pretty whacked. It's one thing to do that on race day but when you've got to go to work on a Monday morning every week having done 50 miles of running over the weekend, it's pretty tiring.
Was speed important for any of your training sessions or was it all about distance?
Rob Martineau There's a big difference between going for a sub three-hour marathon and training for something like this, where there's much more value in time on your feet. You're not worried about how fast you're going.
It's also a pretty raw adventure so you need to have a different state of mind to a marathon, where you show up, you have feed stations at regular intervals and then you get to the end and it's all quite linear. With this, when you're running up tracks in rural Bosnia, you need to have an adventurous spirit.
What would your usual training regime look like? How much of a step up was this challenge?
Tom Stancliffe I've always just loved running – I find it relaxing – so I do a lot of that normally. And since we've started Tribe we've worked hard to develop the community side of things so we do strength and conditioning groups, running groups and ride outs. So not hugely different – but a bit more of everything.
Did you all embrace the strength and conditioning side of training?
Rob Martineau I love long-distance running and I've never really had a problem with it. I'll go out and do 40- or 50- or 60-mile runs and I love the freedom that gives me. That's how I see running – as something that frees my mind.
But for the cycling side of training for this challenge, I found that I didn't have enough time to train properly and that meant that by day seven on the bike [cycling from Zagreb to the North Downs in England, split over nine days averaging around 180km a day], my legs were gone. It's often the boring stuff like glute strength that's important. I go to the gym three times a week but it's easy to not do anything for your lower body because you think, "I'm running and it doesn't really matter what my legs look like".
Tom Stancliffe I've done a bit and this challenge has allowed me to really come to understand the value of it. It's only really in the past three or four years that strength and conditioning has become a serious part of running training. But you need to be disciplined, because there's nothing I like more than putting my headphones in and just going out for a long run. Over a week of ultra-running you definitely see people's bodies fall apart if they're not in a strong shape. Going up and down Bosnian mountains is also very different to a running on flat concrete. Your weaknesses get found out quite quickly.
Guy Hacking It was really interesting to see, on the run, that the most muscular people were also often the people who had most trouble. Lifting crazy weights doesn't really help you over a long distance. You get found out if you don't have decent mobility and range of motion.
Did you train together leading up to the challenge?
Rob Martineau We trained a bit together but we're in the office for 12 hours a day together, so we also did our own thing!
How would you describe each other's training personalities?
Guy Hacking I get geeky about it. Tom just gets on with it. Tom will sometimes do double long runs in a day, which is something I've never done. Tom's probably got the stubborn streak. And Rob has a mad streak in him… Halfway through the training he just went off and did a 70-mile run from London to Oxford. I'm miles away from being able to do anything like that.
Rob Martineau For me, I always like to combine training into my life. So for that run to Oxford I was running to my girlfriend's house. I do a lot of running commuting to make it useful and, psychologically, I like the idea of getting from A to B.
RECOMMENDED: Five Tips To Help You Start Running To Work
Tom Stancliffe There are a huge number of positives about this experience but one main one is that gives you an insight into professional athlete's training, because you become quite obsessive and you're constantly trying to find the energy. You're always looking for the opportunity to train – all your energy and focus goes into one thing.
Did it take over your lives?
Tom Stancliffe Although I was probably slower off the blocks training-wise, certainly for three or four months we were training pretty hard. But also the project is something we all care about and it was so absorbing.
Looking back on the training, would you do anything differently?
Rob Martineau I'd have done more cycling… and more strength and conditioning work! Because if the glutes stop firing then your knees start bucking. So there's a battle between how strong your capacity for pain is and how weak your body is getting. You hope you never cross that line.
Tom Stancliffe I'd say the same. Since I was 18 I've run five or six days a week so there's a lot of understanding and experience there on the running side. I underestimated how much further ahead I was on the running compared with the cycling.
The Event
The challenge started with a 338km run from Sarajevo to Zagreb over six days
What were your emotions on the start line before you set off?
Rob Martineau It's a mixture of excitement and frantic adrenaline. Bosnia is an amazing country but it's also quite wild, especially near the boarder with Croatia. You're also very aware that you've got about 60 runners who have come out to run the trails that you've plotted. We were worried about whether the support cars could access the route. It was going to be 38°C on the route, and I had to have a meeting to double-check the route with the landmine guy… There was just so much responsibility.
Guy Hacking You're right at your limit. We had really high-quality athletes doing this but the drop-out rate was higher than the Marathon des Sables. So we were really testing our limits and there was a lot of apprehension. But if we're brutally honest I don't think we realised just how hard it was going to be until we were out there.
Tom Stancliffe I think people might have thought we were mad to both organise and take part in the event at the same time.
Did you ever think of sticking to the organisational side?
Tom Stancliffe We had quite a big role to play in rallying the troops and carrying a feeling of solidarity, and we thought we'd be best placed to do that if we were doing it ourselves.
Guy Hacking I think all of us had mentally put on the back burner that we were actually doing it ourselves. There was a sense that we were just travelling out there with a bunch of athletes, planning the route, going to see the ambassadors and all these things that were consuming us… you forget that you've got to run 35 miles [56km] a day in 38°C heat too. And then during the day we'd be taking it in turns to be the front man, be the back man, roaming in between. You are constantly thinking, "Is it going to be OK? Are people going to make it through the checkpoints?" So in a way, the organisational endeavour was as challenging as the physical one.
What did you struggle with most during the challenge?
Guy Hacking Three years ago we did a 1,000-mile run, which was 35 miles a day for a month. So we know we had it in us – it's about getting yourself back into that headspace. When you start the run, it takes a couple of days to shift your perspective. It's not normal to run with pain, for example. When you're in pain you normally stop. But you have to suspend that and change your philosophy. Every day is going to hurt so you have to get used to that and embrace the pain. If we look at who really struggled with the event, it was people who are used to smashing out a three-hour marathon and then have two weeks of rest afterwards.
When did it start getting painful?
Guy Hacking I tend to be the weakest one. For the first few days I was the back marker, which meant walking a lot of it and weirdly, that's not easier. During multi-day events time on your feet is a killer. You'd go to bed every night with your feet throbbing. That's really difficult, especially when you know you have another day of it ahead of you. It's not so much the pain at that moment in time – it's understanding that it's going to be the same again the next day. But that's what you need to get your head into gear for.
How do you "embrace the pain"?
Tom Stancliffe You kind of… descend into it. You find lots of different lows and at each low you have to reframe your mental state to deal with it. It's like if you set off running now and after 500 metres you might think, "Oh, I'm feeling a bit crap" then at ten miles you think, "Now I'm actually really hurting" and then at 20 miles you think, "Oh shit – now I've got an injury and I'm really hurting". Then after 30 you think, "now I'm feeling ill, I've got an injury and I'm really hurting". I think endurance is all about your ability to reset and find a positive outlook. Because, ultimately, things are going to get worse.
What were your lowest points?
Rob Martineau On the run when the sun got really hot and you could see the road stretching out in front of you and you could see the heat coming off the Tarmac… that can be hard. That was about locking in for the battle. There's something really primal about it, in a way. And exhilarating. It's about finding the right gear for that fight.
Guy Hacking Certainly for me the hardest point was the last day running because that came after a 43-mile [69km] running day. I had framed the whole run around that and I was telling myself to just break the back of that and then I'd be home and dry. The following day was a 29-miler, and I was like, "I've done 43 so this is going to be easy". I set off that day at quite a pace but nothing was firing, nothing clicked, and it was the hardest stretch of the whole trip by a long way. I think that's the perfect illustration of why ultra-running is all about where your head is at. It was interesting to see how people responded to it. Some of the people who were right at the front on the last day had been right in the middle of the pack on day one because they had framed it right. They knew what they were getting themselves into.
The Tribe team rides into Dinkelsbühl, about halfway between Munich and Frankfurt – and halfway through their challenge
The Impact
What will you remember about the challenge?
Tom Stancliffe The camaraderie and people genuinely loving it. It was amazing to see that happen because, before the event, we were trying to manufacture that but it was great to see that other people were able to own the trip, have their own experience and give the trip an identity of its own.
Guy Hacking The contributions were incredible. There were a couple of guys who have been staunch Tribe supporters and did a lot of work to get fit for the event, but in the end one of them had some stomach issues and the other's ankle gave up so they had to drop out. Some people might have been livid with themselves or angry at the organisers, but these guys were in the support van or cycling alongside us, helping with morale. It was spine-tingling to see that.
What does doing something like this give you?
Rob Martineau Covering ground as a pack is not done that often. It's not a race. It's about coming together and doing something difficult together. There's something quite primal about running with a pack like that. I've never been part of anything like that before. And secondly, ultradistance running is so different to any other form of exercise. It's so simple and can give you such freedom. You're trying to cover that ground and all you have is your feet and the road or the trail ahead of you. There's the deep struggle but there's also the meditative element and that's good for both your body and your mind. I really do think we were born to run.
Guy Hacking What I like about cycling is the sheer distance you can cover. You know, just over a week ago we were in Zagreb and then we hopped on our bikes and now we're here. Also, travelling at that speed and that close to the ground is a rare thing.
Why is the cause important?
Tom Stancliffe It has always been an issue that has touched us. It genuinely shocked us that we still live in a world where human traffic exists. It's just such an awful abuse, and a significant percentage of the victims are children. So it was just a cause that moved us. So we've now set up a Tribe Foundation to help fight human trafficking. The runners and riders on the Run For Love were all raising money for the foundation, which is going to fund a helpline and another project that we're about to vote on. Run For Love isn't just about the training or the event. It's about how much money we can raise as a group.
For more information about Run For Love, and to donate, visit triberunforlove.com
Sign up for workout ideas, training advice, reviews of the latest gear and more.
Jon Lipsey worked for Men's Fitness UK, which predated, and then shared a website with, Coach. Jon was deputy editor and editor from 2007 to 2013. He returned as editor-in-chief from 2016 to 2019. He also co-founded IronLife Media and the New Body Plan.