Interview: Bradley Wiggins On New Cycling Clothing Collection Le Col By Wiggins
Tour de France winner and Olympic champion Bradley Wiggins on his collaboration with cycling brand Le Col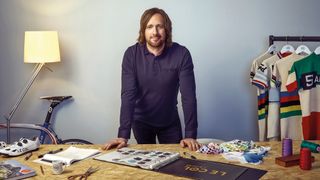 (Image credit: Unknown)
What drew you to the Le Col brand?
I have known Yanto [Barker, the former pro cyclist and founder of Le Col] for years, and we started chatting about a potential partnership years ago, but after I launched Team Wiggins [the pro cycling team he founded] it came in to real focus. Being able to be so involved in the design process and sharing Yanto's passion for technical performance has cemented the partnership.
How involved were you with the design process?
Very. We sat down together to chat about potential design ideas and within a few hours we had come up with a whole collection which I feel is unique and really strong. We are very much on the same wavelength.
What makes you decide to say yes to any given project?
It has to be authentic to me. I don't like conforming to what is popular right now – you have to be looking to the future. It is important to stand out from the crowd and be unique, and that is very much at the heart of the partnership between myself and Le Col. That's why I wanted to get involved.
You seem drawn to creative and artistic arenas. What do they offer that sport doesn't?
I like to express myself in anything I do, whether that is in sport or in fashion. It's about not being frightened to stand out. I've been exposed to many influences in my life and career from many different worlds.
Is there anyone you've met from the worlds of music and fashion who has made a real impact on you?
Difficult to say but I am drawn to people who are prepared to take risks and put themselves out there. Fashion is all about that – the things you see on the catwalk that then filter down to the high street… that stems from people who have taken risks to make that happen, and those are the sorts of people I am drawn to.
See related
You've competed in indoor rowing. What are your plans for that sport and what do you need to work on to be as good as you want to be?
I enjoy it, but I am not putting any plans together on it at the moment.
Is there anything outside of the world of cycling that you'd like to do?
At this point I'm concentrating on building the partnership with Le Col and having a good season with Team Wiggins.
Can you give our readers one training tip, one racing tip and one recovery tip that will help them perform better?
In training, be committed, don't hold back. Be calculated with your efforts in races. Don't ride hard on recovery days.
Bradley Wiggins is an ambassador for Le Col. Visit lecol.cc/lecolbywiggins
Sign up for workout ideas, training advice, reviews of the latest gear and more.