Casual Men's Cycling Gear For Commuters And Leisure Riders
Cut a dash on your bike with this stylish yet technical garb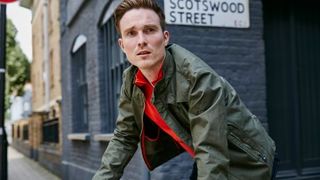 (Image credit: unknown)
You might assume that any advances in cycling fabric technology are only for pros looking to shave milliseconds off their times or extremely keen amateurs seeking any advantage possible to make their weekend slog up Box Hill easier.
You would be wrong. Those marginal gains in fabric tech also trickle down into clothes for the everyday cyclist – the commuter, the lazy-ride-to-bruncher, the warm-weather weekender. The result of that is that you can now wear what appear to be entirely regular-looking clothes that actually contain sweat-wicking, odour-dampening, water-repelling tech.
Fill your wardrobe with these ride-ready garments and you'll never need to carry a full change of clothes with you again.
Vulpine Harrington Jacket
The definitive urban cycling jacket resists all but the very worst weather, has a cycling fit and magnet-sealed back pocket (magnets are easier to open on the go and, of course, as any five-year-old will tell you, magnets are cool) and has a style that can be carried off anywhere. It's expensive, but this jacket will serve for almost all occasions in almost all conditions from autumn through to spring, making it worth the outlay.
Buy from Vulpine | £200
---
Just about the most comfortable T-shirt you'll ever wear in any conditions and one that really excels when riding. Cut to look good both on and off the bike, it's made of 100% pure Merino wool, so it dries rapidly and resists smells like a champ, and it comes in seven colours, of which mustard is undoubtedly the best.
Buy from Vulpine | £65
---
Chrome Industries Merino Wool Cobra 3.0
Given how many hoodies are out there, it's bold to the point of absurdity to call any of them "the best hoodie", but this is the best hoodie. We've probably worn one version of the Cobra or another more days than we haven't over the past couple of years. It's soft and comfortable and has a fit that sits in the sweetest possible spot between baggy and tight. The Merino wool fabric wicks sweat and resists odours too (fortunate, given how much we've worn it), and there are pockets on the sides and back that are well placed for grabbing stuff when riding.
Buy from Chrome | £170
---
We sincerely hope this jacket was named after the Premier League's greatest Peruvian, but even if no Nobbys were considered in its manufacture the stylish Solano jacket will be eyed with approval by all cyclists. It has a Gore-Tex Infinium liner which, while not fully waterproof, will fend off all but the most intense downpours, and it is more breathable as a result.
Buy from Arc'teryx | £170
---
Vulpine Brixton Cotton Shirt
This shirt typifies what we're looking for from smart cycling gear, in that it really doesn't give the impression of being cycling gear at all. It's just a lovely cotton shirt, with a cut that makes it more comfortable when leaning over your handlebars. Vulpine has four shirts in its range: white and light blue Brixton cotton shirts, and charcoal and dark green Vauxhall shirts made from a mix of cotton and Merino wool, so you can fill your wardrobe with bike-ready button-downs.
Buy from Vulpine | £75
---
A true do-it-all pair of trousers which suit the saddle, the office and the pub. The fabric's quick-drying, tough and breathable, and the cut makes sure you don't flash your arse-crack while riding. There are a couple of high-vis details on the back pocket and each turn-up, which can be discreetly tucked away, although why you'd want to hide that distinctive flash of Rapha pink is beyond us.
Buy from Rapha | £110
---
You can check your weather app as compulsively as you like, but one day you will be caught in an unforeseen shower while riding, which makes wearing jeans a bit risky. Unless you wear this pair, with their water-resistant treatment. There are also reflective details in the turn-ups and a mini U-lock holder by the waistband. Otherwise these are just a classic pair of indigo denim no-one will look twice at, except perhaps to admire the cut.
Buy from Spoke London | £145
---
These slim-fitting, stretchy shorts have a high-cut back for cycling, and the fabric is also crease-resistant, so you can stash them in a suitcase without needing to find an emergency iron when you unpack. The breathable material dries quickly, making the shorts ideal for hot summer rides when you don't want to change at the other end.
Buy from Rapha | £90
---
These excellent chinos have several cycling-friendly features subtly woven in, the best of which is the water-repelling fabric, which sees off showers with ease. There are also reflective details on the piping of the leg, which show when you roll them up for riding, and a reflective flash in the back pocket. Spoke also makes sure every pair of its chinos fit superbly with three build options, so if off-the-peg trews don't sit right on you, these will delight.
Buy from Spoke | £135
---
Swrve Cordura Slim Fit Jeans
Like most trousers designed for cyclists, these Swrve jeans have a higher waist at the back to stop you revealing more than you'd like when bending over the handlebars, but they also have a lower waistline at the front to stop your belt digging in while riding. There's also a seamless crotch for comfort, reflective details that reveal themselves when you roll the leg up, and a back pocket designed to fit a small U-lock
Buy from Swrve | £90
See related
---
Swrve Modal Short Sleeve T-Shirt
Stylish cycling gear can get pretty pricy, but you can stock up on the basics via American brand Swrve without breaking the bank. Its long- and short-sleeve tees and polo shirts are made with Modal fabric – which is comfortable and wicks sweat away in a similar manner to merino wool – and they're available in several colours at a superb price.
Buy from Swrve | £20
Sign up for workout ideas, training advice, reviews of the latest gear and more.