The Essential Guide To Taking A Cycling Holiday
Upgrade the scenery and plan a wheels-inclusive holiday with the Men's Fitness guide to taking your steed on tour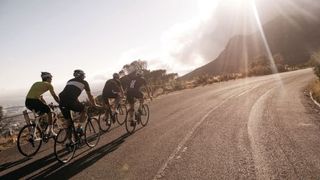 (Image credit: unknown)
1. Where To Go
It's easy to plan a holiday when you're staying in one place. Cycling trips take a bit more effort – but you don't have to make that effort yourself. "The beauty of booking a cycling holiday with us is that we've already done all of the research and planning," says Explore Holidays (opens in new tab)' James Adkin. "We'll design an itinerary that balances sightseeing with cycling, rest days with active days, and finding routes that are scenic with minimal traffic."
Adkin advises planning based on the places you want to visit. "Timing and budget are important, but I wouldn't let the amount of exercise I 'need' dictate a holiday," he says. "For me it's about immersing yourself in the destination, its people, culture and sights, not clocking up the kilometres."
Bike touring covers a broad spectrum, from the grab-your-stuff-and-go flavour to organised tours where you pay to have everything but the pedalling handled. On the flipside, you could just grab a cheap bike, pick a direction and go. Here's Adkin's pick of the most rewarding destinations.
Close to home: Coast To Coast
If you'd rather keep it domestic, the roughly 225km route from Whitehaven on the Irish Sea to Tynemouth on the North is a classic, taking in rugged, spectacular landscapes from the Lake District to the North Pennines. For a bigger challenge, go self-guided.
Further afield: The Loire Valley
It's known as "the garden of France" and it's perfect for riding almost traffic-free country roads, exploring medieval chateaux, churches and market towns and having the odd glass of fortifying Cabernet. Just bear in mind that the shops in tiny French towns are often shut on Sundays.
Racking up air miles: Cuba
Unconventional? Sure – but also the perfect spot for pedalling through tropical forests and limestone landscapes, and even popping into the odd natural pool for a rejuvenating soak. Go with a tour company to minimise linguistic and logistical headaches.
See related
2. How To Plan A Route
How far?
"This depends on the amount of days your trip is and the terrain each day," says Ben Lee, travel director at cycle tour company Ever Thought Of Trying (opens in new tab). "Use an app like Strava or Ride With GPS to plan out a detailed route map of each day. From this you can see the amount of elevation you will be doing every day and you can tailor your route accordingly – for example, a short 60km hilly day can take as long as a flat 100km day. So you can work out how to get to and from each destination in a time that suits you."
How many days in the saddle?
"It depends on experience," says Lee. "If you've only done, say, a fairly flat 80km ride at the most before, you can still do a four- to five-day trip, but I'd suggest building up the distance over the days. Ideally create a route that goes 60km, 70, 80, 100, then back to 70km. That builds up your muscles – especially the glutes and lower back – so they don't get too much of a shock at what you're putting them through."
How ramshackle?
"For ease, speed and comfort, stick to Tarmac roads, which around Europe will be well kept," says Lee. "Sticking to the paved roads also makes it more likely you will go through towns and villages, allowing you to experience the local culture and stock up on food and drink."
How fast?
"Be realistic about your plans," says Mike Dennison of Sustrans (opens in new tab), the walking and cycling charity. "The joy of cycle touring is the freedom it gives, travelling at your own pace, through new and interesting places. You experience so much more when travelling by bicycle, so plan your route carefully and build in enough time to enjoy it. Factor in regular breaks for tea or coffee and snacks, and allow time to stop at points of interest along your route and to deal with the unexpected. Don't be a slave to an unrealistic schedule that leaves you rushing from one place to another."
3. How To Train
Every push of the pedals over the coming months will make things easier when you're out on the cols. Here's how to train smart, as well as hard.
Load up
Unless you're paying a tour operator to wrangle your gear, you'll want to practise riding with it. "When I did an unsupported Paris to Nice ride this summer, I did weekend rides with full touring bags, banners and so on to replicate the weight and get used to the feel of a heavier bike," says Lee. "Also you can practise putting all your gear in the bags like you would do each morning on the ride itself. This makes it less stressful when it is done for real – after four days of hard riding, sometimes trying to fit things in the bag can be the thing that pushes you over the edge! Finally, of course, it also acts a check that the bags you've bought for your multi-day ride are fit for purpose."
Head for the hills
"Train for the terrain," says Bryan McCullough, physiotherapist and bike expert at Pure Sports Medicine (opens in new tab). "Are there going to be more long climbs or more short and steep climbs? You need to tailor your training to suit the terrain. This may mean doing repeated efforts up a shorter local climb to help getting ready for longer mountain climbs – and if so, think about putting a 32-tooth cassette on your bike which will give you a much better range of gears if you'll be doing a lot of hills."
Go down a gear
"While it may not look pretty, the low gear and high cadence approach is not only the most efficient, it's the best for your knees," says Lee. "One thing we tell people is that if they stand up in the saddle when climbing hills like Contador or Quintana, firstly it doesn't look as smooth as professional cyclists, and secondly, apart from short sharp bursts where the gradient makes it necessary, it's probably the least efficient way to ride up hills."
Double up
Don't make your holiday your first experience of riding big back-to-back days. "Doing a multi-day tester would be ideal, but for a four- to five-day ride, we recommend doing at least two back-to-back cycling days to get used to the feeling of multi-day cycling," says Lee. "It's a good excuse to cycle to your friends in the next city too."
Take your bumps
It's not just about endurance: skills like descending, traffic positioning and cobbled-road riding all take practice. "If you're heading to Flanders or Roubaix to ride cobbles, apart from a few small stretches of cobbled roads in ancient British cities, you can't really replicate it," says Lee. "For cobbles, speed is the best way to safely navigate them, so you can see them as interval sessions where you go hard on the cobbled areas, and the Tarmac sections are like the rest sections. And try to head to the hills of Surrey or Yorkshire to practise ascending and descending." It's a break in itself.
4. What To Pack
You'll need to be smart with your luggage allowance. Team Wiggle staff rider Tim Wiggins, who recently cycled 3,000km across Europe (with 42,000m of climbing), outlines the essentials
Helmet
You want a helmet that combines a solid safety rating with good ventilation and minimal weight. Step forward the POC Octal Aero helmet. "The Aero weighs in at 225g and has noticeably better airflow than most standard helmets," says Wiggins. "It also provides greater coverage than many, including vulnerable areas like the temples and back of the head."
Clothing
"Take clothing for all conditions," says Wiggins. "Weather is unpredictable, and you want to enjoy the ride even if it turns bad. GripGrab gloves and socks are faultless for giving your extremities protection from the elements. They're water-repellent, insulating and silicone-reinforced – but also come with a touchscreen-enabled thumb for when you need to check the map."
Camping gear
"Micro, mini, ultra-light. Those are the watchwords of my camping and care kit," says Wiggins, who packs a Nordisk Lofoten 1 tent and Mountain Hardwear Spark sleeping bag when he's going on a pared-back touring trip. "Toss in a sleeping mat and thermal insulated seat cushion – it doubles up as a pillow at night – and you can kip in surprising comfort on the meanest of budgets."
Lights
If you're riding at night, your lights can pull double duty. "The Exposure Lights SixPack has SmartPort capabilities, which means it can also double up as a power bank," says Wiggins. "The Exposure Blaze rear light is another of my picks – it has a super-long run time at 48 hours, and it's daylight-bright."
5. How To Keep Going On Tour
Multi-day touring is a different beast from your typical Sunday ride. Here's how to keep rolling.
Prevention, not cure
"Give your bike some love both before you set off and during your trip," says Dennison. "Enrol on a bicycle maintenance course – a few basic skills can be enough to keep you on the road. As a minimum, keep your bike clean, make sure your chain and derailleurs are well lubricated and your tyres are inflated to the correct pressure, and test your bike when it's loaded exactly as you intend to ride it to check the handling before you set off."
Skip the blowout
"Punctures can be almost entirely avoided by following some basic guidelines," says Dennison. "Most are caused by incorrect tyre pressure, so inflate your tyres as per the manufacturer's guidelines, and remember that a heavily laden bike will require more air pressure in the tyres. If you do get a puncture, check for the cause before you refit it – or you might have to do it again."
Fuel up
"Nutrition is key when going on any ride, but especially on multi-day cycles. As a general rule, you should aim to eat at least one thing – banana, flapjack, energy gel, jelly babies, whatever – per hour," says Lee. "Aim for high-GI food for maximum benefits. Our tip, which I follow religiously on every long-distance ride, is to stock up on dates and nuts – they're easy to fit in jersey pockets and offer a good combination of fast- and slow-release fuel."
"Have a mix of sweet and savoury snacks for the ride – too many sweet snacks can start to become pretty unpalatable," says McCullough. "Whip up your own energy balls – chuck ground almonds, dates, cacao, some coconut oil, peanut butter, and cinnamon in a blender, whizz it all together and then roll it into balls or bars. Then wrap it in tin foil that's easy to open mid ride."
RECOMMENDED: Cocoa And Almond Energy Balls Recipe
Bring a bottle
Obvious, but surprisingly easy to mess up. "If you don't keep hydrated, you'll hit the wall before you know it," says Lee. "We recommend drinking two water bottles of liquid every 100km. Get in the habit of taking small regular sips and try not to leave it until you are absolutely parched to drink. Stop at fruit markets to pick up cheap, locally sourced fruits that combine nutrition and fluids – fresh small apricots are refreshing, easy to carry and delicious."
Do some shots
Don't bother with caffeine-infused gels if you're retracing the Tour. "If you're cycling through Europe, every village will have a cafe serving cheap, strong espresso," says Lee. "For around €1 you can get an energy boost that can help you get over the wall. Just be warned – the more caffeine you have in your everyday diet, the less boost you will feel." If you really want to mimic Chris Froome, taper off the lattes before your trip.
Plan for the worst
"Always bring cable ties in your saddle bag – they can tighten dangerous loose cables, keep broken pedals together and are easy to throw in your saddle bag and forget about," says Lee. "I finished Ride London with a snapped pedal that was held together for the last 40 miles with a cable tie."
Dress to compress
"Compression leggings are a relatively cheap, effective and low-hassle way to help tired leg muscles recover after a long day in the saddle," says McCullough. There's also research to suggest that they're actually effective in reducing DOMS the day after a big effort – so they're worth the effort of cramming yourself into them after a big hill ride.
Four Insider Tips
"Pack your helmet, shoes, pedals and one set of kit in your hand luggage so you can ride even if you go to Mallorca and your suitcase goes to Marbella," says Pete Muir, editorial director of Cyclist magazine.
"Don't use a soft case if you're flying with a budget airline – baggage handlers aren't always respectful of your £3K steed. Also check your bike isn't damaged as soon as it comes off the conveyor, because many insurance policies require some kind of proof it was broken in transit, such as reporting it in the airport. Take pictures in situ.
"Insist on keeping your bike in your hotel room, no matter how much the hotel insists it will be fine in the hotel 'garage' or storage room. But don't assemble it in there. Chain grease doesn't come out of duvet covers – ever.
"Definitely don't leave your bike and expensive gadgets in a vehicle overnight, regardless of how remote your hotel is or how much the owner insists there's no crime in the area – it turns out sheep rustlers also steal bicycles."
Sign up for workout ideas, training advice, reviews of the latest gear and more.
From 2008 to 2018, Joel worked for Men's Fitness, which predated, and then shared a website with, Coach. Though he spent years running the hills of Bath, he's since ditched his trainers for a succession of Converse high-tops, since they're better suited to his love of pulling vans, lifting cars, and hefting logs in a succession of strongman competitions.