Five Underrated European Cycling Holidays
Take a trip on the road less cycled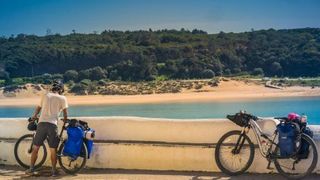 (Image credit: Unknown)
Picking where to go on a cycling holiday in Europe isn't easy. The continent is full of appealing spots for cyclists, whether it's the world-renowned Alpine climbs of Le Tour, the pristine sun-soaked roads of Mallorca, or the awe-inspiring peaks of the Dolomites.
However, there are also plenty of less famous spots that offer just as much to holidaymakers on two wheels but without the peloton that can amass in the most popular destinations. We asked Ben Roseveare, activities director at cycling holiday specialists BSpoke (opens in new tab), to recommend some of the more underrated touring spots on the continent – and it's fair to say his first pick surprised us.
The Algarve
"This isn't the most obvious place to go on an activity holiday," says Roseveare. "I think people have a slightly negative ideas of golf courses and overdevelopment in southern Portugal, but we have a tour which potters along the fishing towns and villages as well as hitting some of the more touristy towns. It provides a nice mixture of what is still lovely and charming about the Algarve."
It's not just all about relaxed coastal rides – serious road riders can get their fix.
"Hire a carbon bike or bring your own and go and ride some proper trails up in the mountains above the coastal area," says Roseveare. "When it comes to destinations for autumn or winter cycling camps people think of Girona or Mallorca but the Algarve can be lovely as well."
Picos de Europa
"The forgotten mountain range," says Roseveare. "Most people don't know where it is, but it's fabulous. It's a couple of hours' drive from Bilbao up into wonderful mountains. Most people have never been or even thought of it – you think of the Pyrénées and Alps first – but the Picos are not as touristy and still very dramatic, and you get a real mixture of rides."
Provence
Clearly some areas of Provence are far from unknown as a cycling destination – Le Tour favourite Mont Ventoux is one of the most famous climbs in the world, for example – but there are underrated spots in the French region for those who aren't so keen on riding uphill.
"It's quite a popular area – hilly and tough in places, but there is also some leisurely cycling, which avoids some of the rides up to the hilltop villages and goes to some lovely areas of Provence," says Roseveare. "This year, from nowhere, it has become our best-selling tour, which shows there is demand for pootling around on a bike and taking a proper holiday."
See related
The Alentejo Coast
Portugal's Atlantic coastline is well off the beaten track for cyclists and it's certainly not as developed an area as somewhere like the Algarve, which adds to the charm. And for those who like to kick back after a long day in the saddle, stick to the coast with your rides and you'll have some of Europe's best beaches nearby.
"Cycling though the surfing villages along the coastline is a bit more bohemian, a bit wilder," says Roseveare. "The accommodation is not as comfortable, but it's quite funky and it has a laid-back surfer vibe."
The Spain-Portugal Border
Keen on a longer point-to-point cycling break? Plot a route along the border between Spain and Portugal and you'll be rewarded with sensational riding through mountainous terrain.
"If you ride from Seville to Porto you can go up in the mountains along the border between the countries," says Roseveare. "It's pretty much unknown. You get a few Spanish and Portuguese tourists going there but very few others. It's super-wild and steeped in history – you're riding along the hills that mark one of the oldest borders in the world."
For more info on BSpoke's cycling tours to these destinations and elsewhere, visit bspoketours.com (opens in new tab)
Sign up for workout ideas, training advice, reviews of the latest gear and more.