9 Reasons We Should All Pack Up and Move to Coventry
Many elephants, two Cathedrals and one naked woman on a horse. It's time to be sent to Coventry… voluntarily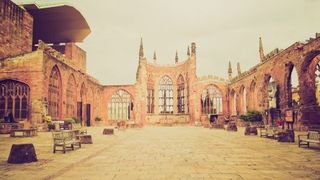 (Image credit: Unknown)
Ever annoyed someone so much you got "sent to Coventry" and wondered why? Well, the story goes that during the English Civil War Oliver Cromwell sent a group of Royalist soldiers to be imprisoned in the Warwickshire city, where the locals, who were Parliamentary supporters, shunned them.
But fear not, Coventry has changed. With the exception of my nana's living room, it's not 1648 any more. Nowadays, if you visit the city of peace and tranquillity (don't ask) you'll find a load of elephants, two historic cathedrals and one naked woman on a horse. Plus, the average Coventry house price in 2015 – £135,000. You couldn't buy a tent in London for that.
I think it's about time we were all sent to Coventry, and here's why…
1. If You Like Cathedrals there's Two Right Next to Each Other
"We speak with an accent exceedingly rare, you want a cathedral we've got one to spare… We're the Coventry boys." That's how one popular football song goes, and it's not wrong: if you're looking for a city drenched in rich history – and York is too cold for you – then Coventry could be the one.
See, we had this amazing cathedral, which Hitler decided to bomb in the Second World War along with most of Coventry. In an act of post-war progression and forgiveness Cov took the decision to preserve the ruins of the bombed cathedral in their eerily beautiful state and built a brand new one alongside it, complete with unconventional spire, giant Jesus tapestry and abstract Baptistry window. So, if your city wants a cathedral-off, we'll take you any time, any place.
2. The Accent Is Indeed Very Rare
Riddle me this – it's not Brummie, but there's a trace of Brummie. It's not northern, unless you're from down south. It's not southern, unless you're from up north. So what is it? It's the lesser-spotted Coventry accent and only those from Cov would know it when they hear it.
One way you might detect a true Coventrian is how they refer to certain places. Whereas some people transcend full names and become known by one word – Madonna, Prince, Chico – names take on a new meaning in Cov, where you never go to the salon, the sports shop or the newsagent. The salon becomes Sharon's, the sports shop Andy's and the newsagent is Malcolm's. You rarely see the person behind the name but everyone knows the shop you are talking about. Malcolm's itself deserves a special mention for being one of those shops that always seems to be open. There could be an apocalypse and you'd still be able to pop in for a Twix.
3. You Can See Lady Godiva in all Her Glory
A naked woman on a horse is not only my entire Internet history; it's also an impressive statue in Coventry city centre. Lady Godiva lived here in the 11th century and was married to Leofric, the Lord of Coventry, but she was upset with his high taxes crippling the city. Lord Leo told her he would only reduce taxes if she rode through town naked on a horse, and – like any self-respecting Cov girl during a game of truth or dare – she went through with it. As she rode through town everybody stayed indoors to show respect, except one man called Tom, who was peeping.
I wish I could think of a good nickname for him.
4. There's a Place to Quest…
Coventry has had some diabolical attractions in the past – the ill-fated Crystal Maze game was quite possibly the worst thing to hit the city since Hitler's bombs. But all is forgiven with a laser tag "experience" called Sector 7. This is a wonderful place where you can leave pretensions at the door and act like a kid again. And it's not like those fake London Laser Quests where everything actually works and hipsters show up trying to make it cool. Not here, beardy. Sector 7 isn't cool. It's fun.
It's about as current as a Blockbuster video card, and the price is equally old-fashioned. Last time I went, I got in for three pounds. It was the best three pounds I've spent since I paid someone to stop using the phrase Waaasssupp?!
5. You Can See a Load of Elephants
Photo © Susan Vickery (opens in new tab) (Creative Common (opens in new tab)s (opens in new tab))
There are plenty of elephants in Coventry. There's an elephant on the city coat of arms, there's one on the crest of Coventry City Football Club, Coventry rock trio The Enemy wrote a song about the city called "Elephant Song" and there's even a sports centre built in the shape of an elephant. But the real elephant in the room is that no one has any idea what the link actually is between Coventry and elephants.
6. It's Been Working on its Craft
Twisted Barrel Ale (opens in new tab) may sound like something only antibiotics could cure, but it's actually one of the new microbrewery's exploding on the emerging Coventry craft beer scene. It began trading as the smallest commercial brewer in the UK, starting from a garage and producing just 60-litre barrels of beer in an operation so small taking a grand tour of the premises would have consisted of turning around.
But now, in its smart new spot in Fargo Village, it's producing seven beers from its fancy new 1,000-litre brewing kit, as well as hosting theme and movie nights, acoustic music sessions and tours.
If you need some quality grub to match the quality booze, then why not go to Rising Café (opens in new tab)? It's run by previously homeless and substance-addicted men and women, with 100% of the proceeds going directly towards funding their recovery and that of many others across the UK. Fortunately the food's great too.
7. There's a Free Extreme Driving Experience
A lot of cities have ring roads. Few have a ring road that's as confusing, exciting and downright hair-raising as Coventry's. Some believe it was purposely designed to trap potential tourists who may have just driven past the city otherwise. In 2015, junction 6 reopened after a £15 million revamp intended to make it less dangerous – and saw a crash within four days. West Midlands Police have even produced a You Tube video on how to drive it. Truly a unique experience.
8. You Can Go Well Posh
The city centre may not provide the best shopping experience but the great thing about Coventry is you're never far from the likes of Solihull, Kenilworth or Leamington Spa, for what anyone in Cov would call posh shopping. The general rule being, if a place has Spa in the name, it probably means it's well posh and probably has a Waitrose. So why not just go and live in a posh area? you ask. Well, here are three reasons…
The house prices.
There's no novelty in putting on your best coat to go posh shopping if you're already living in a posh place.
Did I mention the house prices?
9. You Can Visit the Football Club what Jimmy Hill Built
In November 2015 the football world said goodbye to a legend in the shape of player, manager and pundit – Jimmy Hill.
Jimmy joined Coventry City FC in 1961 as manager, proceeding to lead the team from Division Three (League One in new money) to the top flight within six years – but that doesn't tell the full story. He basically revolutionised the club, changing the home colours to sky blue (coining the nickname the Sky Blues while he was at it), introducing the first match-day programmes and organising pre-match entertainment at Highfield Road. He even wrote a song for Coventry fans, who continue to belt it out: "Let's all sing together, play up Sky Blues / While we sing together, we will never lose / Tottenham or Chelsea, United or anyone / They shan't defeat us, we'll fight to the game is won."
If you do get a ticket to the Ricoh Arena these days, you're less likely to see Tottenham and Chelsea than Fleetwood Town and Doncaster Rovers, but a statue of Jimmy Hill stands proudly outside the stadium as a mark of the man's lasting legacy to football and the city of Coventry.
Tom Hawgood is a writer from Tile Hill, Coventry, who proudly represented the Coventry Crusaders Basketball Youth Team (now sadly defunct) and would have surely gone on to great things in the game if not for the fact he wasn't very good.
Coach loves inspiring people to do something, but where should you do these things? We're traversing the country to find out. Where should we go next? Tweet @coachmag (opens in new tab) and let us know.
Pack up and move to…
Manchester | Bradford | Sunderland | Grimsby | Nottingham
Sign up for workout ideas, training advice, reviews of the latest gear and more.