Trevor Nelson: Loved Boxing Training, Not OK With Being Hit
The DJ on the one thing fitness thing he'll never do again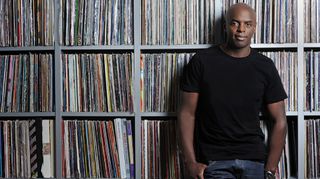 (Image credit: Unknown)
Imagine travelling around the world playing gigs, DJing on the radio five times a week and regularly popping up on telly. A brutal schedule to contemplate, but Trevor Nelson manages it in real life. How does he find any time to stay fit?
How would you rate your fitness on a scale of one to 10?
I'm a seven. I think that five means you look decent in clothes and you can run for a bus and not embarrass yourself. A seven means you're not a specimen, you're just reasonably fit. There are guys I'd call a seven who are really hench, but they can't move, they have no cardio.
How important is health and fitness to you?
I've built a gym at home so I don't have to go to public gyms. I've got a kinesis machine, a cross trainer and a rowing machine. I do that about three times a week, and as a bonus I had a Pilates teacher come round for me and my Mrs. The regime has stopped though, because I got a 13mm tear in my rotator cuff – I could make it a lot more exciting but I just slipped in the bath…
RECOMMENDED: Rowing Machine Workouts
What do you do to motivate yourself?
I have to psychologically motivate myself because I'm not going to the gym, I'm at home. Some people say, "If it's at home, I'd be on it every day," but the opposite happens. I remember seeing Missy Elliot doing a tour of her house on Cribs, and she had a full-on gym. She walks past and it's like, "Here's a room I never use." I understand because when you're going out to the gym, you take the first steps towards it and you're committed. At home you can be really lazy.
What will you never do again?
The guy who trained Dereck Chisora [Don Charles] is a mate of mine and 10 years ago he invited me to his gym to try some boxing training – it was insane. There were pros around me so I was spurred on to push myself to the limit. I was shattered the first time I did it, but I felt euphoric. I went once a week and was in the shape of my life. Then I got in the ring and he hit me. I really didn't like it! I have ultimate respect for boxers, but I'd never do it again.
RECOMMENDED: The Only Running Music You'll Ever Need with Trevor Nelson
How is your fitness fingerprint unique to you and your career?
It's awful. DJs do everything wrong when it comes to keeping fit: we stand in awkward positions, deafen ourselves, travel all the time, then it's like, "Do you want a drink?" You end up doing all the wrong things, and then to top it all off, you don't sleep. You do see some super-fit DJs, but they are pretty boring guys. You have to get the balance right, you don't want to be a dullard.
Trevor Nelson Club Classics is out on November 4 through Universal Music On Demand with the album tour happening across the UK
Sign up for workout ideas, training advice, reviews of the latest gear and more.
Gary Ogden wrote for the print edition of Coach between 2015 and 2016, writing features, interviewing celebrities and covering entertainment. He has also written for ShortList.