Strava's Group Challenges Lets You Compete Against Friends
Go head to head using Strava's latest feature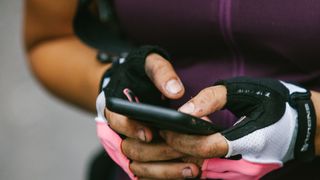 (Image credit: Unknown)
Social activity tracking app Strava has announced a major new feature that allows users to create challenges for them and up to 24 friends. There are three types of challenges: who can chalk up the most activity, who is the fastest over a set distance, or who can go the furthest in one go.
Each challenge is invite-only and remains private, so that friend who is much fitter and faster than anyone else can be excluded without their feelings being hurt.
The cumulative activity challenges revolve around a time, distance, elevation gain or elevation loss goal. A leaderboard ranks competitors by their progress towards the goal.
The cumulative activity challenges revolve around a time, distance, elevation gain or elevation loss goal. A leaderboard ranks competitors by their progress towards the goal.
The fastest effort mode is restricted to running, virtual running and travelling in a wheelchair. The organiser chooses a specific distance and then participants are ranked by average pace.
The distance challenge can be set for one activity in any sport (which tracks distance, of course) and the organiser can set a minimum distance to guide participants towards what's expected.
Strava explained to Coach that the limit on the number of people who can take part is related to 25 being the maximum number of people Strava users follow. This clearly isn't the virtual race feature many thought Strava would announce, and running and cycling clubs may find it frustrating that they can't use it to run large-scale virtual events for their members.
We expect group challenges to be a big hit. The competitive spirit is ingrained in Strava's DNA, with segment leaderboards one of the app's most compelling features. However, the top 10 segment times have become harder and harder to break into, so group challenges should add some leaderboards that the average user has a shot at topping.
Last year, segment leaderboards became a subscriber-only feature (although the top 10 were still publicly available). Group challenges are restricted to subscribers as well, although users of the free service can set up or participate in three challenges before they are required to join the premium service.
See related :
The new challenges feature is accompanied by improved integration of segments into the subscriber-only Maps tab in the app. There are now six new filters, which overlay grouping of segments on the area displayed on the map.
A few are especially exciting because they make better use of the unrivalled amount of information Strava holds on where people run and cycle. One filter shows popular spots where other users go, while another only highlights the popular segments you've never tried. Another filter points to where local users record intervals or laps, suggesting these spots are well suited to certain workouts.
The other three filters overlay where Strava thinks you could set a new PB on a segment, or where you're close to breaking into the top 10 (regrettably this filter returned no results for the Coach editor's account), or finally where a Local Legend title (where repeated efforts are rewarded rather than performance) is within reach.
Download Strava from App Store and Google Play | Free, premium £5.99 a month
Sign up for workout ideas, training advice, reviews of the latest gear and more.
Jonathan Shannon has been the editor of the Coach website since 2016, developing a wide-ranging experience of health and fitness. Jonathan took up running while editing Coach and has run a sub-40min 10K and 1hr 28min half marathon. His next ambition is to complete a marathon. He's an advocate of cycling to work and is Coach's e-bike reviewer, and not just because he lives up a bit of a hill. He also reviews fitness trackers and other workout gear.