The Coach Fitness Tracker Awards
These are the devices that impressed us the most this year – congratulations to all the winners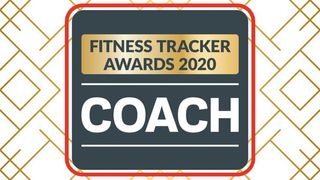 (Image credit: Unknown)
Coach has put more than 25 fitness trackers through their paces this year. We spend weeks wearing each device so we discover those little quirks which makes a tracker either delightful or infuriating. We also test the accuracy of the hardware in our training, as well as trying the new features to see if they'd make a difference to someone's life.
For Coach's first ever Fitness Tracker Awards, we've picked the best device released in four categories – fitness smartwatch, health watch, sports watch and fitness band – and thrown the spotlight on the most innovative new feature on any type of device. The only criteria is that the device had to go on sale in the calendar year 2020.
Without further ado, here are the winners.
Best New Fitness Band Of 2020: Fitbit Charge 4
With Fitbit's 11 years of experience making fitness trackers, any of its devices can be recommended because of the well-developed set of activity, exercise and sleep tracking features. However, Fitbit's bands always lacked built-in GPS, whereas sub-£50 devices from Huawei, Honor, Xiaomi and Amazfit have carried it for the past couple of years. The Charge 4 joins the built-in GPS club without sacrificing any of the battery life of its predecessor. The Run Detect feature also means you can start running and the Charge 4 will begin GPS tracking automatically – the ultimate convenience for casual runners and the forgetful alike.
The Charge 4 also debuted the well-crafted Active Zone Minutes feature, a worthy rival to the traditional 10,000 steps goal. You enter the "Active Zone" with any activity that raises your heart rate – walking included – and the device automatically counts it towards a 22-minute-a-day target. Over a week, that adds up to the 150 minutes of activity the NHS recommends.
A three-month trial of Fitbit Premium gives you plenty of other workout options to raise your heart rate too, whether that's a workout or running plan for beginners. If you want a band to help you track and improve your health and fitness, you can't get better.
Buy from Fitbit | £129.99 (currently reduced to £99.99) | Fitbit Charge 4 review
Best New Fitness Smartwatch Of 2020: Apple Watch Series 6
While the sixth edition of Apple's Watch sees only fairly modest updates, with SpO2 tracking being the headline new feature, it's still streets ahead of every other smartwatch on the fitness front. That's down to the slick, comfortable design, the surprisingly motivating activity rings, top-notch heart rate tracking and a huge app store that includes all the main fitness options on top of the native workouts app. We have also found the Series 6 more accurate for GPS distance tracking than past models.
There have been some notable other launches this year including the Huawei GT 2e, which offers an impressive sports tracking experience and some basic smart features (for Android users) at a great price. The Suunto 7 held great promise, pairing the Finnish company's sport tracking savvy with Google's smartwatch software, but was a little disappointing in practice and fell well short of the Apple's Watch's all-round experience.
Buy from Apple | From £379 | Apple Watch Series 6 review
Best New Health Watch Of 2020: Withings ScanWatch
Withings made its name by producing devices that look like analogue watches but contain the hardware you'd expect in a fitness tracker. With each release the company has crammed more and more into a traditional design, but the ScanWatch takes things to a whole new level. It can take a medical-grade ECG measurement from your wrist, has an SpO2 sensor and can detect sleep disturbances at night which could be a sign of sleep apnoea.
It also has a heart rate monitor of course, and will track your everyday activity, sleep and sports too, linking to your phone to use its GPS to provide more accurate outdoor exercise tracking. The battery life is long too, with a charge lasting up to 30 days.
A small screen on the top half of the watch face allows you to control the watch and see your stats during exercise. Obviously this is harder to do than with an entirely digital display, but the watch syncs impressively quickly to the Withings app for more detail. It's in the app where Withings really distinguishes itself, explaining clearly what it's measuring and why. It's this ease of use that places it above the Apple Watch and Fitbit Sense, both of which make great play of their health tracking bona fides.
If you want a classy analogue watch design packed with the latest health tracking features, the ScanWatch is the outstanding option – nothing else really comes close.
Buy from Withings | From £249.95 | Withings ScanWatch review
Best New Sports Watch Of 2020: Coros Pace 2
The launch of the original Pace watch announced Coros's arrival, offering better value than equivalent Garmin and Polar devices.
With the Pace 2, Coros has changed the face of the entire sports watch market. It's just £180 for a multisport watch with triathlon mode and 30 hours of GPS battery life, plus exceptional connectivity to other devices via both ANT+ and Bluetooth. The Pace 2 also offers customisable structured workouts, and some basic training insights like VO2 max estimates and an overall rating of the effectiveness of your training load. It's a very light and small device too, especially given the size of the battery it's packing.
It's the kind of feature set we'd expect on a £300 watch – breadcrumb navigation is the only other feature we'd expect at that price point. When you consider that Garmin's cheapest triathlon watch is £450 (in its current range; older models are cheaper), it really highlights the value offered by the Pace 2. If you're a runner or a triathlete on a tight budget looking for a reliable core tracking experience, plus a long battery life, it's the clear pick.
Buy from Coros | £179.99 | Coros Pace 2 review
See related
Best New Feature Of 2020: FuelWise On Polar Grit X And Polar Vantage V2
Polar launched two high-end watches in 2020, the flagship Vantage V2 following the outdoorsy Grit X, and both of them included the FuelWise feature. It works as a nutrition coach for long bouts of exercise – anything over 90 minutes – providing reminders that flag up when you need to consume more carbohydrates.
They're smart reminders too. You set up how many doses of carbs you'd like during an activity beforehand and how hard you expect to work, but if you're pushing harder or taking it easier than expected, FuelWise will adjust the timings of your alerts so you take the carbs when you actually need them.
The feature is naturally particularly good for ultra runners and cyclists who exercise for many hours with the intensity rising and falling in line with the terrain, but will also be invaluable to marathon runners looking to nail their nutrition during training and on race day. It's the smartest and most useful new feature we've seen in 2020. We expect to see versions of FuelWise appear on competitors' watches as early as next year.
Buy Grit X from Polar | £379 | Polar Grit X review
Sign up for workout ideas, training advice, reviews of the latest gear and more.
Coach is a health and fitness title. This byline is used for posting sponsored content, book extracts and the like. It is also used as a placeholder for articles published a long time ago when the original author is unclear. You can find out more about this publication and find the contact details of the editorial team on the About Us page.