Who Will Be the Next Joe Wicks? 10 Rising Fitness Stars
In Joe Wicks, the world of digital fitness has produced its first traffic-stopping megastar. Who'll be the second?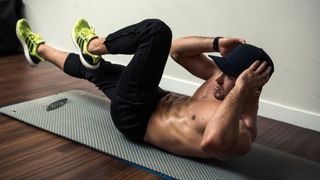 (Image credit: Unknown)
Joe Wicks, AKA The Body Coach, is a bona fide sensation. His face beams from the side of buses, the pages of national newspapers and the feeds of nearly a million Instagram followers. The 30-year-old's 90-day food and fitness Shift, Shape and Sustain plan has changed the lives of over 100,000 clients, including the likes of John Terry and Ellie Goulding. His cookbook, Lean In 15 (opens in new tab), leapt to the top of the bestseller charts (with a record-breaking eight weeks at number one), and his self-titled "leanie" fanbase promotes, shares and praises his every move with the sort of enthusiasm previously reserved only for One Direction. Not surprisingly, the hunt is on for the next household name in health and fitness – it may well be among these ten rising stars.
1. Double Brother Act LDN Muscle
LDN (short for London, obvs) Muscle – made up of two sets of brothers, James and Tom Exton, both 28, and Max and Lloyd Bridger, 24 and 26 respectively – is growing in popularity by the day. Its recently launched LDNM: The Workout App (opens in new tab) stormed to the top of the iTunes health and fitness apps chart worldwide, and it's also currently the leading provider of e-training guides, selling over 100,000 downloadable "Bibles" since launching in 2013. ldnmuscle.com (opens in new tab)
2. Former Footballer Bradley Simmonds
After injury ended his football career, Simmonds, 22, went into personal training, and has racked up over 70,000 Instagram followers. Social media has proved integral to his success, with followers seeking motivational quotes, fitness videos and aspirational photos of the London-based trainer's Adonis-like physique. He also sells food and fitness plans for weight loss, toning and lean muscle definition on his website, and is in the process of designing his first app, where fans will be able to follow different workouts, from HIIT to TRX. bradleysimmonds.com (opens in new tab)
RECOMMENDED: Best Fit Guys and Girls to Follow on Instagram
3. Trainer to the Stars David Kingsbury
New style. Simplified. The very best online plans. #gym #fitness #gymlife #muscle #fitfam #transformation #health pic.twitter.com/dYW2D7AMQwMarch 23, 2016
With endorsements from the likes of Hugh Jackman, Kingsbury, 28, has seen his name in lights, working on the set of blockbuster movies like Suicide Squad and The Wolverine. As well as putting the A-list through their paces, Kingsbury also trains stars via online coaching and custom training plans on Skype, but you needn't be an Oscar nominee to get the most out of his expertise. His online guides are available for regular folk to purchase too. davidkingsbury.co.uk (opens in new tab)
4. Made in Chelsea's Lonan O'Herlihy
Lonan O'Herlihy, Made In Chelsea's resident personal trainer, counts over 80,000 people as fans on Instagram, who faithfully follow the hashtag #GetLeanWithLonan (opens in new tab). Followers also revel in commenting on his series of pouting and chiselled photos, most of which boast tongue-in-cheek captions such as "I like my genes" and "jawline available at lonanfit.com". The 26-year-old, who grew up in Malibu, Knightsbridge and Malvern, specialises in online personal training via Skype. He currently has two nutrition e-books out, and will be releasing three more in the near future, as well as an app, LonanFit. Plus, O'Herlihy's Chelsea connections enable him to draw in a large crowd of reality TV fans, with a bootcamp co-hosted with Made In Chelsea star Tiffany Watson from April sure to attract attention. lonanfit.com (opens in new tab)
5. Nutritional Guru Clean Eating Alice
With perfectly coordinated workout videos, beautifully shot photos of healthy and delicious-looking meals, and a glossy recipe book on the way, Alice Liveing – AKA Clean Eating Alice – turned her unhealthy diet and lifestyle around to become a fitness and nutrition inspiration in her own right. With over 250,000 Instagram followers, she's clearly doing something right. The 22-year-old's upcoming book, The Body Bible, which has over 80 recipes for clean eating as well as a series of HIIT workout guides, is out in May. instagram.com/clean_eating_alice (opens in new tab)
RECOMMENDED: Get Dinner Inspiration from These Top InstaChefs
6. Former Gladiator James Crossley
If the only way you can get motivated to go the gym is by seeing photos of chaps flexing their giant muscles on Instagram, then you need to follow James Crossley AKA Hunter from Gladiators. The 42-year-old former actor's following on social media is growing steadily, with over 10,000 followers on Twitter and Instagram combined, and he has also recently launched an iPad app, PTin1 (opens in new tab), on which personal trainers can run their businesses, with all the software to monitor, train and measure clients in one place. Crossley has also set up Gladiator-style boot camps in Marbella. chelseafitness.co.uk (opens in new tab)
7. Swedish Health Goddess Fitness On Toast
Faya Nilsson, the personal trainer and fitness blogger better known as Fitness on Toast, posts tips, photos and exercise advice on her website, but with travel, fashion and nutrition also playing a big part in keeping her subscribers coming back for more. Aspirational workout pictures, a variety of interviews and envy-inducing trips around the world make readers stick around even after they've tired of reading about biceps curls. A nutritional e-book, 90,000 Instagram followers and plenty of commercial partnerships later, the 29-year-old is riding the digital wave with the best of them. fitnessontoast.com (opens in new tab)
8. YouTube Superstars The Lean Machines
John Chapman and Leon Bustin have nearly 300,000 subscribers and almost 15,000,000 YouTube views racked up since making their debut in 2011. Their fun, informative and energetic video performances breathe fresh air into the YouTube world of fitness, with videos entitled "gym fails – what not to do in gyms" and "how to take the perfect selfie" sitting alongside more serious offerings such as "increase strength with these bodyweight progressions" and "how to lose fat". They also have their own book, entitled Eat Well, Move Better and Feel Awesome (opens in new tab) on the way too. theleanmachines.com (opens in new tab)
9. Fitness Model Jack Wellon
Personal trainer and fitness model Wellon specialises in body transformation and fat-loss programmes. The former builder, who also works as an ambassador for Multipower Sports Nutrition, has a good spread of social media fans, with 70,000 followers across Instagram, Twitter and Facebook. Wellon trains clients both online and in person, providing those who sign up with a free training e-book, and also offers custom training and nutrition personal training packages for those who want to change their body and have eight or 12 weeks to spare.
RECOMMENDED: The best fitness accounts on Instagram
10. Bodybuilder Lee Constantinou
Wannabe bodybuilders, here's who you should follow: 26-year-old Lee Constantinou. The new face of Bodybuilding.com (opens in new tab), karate black belt holder and body transformation specialist, Constantinou will get you eating steak instead of sarnies with one look at his Instagram feed. In addition to sharing before and after photos of his clients' rapid transformations with over 25,000 fans on Facebook, Twitter, Snapchat and Instagram, Constantinou – the World Beauty Fitness & Fashion UK champion – also uploads articles, videos and tips to inspire followers. leeconstantinou.com (opens in new tab)
Sign up for workout ideas, training advice, reviews of the latest gear and more.
Deborah has been a journalist since 2014 and contributed to the print edition of Coach. She has written for a range of titles, including Women's Health (opens in new tab), Good to Know (opens in new tab), Stylist (opens in new tab) and many others.